Disney Streaming Service To Feature Loki And Scarlet Witch TV Shows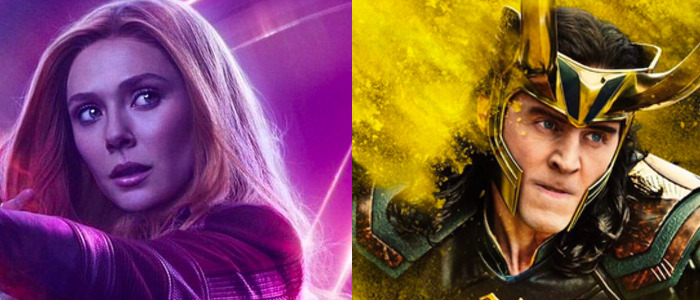 Disney wants to beat Netflix at the streaming game, and they know just how to do it: by bringing MCU characters to TV. A new report reveals that the House of Mouse is planning to offer streaming shows devoted to Loki, Scarlet Witch and possibly other Marvel Cinematic Universe characters. Both Tom Hiddleston and Elizabeth Olsen are expected to reprise their respective roles. More on the latest Disney streaming service news below.
Variety has the news regarding the Loki and Scarlet Witch shows on Disney's streaming service, Disney Play. The plan is to create shows based around MCU characters who have yet to have their own standalone movies, with Loki and Scarlet Witch coming first. Bigger characters, like Iron Man and Captain America, will remain firmly in the world of film, while the streaming shows focus on "second tier characters."
That's not to say these prospective shows are going to be cheap. Variety says "budgets are expected to be hefty rivaling those of a major studio production" – which makes sense, because both Tom Hiddleston and Elizabeth Olsen are likely to play their respective characters. Each show will run six to eight episodes, and Marvel Studios President Kevin Feige is expected to have a an active role in their development.
This is big news, and only bolsters Disney Play's power. Disney is also developing movies – like a live-action Lady and the Tramp – and a $100 million Star Wars series from Jon Favreau. All of these items put together will surely inspire viewers to sign up for Disney's service. And what of Netflix's Marvel shows? They will likely remain, produced under the Marvel TV brand, while the Disney Play shows will be considered the property of Marvel Studios. This possibly puts Netflix's Marvel shows at a disadvantage – all the might of the Marvel/Disney empire could be going towards the Disney Play Marvel shows, leaving the Marvel Netflix titles out in the cold.
There was a time when something like this would seem unthinkable, but Disney has the power and the money to make it a reality. Streaming is the future, and Disney is tired of letting Netflix get all the glory. Will Loki and Scarlet Witch shows carry enough weight to hook viewers? Absolutely. Both Loki and Scarlet Witch have enough of a fan following to draw audiences in, and when you throw in the fact that Hiddleston and Olsen are reprising their roles, it sweetens the deal. Anyone who has wanted to see more of these characters will finally get their wish. And hey, who knows – maybe they'll give Hawkeye his own series next. Remember Hawkeye?
There's no word when we might see these shows, but Disney Play is expected to launch sometime in 2019.