'The Grinch' Trailer: Benedict Cumberbatch Steals Christmas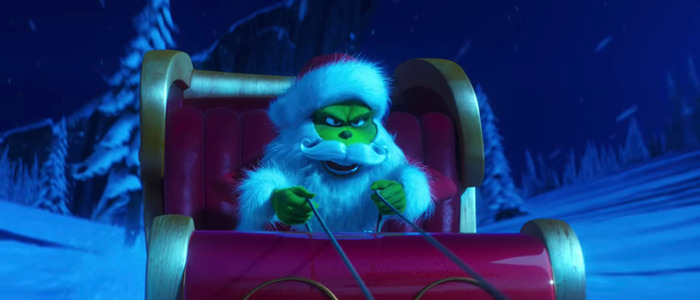 The Grinch is headed back to the big screen yet again with The Grinch, a new digitally animated take on Dr. Seuss' classic. The film appears to be telling the story we all know and love – a miserable green monster ruins Christmas for everyone – but with the added bonus of featuring a lot more sight gags and pratfalls. Watch a new The Grinch trailer below.
The Grinch Trailer 
Summer isn't even over yet, but that doesn't mean you can't start thinking about the holiday season right now. Here to help with that is the latest trailer for The Grinch, a new take on Dr. Seuss' immortal holiday classic. One thing is for certain: now matter how this take on The Grinch turns out, it'll be the only entry into the Grinch cannon to feature songs by Tyler, the Creator.
Dr. Seuss' How the Grinch Stole Christmas was first published in 1957. By 1966, the story had been adapted into an animated short directed by legendary animator Chuck Jones, featuring the vocal talents of Boris Karloff. For years, the animated How the Grinch Stole Christmas was hailed as a holiday classic – one of those specials that would pop-up on TV every Christmas season, alongside A Charlie Brown Christmas and the now somewhat forgotten Claymation Christmas Celebration.
Then came Ron Howard's garish 2000 live-action How the Grinch Stole Christmas, featuring Jim Carrey buried under 500 pounds of make-up. Howard's film took Dr. Suess' simple, effective and brief story and bloated it to the extreme, creating an over-the-top day-glow nightmare. Critics tore the film apart, but it also made a ton of money at the box office –  $345.1 million worldwide.
And now here we are again, with Illumination and Universal Pictures' The Grinch. The character is animated once again, but instead of the stylish hand-drawn animation of Chuck Jones, the green menace is now rendered digitally by the folks responsible for the Minions films. Benedict Cumberbatch is now voicing the Grinch, and while that should make for some genius casting, Cumberbatch is doing a strange Americanized accent here that just doesn't work. Why not just use his normal accent, a la Boris Karloff? That would've been far more effective. But perhaps I'm just nitpicking. The audience this is being marketed to aren't going to care about the voice. They just want to see the Grinch fall down a lot. And that's fine.
The Grinch opens November 9, 2018.
Academy Award® nominee Benedict Cumberbatch lends his voice to the infamous Grinch, who lives a solitary life inside a cave on Mt. Crumpet with only his loyal dog, Max, for company. With a cave rigged with inventions and contraptions for his day-to-day needs, the Grinch only sees his neighbors in Who-ville when he runs out of food.
Each year at Christmas they disrupt his tranquil solitude with their increasingly bigger, brighter and louder celebrations. When the Whos declare they are going to make Christmas three times bigger this year, the Grinch realizes there is only one way for him to gain some peace and quiet: he must steal Christmas. To do so, he decides he will pose as Santa Claus on Christmas Eve, even going so far as to trap a lackadaisical misfit reindeer to pull his sleigh.
Meanwhile, down in Who-ville, Cindy-Lou Who—a young girl overflowing with holiday cheer—plots with her gang of friends to trap Santa Claus as he makes his Christmas Eve rounds so that she can thank him for help for her overworked single mother. As Christmas approaches, however, her good-natured scheme threatens to collide with the Grinch's more nefarious one. Will Cindy-Lou achieve her goal of finally meeting Santa Claus? Will the Grinch succeed in silencing the Whos' holiday cheer once and for all?