Eddie Murphy To Lead A New Comedy Inspired By 'Grumpy Old Men'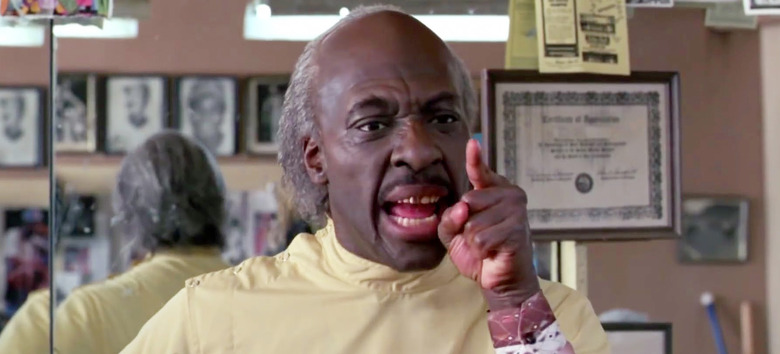 At 57 years old, it sounds like Eddie Murphy is starting to embrace his age with a new comedy inspired by the 1993 comedy Grumpy Old Men.
New Line Cinema has attached Eddie Murphy to star in the still untitled comedy that will take cues from the film that starred Walter Matthau and Jack Lemmon as longtime frenemies living next to each other in Wabasha, Minnesota. The only problem is who has been lined up to direct and produce: Fantastic Four and Taxi director Tim Story.
Deadline has news on the movie that may or may not be a flat-out Grumpy Old Men remake, but likely features the same core relationship between the two main characters with a friendly rivalry. They may not be quite as old of men in this story (though Murphy isn't beyond throwing on some old man make-up), but more than likely they'll be neighbors who don't always get along with each other, constantly pranking and competing with each other.
In Grumpy Old Men, which is a comedy gem of the '90s, the two main characters played by Matthau and Lemmon had an ongoing feud that was only exacerbated when a bright new neighbor played by the stunning Ann-Margret moved in across the street. Each of them had the hots for her and found themselves competing with each other in something other than who could catch the biggest fish out on the frozen lakes of Minnesota.
With Eddie Murphy on board, the project is likely to have a much different spin, but it wouldn't be outside of the realm of possibility for the same story to unfold in a new way. The question is, who will be his rival? Apparently one possibility is to have Samuel L. Jackson take the role, and since he just finished working on the new Shaft movie with Tim Story, that makes perfect sense.
However, I can't help but think it would be entertaining to have another comedian along with Murphy instead. Obviously getting Arsenio Hall back with Eddie Murphy would be great (though they're supposed to reunite for a Coming to America sequel, if that ever happens). But matching him with fellow stand-up comedian Chris Rock or maybe even Brooklyn Nine-Nine star Terry Crews would be absolutely hilarious too. Some might think Martin Lawrence would be a good reunion, but personally, I've never enjoyed them together much.
Of course the prospect of teaming Eddie Murphy with any one of them is sullied by the fact the director involved. The way Tim Story handles comedy doesn't appeal to me in the least. His brand of comedy is broad, lazy and lacks any sharpness. And I feel like he's going to squander what could be a fun pseudo-remake.
Anyway, Eddie Murphy frequently gets attached to projects that don't pan out, so we'll see if this becomes a reality or just becomes another abandoned prospect. Honestly, they should just make a movie about the barbers from Coming to America: