'Avatar: The Last Airbender' Will Be Reborn As A Netflix Live-Action Series From The Original Creators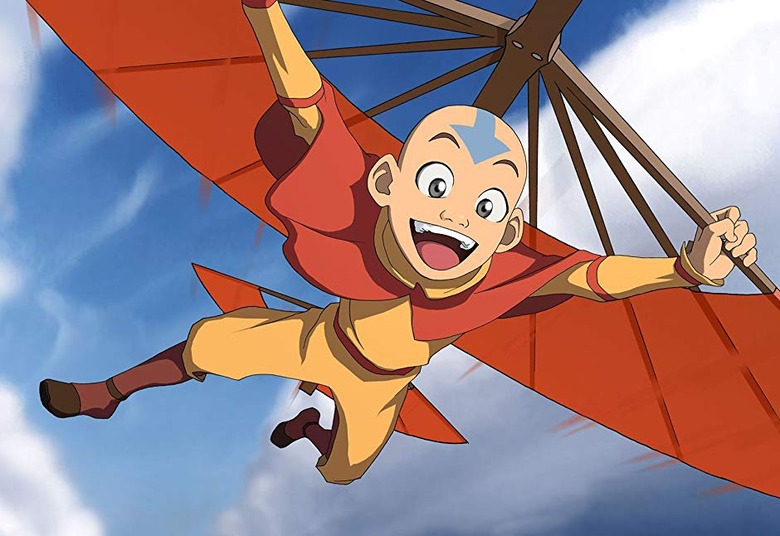 Eight years after M. Night Shyamalan desecrated Avatar: The Last Airbender with his feature film that won't be named, Netflix has announced a second attempt to adapt the matchless Nickelodeon animated series as a live-action show. But wait — before you freak out and go into the Avatar State, there's a silver lining to this seemingly ill-advised project.
Original creators Michael Dante DiMartino and Bryan Konietzko are on board to oversee the Avatar: The Last Airbender live-action series, which will "reimagine" the beloved Nickelodeon series. But even with DiMartino and Konietzko on board, can they fulfill the fans' biblical expectations for a series that will likely require a biblical scale and budget? After Netflix has teamed up with several other Avatar: The Last Airbender alums to great success, maybe this might actually be a match made in heaven.
Avatar: The Last Airbender will live forever as one of the greatest animated series of all time (I see it low on your list, Vanity Fair, and it's wrong) but it may get a second life in a live-action adaptation — again.
Listen, we all know what went wrong with Shyamalan sluggish 2010 film The Last Airbender: it was whitewashed, it was made by a filmmaker who completely misunderstood the appeal of the series, and it damn boring. I've probably forgotten most of its other sins since I burned it out of my mind after seeing it eight years ago, but I'm sure there's a whole slew of colorful adjectives that can describe this embarrassment of a movie. But creators Michael Dante DiMartino and Bryan Konietzko are coming back to their beloved fantasy series to repair the damage done by Shyamalan. Hopefully.
In a statement announcing the development of the live-action Avatar: The Last Airbender, DiMartino and Konietzko expressed their excitement for the project and promised that this adaptation will at least have people of color:
"We're thrilled for the opportunity to helm this live-action adaptation of Avatar: The Last Airbender. We can't wait to realize Aang's world as cinematically as we always imagined it to be, and with a culturally appropriate, non-whitewashed cast.
It's a once-in-a-lifetime chance to build upon everyone's great work on the original animated series and go even deeper into the characters, story, action, and world-building. Netflix is wholly dedicated to manifesting our vision for this retelling, and we're incredibly grateful to be partnering with them."
Their statement was accompanied by the first concept art by John Staub for the series (seen below), which depicts the hero Aang with his lovable flying animal companion Appa, alone amid icy terrain. This snowy setting points to the scene where we first meet Aang, the titular Avatar, frozen in a glacier after going missing for hundreds of years. Which means that this will likely be a remake rather than a sequel or spin-off. Production begins in 2019, according to Entertainment Weekly, which gives us plenty of time to theorize and revisit the timeless fantasy series.
Why It's So Important To Get 'Avatar The Last Airbender' Right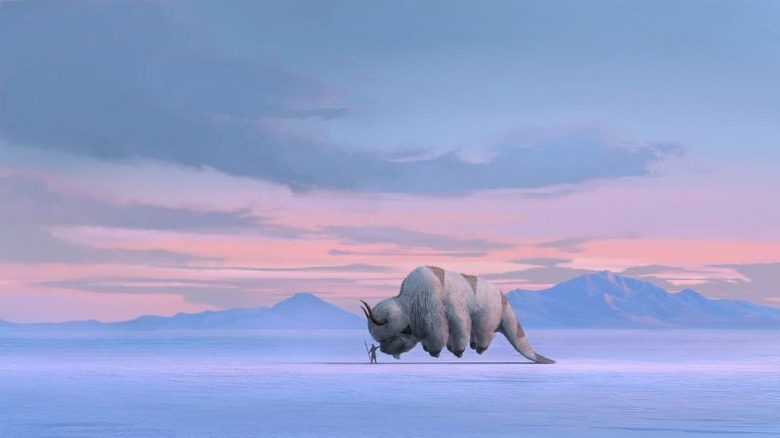 If you could tell by my gushing over Avatar: The Last Airbender, I hold this series in high esteem. When the series started airing on Nickelodeon in 2005, it was easy to write it off as a kitschy kid's show. But Avatar: The Last Airbender gradually unfolded into one of the most profound pieces of fantasy storytelling ever depicted on TV. Set in a world where "benders" can manipulate the four elements of water, earth, fire and air, Avatar: The Last Airbender follows the titular hero, Aang, a young airbender who is the latest in the line of reincarnated Avatars who have the ability to master all four elements. Recovered from the ice after having been frozen for 100 years, Aang discovers a world terrorized by the Fire Nation (one of the four nations representing each element) and must set out to master all the elements and defeat the lord of the Fire Nation.
It sounds like a relatively cut-and-dry hero's journey that we've seen before, from Legend of Earthsea to Star Wars. But Avatar: The Last Airbender's complex world and rich characters elevated the series to more than just a simple "chosen one" story. Sporting an anime-influenced animation style, Avatar: The Last Airbender takes its cues from Eastern mythology and culture, even making homages to the anime legend himself, Hayao Miyazaki, in one dreamy episode that takes us on a journey to the spirit world. Take for example, the totally cool element of "bending" wherein each style of bending is matched with an individual real-world martial arts style — water bending with the smooth movements of Tai Chi, fire bending with the powerful kicks of Northern Shaolin Kung Fu, etc. It's a show where every facet is deeply thought through and executed, and the writing is (almost) always pitch-perfect.
Despite being ostensibly a family show, the series never shied away from darker elements or challenging story arcs (peep the show's masterful take on the Western redemption story, "Zuko Alone"!) — though Avatar: The Last Airbender never lets that way it down. The show's sequel series, The Legend of Korra, which follows a future Avatar after Aang, digs even deeper into these mature issues, interrogating the consequences of imperialism, corruption, and greed.
But at its core, Avatar: The Last Airbender is about its colorful cast of supporting characters. Aang may be the hero, but everyone surrounding him is just as fully fleshed as he is — maybe more. His allies and even enemies all get beautifully told story arcs (again, Zuko has the best redemption arc from villain to antihero on TV).
This is everything that Shyamalan got wrong (even the bending scenes! How could you!). But hopefully Konietzko and DiMartino, who definitely have the deepest understanding of these characters and world, could repair the damage. And hot on the heels of other successful Netflix-ATLA alum collaborations like The Dragon Prince and Voltron: Legendary Defender, Netflix will back them with a budget and scope that they deserve.