Universal Orlando's Halloween Horror Nights In Review: A Dream/Nightmare Come True For Scary Movie Fans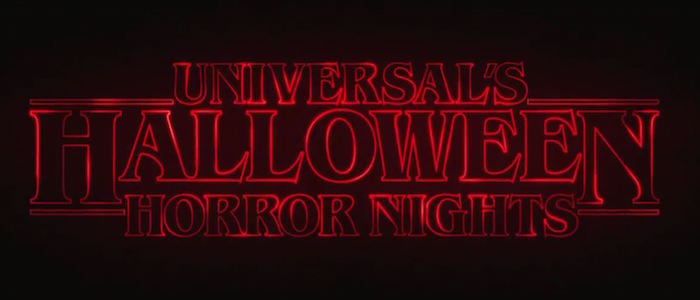 Universal Studios' Halloween Horror Nights brings the party hard to Orlando, Florida in 2018. Welcome to the '80s, where extraterrestrial invaders suck out townspeople's insides and material-girl vamps celebrate New Year's Eve in glitter-bomb fashion. It's not a hard-set theme, but with mazes and scare zones honoring Stranger Things, Child's Play, Halloween 4: The Return Of Michael Myers, Killer Klowns From Outer Space, and other "old-school" riot material, there's no escape from titillating terrors of yesteryear's most amusement-filled classics.
Senior Director of Entertainment Creative Development Mike Aiello echoed the same observation in our pre-festival interview, stating "There's an energy this year that's just different. I think the '80s vibe infested the rest of the event."
Park attendees can expect another laboriously curated round of haunts, representative menu items (e.g. Eleven's waffle obsession), and chain-saw-revving noises that make for an electric surge that'll have you howlin' with glee well past witching hours.
This year sees an unprecedented 36 record-breaking nights of Halloween horrors, including 10 different original and licensed mazes alongside five separate scare zones. With additions to canon such as Poltergeist and Trick 'r Treat (once a scare zone, now a fully-fleshed experience), creators enthusiastically stressed their desire to recreate every memorable moment from said intellectual properties. You better believe Poltergeist's attraction includes larger-than-life puppets and Mr. Skeleton Beast for all to gaze upon/run away from. Animatronics and marionette work breathe life on a massive scale, including Chucky's stand-up comedy routine as onlookers pass through his "Revenge Of Chucky" scare zone.
Horror fans, Universal has not let you down.
Scare Zones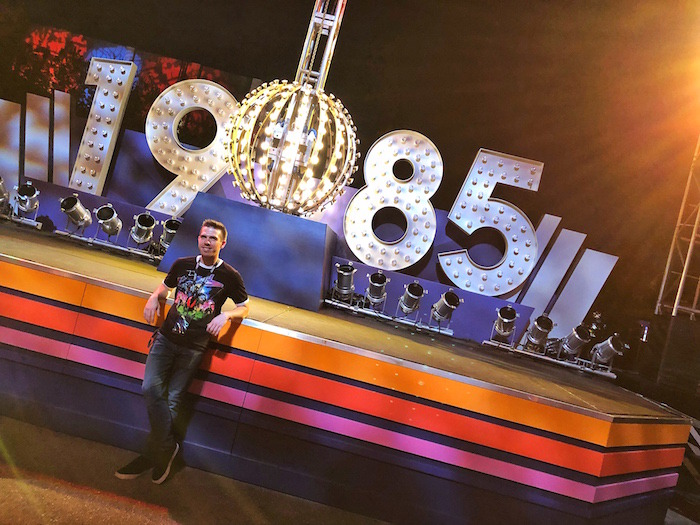 Five territorial scare zones range from warped holiday signatures to slasher mainstays, as actors patrol invisible boundaries with intent to thrill. My favorite has to be Killer Klowns From Outer Space, as holographic displays cover brick-and-mortar storefronts with big-top colorization and darkened carnival impressions. Costumed "Klowns" skulk around with their weaponry in-hand, attention to detail absolutely paramount in delivering what lovers of the Chiodo brothers' cult midnighter will go ga-ga over. Did I snap a picture next to dangling cotton candy cocoons? Of course. Exclusive to the Universal's Orlando location, walking the Killer Klowns popcorn-and-polka-dots beat is reason enough for a Horror Nights visit.
"My hope is that the [Killer Klowns] scare zone is a huge hit. If it does rate very well and people love 'em, maybe in future years I can translate that into a haunted maze experience." Seconded, Mr. Aiello. You've got my 5-star rating already.
Elsewhere, scarecrows and barnyard freaks with smashed jack-o-lantern faces evoke October decor as only Halloween's nastiest minds can reanimate. "The Harvest" itself is a bit simple, but "Twisted Tradition" brings aesthetic thunder by placing carved pumpkins in treetops as visitors saunter nervously below. It feels like you've been transported into A Nightmare Before Christmas, so wonderfully macabre but still scenic enough to please more than punish those who might not seek constant torture. As a horror fan, these pathways feel like home. Flickering candles, scythe-wielding monsters and all.
This brings us to "Revenge Of Chucky," which was described as a "sequel" to Universal's direct-to-VOD Cult Of Chucky. Per development heads, Chucky crashes a Play Pals 30th anniversary celebration and recruits whichever branded toys he can into his cult of serial killer personality. You'll stroll by displays covered in dead bodies as Play Pals workers find themselves slain in worse and more grotesque ways (Barrel Of Monkeys becomes Monkey Mayhem, for example), and as alluded to before, Chucky himself roasts anyone brave enough to catch a minute or two of his "show." These are the creative liberties that make Halloween Horror Nights so special, as Universal doesn't just copycat existing Child's Play scenes – they go above and beyond to please fans with something new, connected, and exciting. Hell, you've got a premise for one badass Child's Play continuation right here! Although I would have loved some Chuckys wandering the zone, but alas – at least on opening night – such was not available.
Lastly, there's "Vamp '85: New Year's Eve" – complete with a massive stage where New York City's bulb-covered ball drops. Expect hair metal, leatherbound vampires, 80s hairdos – yeah, this place rules. It's like being stuck in a John Hughes movie except with more neck chomping and the event's band has been dismembered. When you're not running through mazes trying to act tougher than you really are, hang out here. As Ratt blasted from stage amps and fog rolled over sidewalks, part of me wanted to sneak away from my group to chill with vampiric parties for another 30 minutes. I promise you'll want to do the same.
The Haunts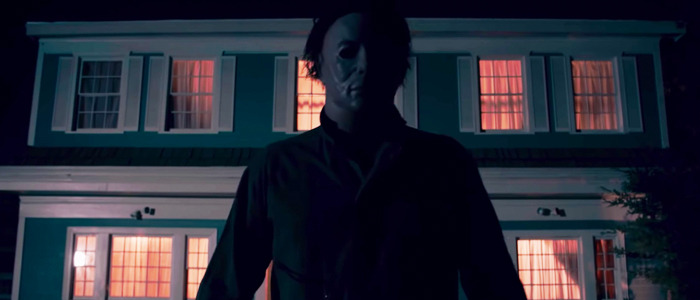 While scare zones provide entertaining respite from monstrous mayhem, mazes represent Halloween Horror Nights' bread-'n-butter. This year, especially for devout genre fans, is a bona fide wealth of riches. Halloween 4: The Return of Michael Myers, Trick 'r Treat, Happy Death Day, The First Purge, Stranger Things, Poltergeist, "Slaughter Cinema" – do you feel those goosebumps already? Get used to it.
Stranger Things
Hawkins, Indiana plays host to Universal's most sought-after maze of Halloween Horror Nights (if opening queues were any indication). Netflix's Stranger Things invasion specifically recreates Season 1 as quarantine-suited agents attempt to defeat the Demogorgon hot on your tail. Some two-way mirror effects play with portals into the Demogorgon's homeworld, and you'll encounter numerous characters from a frantic Joyce Byers to her son's inquisitive clan of misfits. Production spares no Hawkins-specific detail but is more in the business of (fine and dandy) fan-servicing than hoot-and-holler haunted thrills. This said, Stranger Things lovers won't find a lick of disappointment here. Just pray Eleven can keep that snarly Demogorgon (killer design) distracted long enough to race your way through.
Halloween 4: The Return Of Michael Myers
Escape through Haddonfield as both bandaged and masked Michael Myers swings his machete throughout the film's most memorable set pieces. Uniquely, Universal understands the scares you're expecting – I'll say Michael isn't always the harbinger of screams. Jamie (played by Danielle Harris on screen) redirects with tremendous effect since we're so focused on the obvious. Homages to Dr. Loomis and outdoor boggy forests look every bit the part, but Universal takes full advantage of genre norms by subverting expectations as accomplished filmmakers often do. This maze is an example of how designers pay attention to scares and horror expectations just as much as Michael Myers' iconic appeal – a delight considering how some haunts can become repetitive in nature.
Seeds Of Extinction
In "Seeds Of Extinction," an asteroid crash lands and turns Small Town, USA into a root-ensnared, vine-covered apocalypse (a bit Creepshow "The Lonesome Death of Jordy Verrill"). Scare actors dressed in fungi mutations and Little Shop Of Horrors imagery emerge from heavily-greened architecture covered floor-to-ceiling in plant life. What's best and most true about "Seeds Of Extinction" is – more than any other maze – you won't notice upcoming jumps until it's too late. Living Venus fly traps hide in thickets of leaves; a hazy mist moisturizes while the sound of outrageous growth sloppily slithers. As a Universal original, imagination soars in "Seeds Of Extinction." Who knew foliage could be so frightful?
Trick 'r Treat
Is it sick that I wanted to live inside Universal's Trick 'r Treat maze forever? Michael Dougherty partnered with maze makers to give his final approval and boy does Sam steal Horror Nights' show. You'll explore each anthology segment – Mr. Kreeg's house, the quarry, Laurie's woodland ceremony grounds – all while Dougherty's burlap-sacked-headed mascot makes sure you abide by Halloween's rules (too bad you're not in costume). This is, without argument, a dream come true for fans. Bravo to Universal for realizing how beloved Dougherty's festive anthology is. I'll admit, Rhonda got me good at one moment. And Sam? I just wanted to high-five the spooky October gatekeeper. Double hells-yeah for the animatronic wolfy you'll encounter, too – better production than I've seen in recent werewolf flicks.
The Horrors Of Blumhouse
It's no surprise that Universal teamed with Blumhouse once again for a double-edged maze in Orlando spotlighting Happy Death Day and The First Purge. First, you'll pass through dorm rooms while a babyfaced killer stalks your every move. As is the nature of Happy Death Day, this can become a little repetitive (pushing clothes hangers aside as the murderer jumps for the Xth time), but then you reach a chain-link-fenced hallway lit by televisions buzzing snowy static. Sirens blare and you've entered America's very first Purge night, as scare actors modeled after "Skeletor" pop from around corners with the most disturbing smile and laughter. It's a short burst, but The First Purge stretch of Blumhouse's maze stands as one of my favorite moments where you become lost inside a cinematic reality. 
Dead Exposure: Patient Zero
Hands-down the greatest original maze this year is "Dead Exposure: Patient Zero." You'll find yourself walking the outbreak-ridden streets of Paris in 1982 as zombies run free. 28 Days Later with an electro-punk wash. Sounds simple? Universal goes above-and-beyond by painting the entire maze black and then touching up details with UV respondent paint that appears when blacklights and strobes are activated. You will see only what the maze runners want you to see, as both depth perception and optical manipulation work beautifully with warped mirrors to ensure a sensory crushing, neon-lit nightmare. Even my tour guide – who'd already tested every maze – jumped and sped through certain aspects of "Patient Zero." A testament to the unforgettable experience horror fans are sure to gobble up like tasty pumpkin pie.
Slaughter Cinema
"Slaughter Cinema" is my jam, people. Werewolf bikers, Critters remakes, drive-in cheesiness. This maze is a love-letter to grindhouse that first-and-foremost honors absurdity. Each fictional segment comes complete with its own ridiculous poster as a means of ensuring you know exactly what this maze's intent is about. Soak in that unshakable party feeling. "Slaughter Cinema" isn't going to aggressively frighten anyone – even with dynamite practical work for Midnight Snack 2 – but that's more than fine. You'll have a magnificent blast laughing through each increasingly insane amalgamation of genre hilarity (bikini-wearin' aliens or slasher haircutters), still slathered in copious amounts of practical blood and dangling pumpkin guts.
Poltergeist
"Do not go into the light!" Oh, really? Universal's Poltergeist maze takes you exactly where we're told to avoid, and praise be. Tobe Hooper's (or Steven Spielberg's depending on who you think directed Poltergeist) influence has you enter from underneath the Freelings' home – walking through their backyard dig site and catacomb-buried coffins – and then straight into the mouth of brightly-lit madness. Be sure to dodge outreached claws, taffy-like clown's arms, and everything else that comes along with the blinding purgatory Poltergeist depicts. This maze is drenched in production value which leads to some of Universal's most ambitious Halloween Horror architecture. Just like with "Revenge Of Chucky," Universal takes creative Poltergeist liberties and runs with them – a dream come true for horror fans.
Scary Tales: Deadly Ever After
While this isn't exactly my favorite of the bunch, there's a lot of fairy tale corruption to marvel in "Scary Tales". Humpty Dumpty's not getting put back together, and Little Miss Muffet's spider friend ain't so small this time around (don't worry, I'm an arachnophobe-lite and there's nothing paralyzing). It's never better than a gigantic castle facade entryway where the maze's Wicked Witch – connected to wire and harness – jumps over her audience while cackling wildly. Expect fewer jolts in this maze and a more fucked-up-art-gallery appreciation (Hansel And Gretel: Witch Hunters it's not). If you aren't sold on the description or don't giggle with joy over malformed childhood story characters, this is probably one maze you can skip given general ticket admission waits/lines.
Carnival Graveyard: Rust In Pieces
"Carnival Graveyard: Rust In Pieces," on the other hand, is 100% #myshit. Mad Max: Fury Road clothed carnies with steampunk slaughterhouse accents aren't too pleased by your presence in their discarded ride junkyard as you sneak between piles of metallic rollercoaster cars and what have you. Aside from Trick 'R Treat, "Rust In Pieces" is the other maze I'd choose to be locked in forever. Definite Hellraiser and Texas Chain Saw Massacre relations, only with "Knock The Can" boardwalk games. This was my last maze of the night – after about four-and-a-half hours of walking – and I exited just as invigorated as when I'd entered Universal's doors long before. Where's my "Rust In Pieces" movie, Hollywood? Something about murderous carnies just cuts right to my horror-lovin' heart.
The Wrap-Up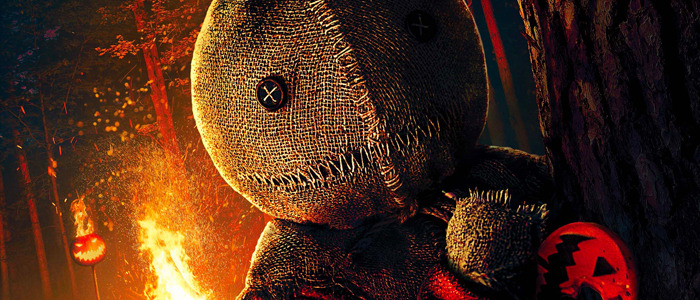 "There is a large element of fun this year as you walk the streets, and I think – from a content standpoint – this is the most diverse slate we've ever had." As Aiello was sure to assure, 2018's Halloween Horror Nights is all about major dosages of F-U-N. You'll shriek, your knees will buckle, scare actors will do their jobs (well), but this year is all about partying until you're six feet under. Universal's team has stacked up a noteworthy roster of haunted treats and knocks almost every single one out of the park (nothing truly disappoints where horror fans will be concerned). Original IP's burst with standalone appeal, but you're here for the crowd-pleasing titles. Showrunners know this. In that regard, my are there plenty of sights worth showing you.
Now please excuse me, because I've got to sneak past security and find a way to live in the Trick 'R Treat maze until October ends. Leave the front door open, Sam!