Full 'Joker' Cast List Includes Shea Whigham, Glenn Fleshler, And Other Character Actors You'll Recognize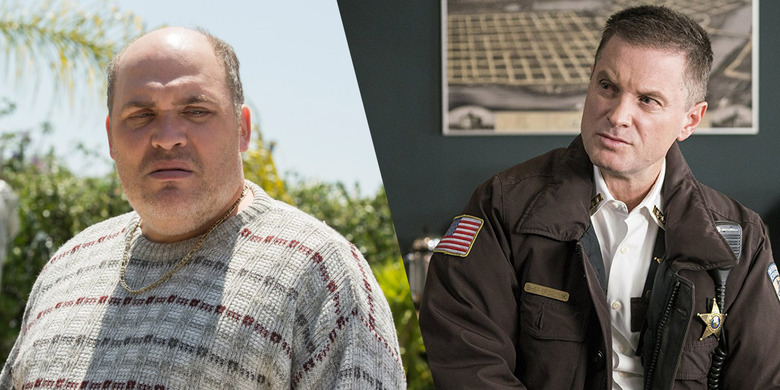 The Joker standalone movie continues to add to its unfairly good cast. Two days after we got our first glimpse of Joaquin Phoenix in character as a pre-transformation Joker, and a day after character actor Brett Cullen joined the cast as Thomas Wayne, Warner Bros. has released the full official Joker cast list, which features even more intriguing character actors joining the fray.
In the official cast list for Joker, DC confirms that uber-talented character actors Shea Whigham (Fargo), Glenn Fleshler (Barry), and Bill Camp (The Looming Tower) will be joining the previously reported cast of Frances Conroy, Zazie Beetz, Marc Maron, and Robert De Niro.
No character descriptions were released, but these additions only add to the perplexed excitement surrounding this film. Whigham is a stalwart character actor who has proven to be a consistent scene-stealer in everything from Kong: Skull Island to Vice Principals to Boardwalk Empire. He is no stranger to the superhero genre, having starred in the Marvel ABC series Agent Carter. And then there's the Barry breakout Glenn Fleshler, whose dense build and looming stature makes him an instant standout in shows like True Detective and Billions. Last but not least, The Looming Tower star Bill Camp could be perfectly cast as a weary Gotham City detective similar to his role in HBO's The Night Of.
Rounding out the new members of the cast is Douglas Hodge (Penny Dreadful) and Josh Pais (Ray Donovan). Lost alum Brett Cullen was already announced as the new Thomas Wayne, replacing Alec Baldwin.
The release also confirms that Phoenix, before he becomes the Clown Prince of Crime, is a struggling stand-up comedian named Arthur Fleck. That's right, his name is A. Fleck — as if Warner Bros. wanted to hammer in a DCEU connection (because Ben Affleck, get it?), or perhaps it's a nod to him being seen as insignificant as a fleck of dust. We had a hint of his name in director Todd Phillips' first image from the film, but now it's official.
So what to make of all these new faces? Well, Phillips is certainly going all-in crafting a "gritty character study" with his Joker origin movie, which he co-wrote with Scott Silver (The Fighter). Though the film was originally billed as produced by Martin Scorsese — whose film The King of Comedy seems to be a major influence here — the filmmaker's name seems to have disappeared from the credits and been replaced by Phillips' Hangover star Bradley Cooper, who co-produces under Phillips' Joint Effort banner alongside Emma Tillinger Koskoff.
The Joker movie is currently in production and makes its way into theaters on October 4, 2019.