Movie Mixtape: 6 Movies To Watch With 'Hell Fest'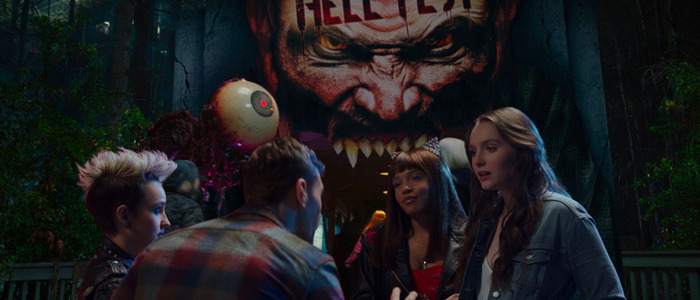 Just as Halloween is the best day to escape from prison, a theme park haunted house is the best place to go on a slasher killing spree.
The serial murderer in Hell Fest knows this. He or she has donned a crappy mask and a weird cloak to follow Amy Forsyth, Bex Taylor-Klaus, and Reign Edwards around the park, killing boyfriends and being a general bloody nuisance.
Could it have to do with an urban legend about a girl getting killed and hung up for days before anyone realized she wasn't a prop? Or with Tony Todd and his fantastical top hat? Or with a gang of meddling kids and their hilarious sandwich-eating dog who are curiously missing from the trailer?
We won't know until the movie jumps out from a shadowy corner this weekend (starting tonight), but here are 6 potential double movies to watch with Hell Fest and keep the scares coming.
April Fool's Day (1986)
I'm not saying that the slasher spree of Hell Fest will be a goof, but the setting offers the potential for theatrical trickery. Enter April Fool's Day, a hellaciously fun riff on Agatha Christie by way of Friday the 13th.
A bunch of wealthy college brats (including Biff Tannen!) hit up an isolated house for a delightful Spring Break filled with drinking and campy nudity and, you know, a relentless killer. It's thrilling and gory with its tone set early on by a creepy jack-in-the-box, some exploding cigars, and a whoopee cushion.
Something Wicked This Way Comes (1983)
Made in Disney's darker days, Jonathan Pryce rocks his own stylish top hat as Mr. Dark, the leader of a carnival that breezes into the sleepy hamlet of Green Town, Illinois, along with autumn. He's got a bunch of colorful side show acts, a fun mirror maze, and he's probably harvesting souls for some nefarious purpose. No biggie.
Written by Ray Bradbury, it's a kind of gleeful terror Disney hasn't been known for in a long time. An extended YA freak out that suggests magical realism could stroll into your town any day now.
Balada Triste de Trompeta (The Last Circus) (2010)
Profoundly bonkers. Dark comic auteur Alex de la Iglesia returns to the circus for a story of murderous romantic rage, face-melting revenge, and deranged clowns with machine guns.
Decades after a Spanish Civil War massacre, sad clown Javier (Carlos Areces) joins a circus, paired with a funny clown who's a horrific masochist dating a gorgeous trapeze artist. Javier falls in love with her. Big mistake. And it's just the first step in a violent story that expands like a whirlwind into madness.
Carnival of Souls (1962)
And that's why you don't drag race. Brimming with a Twilight Zone vibe stuffed inside a retro after school special, this indie horror film's primary scare stems from a ghoulish man stalking a young woman following a terrible accident.
Mary (Candace Hilligoss) has relocated to a new town to start a new life, but the hollow-eyed man won't leave her alone, and every night an abandoned pier on the edge of the Great Salt Lake calls to her. It's a moody piece that didn't get its due until decades after its initial release.
The Cabinet of Dr. Caligari (1920)
The original side show horror, Robert Wiene's masterpiece of German Expressionism tools with audience expectations as it tells a campfire tale of the mysterious, traveling huckster Caligari (Werner Krauss) and his somnambulist Cesare (Conrad Veidt).
At night, Caligari (another weirdo with a top hat!) commands Cesare to abduct young women. But this story really belongs to Francis (Friedrich Feher), whose love Jane (Lil Dagover) is stolen away, and who has to hunt down Caligari to save her and stop the madness.
Candyman (1992)
Tony Todd reigns as one of the most inventive slashers of all time. Candyman is (among a bunch of other things) about what stories we choose to give power. In other words, what we choose to believe.
Virginia Madsen stars as a grad student studying urban myths (which is a thing you can apparently get a PhD in) who foolishly delves too deeply into a horror she think she can explain with armchair psychology. A dark history and a bunch of bees tell a very, very different story.
The Mix
August and September can be an empty wound leading into prestige season, but hopefully Hell Fest gives us something to laugh and scream about. Beyond all of these choices, Scream seems like an obvious double feature contender, not only because Taylor-Klaus's starring role in the surprisingly good MTV series, but because it revitalized the genre with its tongue shoved in its cheek.
Hell Fest looks fun, which is something a lot of horror — especially frisky teens vs silent slashers — tends to forget about. Now who's up for Knott's Scary Farm?