Small-Screen Stream: 'American Vandal' Season 2, More 'Ozark,' And Emmy-Nominated Series You Shouldn't Miss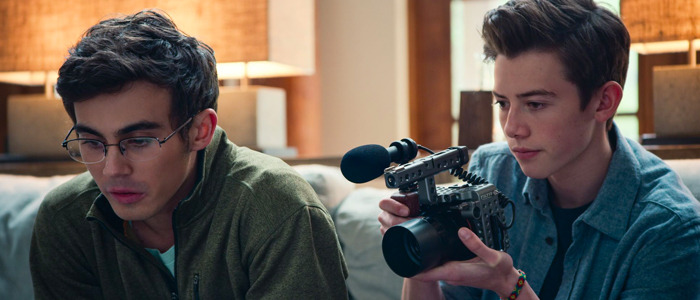 (Welcome to Small-Screen Stream, a feature where we share the best television shows streaming and where you can watch them.)
I don't know about you, but I've been spending this in-between season trying to catch up on literally everything, while also falling victim to comfortable pleasures. That means: a lot of binges of new seasons, mixed with a lot of lazy-couch viewings of old familiars. What can I say–fall is fast approaching, and with it, a desire to light a candle and take in the elements, acknowledging that prestige movie season is fast upon us, as are the holidays.
For this week's column, you'll find a mix of freshly released seasons of shows you might already love, some suggestions for shows that won Emmys this week, and a few old-school favorites secretly hiding in the annals of Hulu.
American Vandal, Seasons 1-2
Where To Watch: Netflix
Created By: Dan Perrault, Tony Yacenda
Starring: Tyler Alvarez, Griffin Gluck, Jimmy Tatro
I love American Vandal. It's one of the funniest things I've ever seen, and remains one of the most impressively dedicated mockumentaries ever committed to film. The perfect first season revolves around a large-scale penis joke, and the recently released second season goes even farther – from dick jokes to poop jokes. It's potty humor for those of us – like me – who still find that sort of thing hilarious in a primal, stupid, inexplicable way.
Family Matters, Seasons 1-9
Where To Watch: Hulu
Created By: Thomas L. Miller, Robert L. Boyett
Starring: Jaleel White, Reginald VelJohnson, Jo Marie Payton
Did you know Hulu has a ton of old TGIF sitcoms? In the interest of brevity, I've only named this (and one other farther down the list), but there's a whole lineup waiting to be delved into. I grew up on Family Matters, and as long-time citizen of Chicago, the house featured in the opening credits was part of our city's pop culture mythology. Jaleel White made a surprise appearance in this week's Emmy awards, which triggered a mini-rewatch of the season for me.
Ozark, Seasons 1-2
Where To Watch: Netflix
Created By: Bill Dubuque, Mark Williams
Starring: Jason Bateman, Laura Linney, Sofia Hubiltz, Skylar Gaertner, Julia Garner
I'm fresh out of cares when it comes to Jason Bateman, who tried my patience after an ill-advised New York Times interview where he failed to defend his Arrested Development cast mate Jessica Walter, who admitted she was routinely emotionally abused by her onscreen husband on that show, Jeffrey Tambor. That may seem like an inconsequential thing to bring into a description of Ozark, but if you're like me, you may have a hard time separating your consistent disappointment in good actors and creators from the disappointing names they make for themselves in the news.
I caught up on Ozark not because I felt obligated, but out of a sort of primal investment out of my enjoyment of the first season. And because, as I like to tell myself, shows and movies are not just one person's involvement, but a great many. And the show is pretty damn good, a Midwestern Breaking Bad about a family who relocates from Chicago to the Ozarks after their patriarch's money-laundering scheme goes wrong. The second season dropped on Netflix in late August and I've been making my way through it slowly. It doesn't reach quite the same heights as the first, but the cast is still top-notch – despite my Bateman misgivings – and if you loved what came before, you'll love its follow-up, too.
The Catch, Seasons 1-2
Where To Watch: Hulu
Created By: Kate Atkinson, Helen Gregory, Jennifer Schuur
Starring: Mireille Enos, Peter Krause
This is one of those shows I tuned into solely because I love the two leads from past performances. Enos and Krause are staples in my television-loving household, and they have fun in this show, which only lasted two seasons before it was canceled last year. I can't exactly argue with the decision to axe it, but I've enjoyed the first two outings. Enos plays Alice, who runs a private investigation firm in L.A., and Krause plays her con artist fiancee. It feels like low-grade Shonda Rhimes fare, but their chemistry is great, and it bumbles along enough to earn its place as a Sunday-evening easy watch.
Atypical, Seasons 1-2
Where To Watch: Netflix
Created By: Robia Rashid
Starring: Jennifer Jason Leigh, Keir Gilchrist, Brigette Lundry,Paine, Michael Rapaport
I hadn't heard of Atypical until Netflix recommended it, and I'm so glad it did, because this is a truly special little series, about an autistic teen named Sam Gardner (Keir Gilchrist) who is looking for love, and the family around him who struggle with finding meaning beyond his diagnosis. The show was rightfully criticized in season one for its lack of proper representation in not featuring any real-life autistic actors, but it amended that in season two. It's always a delight to see more Jennifer Jason Leigh, who shines here as Sam's mother, a woman trying to find her place in Sam's life while steering her own path.
Black Sails, Seasons 1-4
Where To Watch: Hulu
Created By: Jonathan E. Steinberg, Robert Levine
Starring: Toby Stephens, Hannah New, Luke Arnold, Jessica Parker Kennedy, Tom Hopper
Several of my dearest friends have been pestering me to watch Black Sails for the last few months. Knowing that I love Game of Thrones, they promised me this was an even more assured show in a similar vein, about pirates and renegades and scoundrels; AKA my exact cup of tea. I'm very early in my Black Sails viewing party, but I'm here to report that they weren't lying. The show lacks Thrones' fantasy stylings, but makes up for it in gritty character work. It works as a prequel to Robert Louis Stevenson's seminal novel Treasure Island, following characters like John Silver (Luke Arnold) and Captain Flint (Toby Stephens) as they embark on new adventures.
Forever, Season 1
Where To Watch: Amazon Prime
Created By: Alan Yang, Matt Hubbard
Starring: Fred Armisen, Maya Rudolph
It's hard to talk about Forever without fully spoiling its hook. Sort of like how The Good Place pulls a run out during its first season finale, Forever totally changes gears at the end of its very first episode. Obviously, I'm not going to spoil you, but I hope this very tantalizing tease gets you to watch this very special Amazon Prime series, which stars Maya Rudolph and Fred Armisen as a married couple in a serious mid-life rut. How, exactly, that rut is dealt with is again a part of the hook. Please trust me on this one and give it a chance – you'll gasp, but you'll probably love what comes next.
Cable Girls, Seasons 1-3
Where To Watch: Netflix
Created By: Teresa Fernández-Valdés
Starring: Maggie Civantos, Nadia de Santiago, Ana Fernández
I'm so grateful that Netflix exposes me to so many great foreign-language shows. Cable Girls is the latest in a series of export series that have immediately compelled me. The show follows a telecommunications company in 1920s Madrid and the young women who work there. It's a great series about women from various walks of life, in a period setting that feels totally disparate from anything I've seen before. The actresses are all incredible, and the language and time barriers never feel isolating; these are people who might exist anywhere, at any time.
Party of Five, Seasons 1-6
Where To Watch: Netflix
Created By: Christopher Keyser, Amy Lippman
Starring: Matthew Fox, Scott Wolf, Neve Campbell, Lacey Chabert
I was so happy when this series finally popped up in my Netflix suggestions. For the longest time, it was unavailable to stream. And suddenly, there it was, the This Is Us of the '90s, ready for me to watch and cry and feel the most. It's been forever since I watched the Salinger siblings deal with the aftermath of their parents' untimely car accident death, but it's always compelling in a way that's long made me wish I came from a family of many siblings, the same way Shameless always twists my arm. Theirs is a chaotic but loving house. Seriously, has a better big brother than Charlie Salinger ever existed?
The Marvelous Mrs. Maisel, Season 1
Where To Watch: Amazon Prime
Created By: Amy Sherman-Palladino
Starring: Rachel Brosnahan, Alex Borstein, Tony Shalhoub
Mrs. Maisel just swept the Emmys, winning a bunch of major categories, and remaining a nights-long trending topic. For good reason, because the show is fantastic. If you're a fan of Palladino's quirky Gilmore Girls-style humor, you'll love it in a period setting: 1958 New York City, to be specific. Rachel Brosnahan, who won Outstanding Lead Actress in a Comedy Series for her work on the show, is a powerhouse as the titular character, a Jewish housewife who discovers a love for stand-up comedy. The series is bright, bold, and hard to resist. I put it off for a long time, but haven't regretted for a second giving into its charm. It's the real deal, and worth an invested binge watch.
Roswell, Seasons 1-3
Where To Watch: Hulu
Created By: Jason Katims
Starring: Shiri Appleby, Jason Behr, Katherine Heigl, Majandra Delfino, Brendar Fehr
The CW is having a field day green-lighting reboots of old WB shows, and Roswell is one of its latest victims. I don't really mind reboots, to be honest, but whenever I hear about them, I feel compelled to return to the originals just to see how they hold up. Roswell is not a good show, but it's a show that almost immediately transports me to a specific time, of sitting in my bedroom on an inflatable chair where I screwed with the TV antenna to get a good signal; the credits play out like some sort of foam memory. I remember Max and Liz and Isabel, the aliens and the humans, the weird mix of teen romance dilemmas and intergalactic drama. I have no idea how this show will look in 2018, but I'm happy to know the old version exists in its totality on Hulu, a perfect time capsule.
Fun fact: This show was created by Jason Katims, who would later create Friday Night Lights, one of the greatest shows ever made.
Boy Meets World, Seasons 1-7
Where To Watch: Hulu
Created By: Michael Jacobs, April Kelly
Starring: Ben Savage, Will Friedle, Rider Strong, Danielle Fishel, William Daniels
Boy Meets World is one of the greatest, most seminal shows of my childhood. Like the aforementioned Family Matters, it was also TGIF programming, follow the hijinks of Cory Matthews (Ben Savage), his best friend Shawn Hunter (Rider Strong), and the love of his life Topanga (Danielle Fishel) as they navigated middle school, then high school, and later college. It's been a real privilege to grow up with these characters, who have since evolved to Disney's sitcom spinoff Girl Meets World, about Cory and Topanga's children. Whenever I'm feeling down, I'm happy knowing Hulu has these seven seasons to return to at any moment. The perfect nostalgic pick-me-up.