New Blu-Ray Releases: 'Solo: A Star Wars Story', 'Ocean's 8', 'Gotti', 'Universal Monsters: Complete Collection'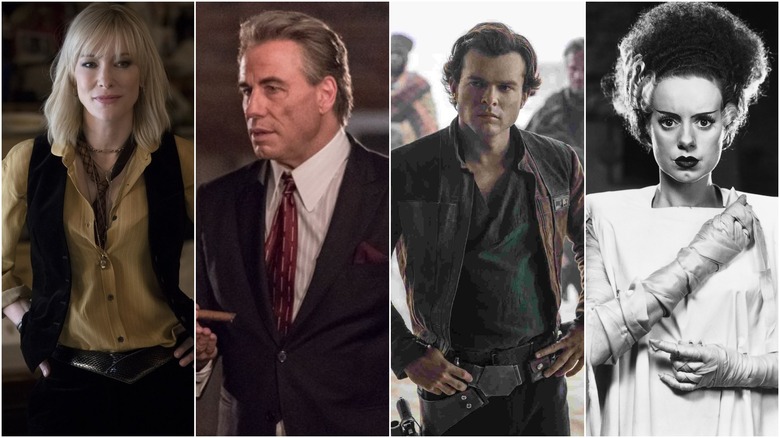 (Welcome to Not Dead Yet, a feature dedicated to new Blu-ray releases and what special features you should be excited about. Because yes, some of us still like to own physical copies of our movies.)
Solo: A Star Wars Story is arriving on Blu-ray, just in time for audiences to discover it's not nearly as bad as some people claimed it was. In fact, it's fun! And you can finally see Bradford Young's cinematography the way it was intended to be. Solo is joined by the star-studded Ocean's 8, the must-have Universal Monsters box set, and, uh...Gotti!
Here are the new Blu-ray releases and their special features you should check out this week and beyond.
Solo: A Star Wars Story
I think time will be kind to Solo: A Star Wars Story. The Star Wars spin-off film underperformed at the box office, which resulted in a narrative claiming the film was a total failure. That isn't quite true – yes, it didn't meet expectations, but it didn't exactly flop, either. And while I myself was a bit mixed on the film – it's fun, but kind of pointless! – I also think it deserves better than its reputation suggests. Alden Ehrenreich is no Harrison Ford (hey, who is?), but he makes for a charmingly roguish Han. And the doomed romance between Han and Qi'ra (Emilia Clarke) really works – Ehrenreich and Clarke have real chemistry together. On top of that, Solo is one of the best looking Star Wars films, thanks to Bradford Young's cinematography. Many of Young's visuals were ruined by poor projection in theaters, which makes the Solo Blu-ray all the more essential: you can finally, clearly see what Young was going for here. As time wears on, I think those who shrugged Solo off will come to see it as a pretty entertaining adventure. Hell, it's certainly a lot better than Rogue One.
Special Features to Note:
Of the many featurettes included on the Solo Blu-ray, the best is "Kasdan on Kasdan", which has father and son screenwriting team Jonathan Kasdan and Lawrence Kasdan talking about the family connection to the franchise, and the crafting of the film. "The whole saga is about fathers and sons, and generations," says Lawrence Kasdan. "So [working with my son] fits in." This is a great, even touching, look at the writing of the film, and Lawrence Kasdan's legacy with the franchise. 
The second best is "Becoming A Droid", which focuses on the new droid, L3-37, played by Phoebe Waller-Bridge. This featurette tracks the character's design origins – she started off looking like an R2D2-style droid before evolving into something different. We get to see Phoebe Waller-Bridge on set playing the character in costume. While CGI was used to enhance the appearance, Waller-Bridge performed the character wearing a costume with greenscreen elements. This helped add some much-needed realism to the part. 
Beyond this, we have a featurette about redesigning the Millenium Falcon for the film. As Donald Glover points out, the Falcon in this film is brand new, as opposed to the beat-up hunk of junk we're used to. The script describes it as "a sports car in a junkyard." Other featurettes break down the production – set design, costume design, and more. I was hoping for a featurette devoted to Bradford Young's cinematography, but sadly, one does not appear.  
There are a handful of delete scenes included as well. While the scenes all add a little extra flavor to the film, none are that earth shattering. We get an extended scene with Han and Qi'ra in Proxima's Den, where Han tells Qi'ra he won't leave without her. This is followed by a scene where Han and Qi'ra run through the streets, pursued by Proxima's gang. They hide in a vat of eels, as one does. After this, we actually get to see Han as an Imperial Cadet, flying on a mission and crashing. He appears before a tribunal to explain himself, where he's accused of "Maverick heroics", and is reassigned to the infantry. This gives way to an extended battle sequence on Mimban. Han and Chewie's first meeting/fight is presented in an extended form, where the fake fight between the two is much longer. This isn't the only fight included – there's also a funny, mostly silent sequence where Han and Chewie have a snowball fight with each other. It's not really clear where this scene fits in – it's sometime during the train heist at the beginning of the film, but if it's coming after the heist – when several characters die – it seems very out of place. Which might be why it was cut. Beyond this, we have an extended introduction to Dryden, where we get to see more of his trophy room. During this sequence, Han keeps trying to eat a snack, making a mess of it as he does. 
Special Features Include:
Solo: The Director & Cast Roundtable
Sit down with director Ron Howard and the stars for an intimate and entertaining discussion of the film's making.
See what it takes to bring your favorite Wookiee to life in this lighthearted look behind the scenes.
Iconic Star Wars screenwriter Lawrence Kasdan and son Jonathan share what it was like to write the movie's script together.
Remaking the Millennium Falcon
Track the transformation of the most famous ship in the galaxy, from Lando's swank and impeccable pride and joy to Han's stripped-down hot-rod freighter with "special modifications."
Get behind the wheel for the making of this high-octane chase through the streets of Corellia.
Explore the challenges and thrills of creating this action-packed sequence, including its remote location and spectacular effects.
Meet the newest droid—and the talented actor who helps bring her to life.
Scoundrels, Droids, Creatures and Cards: Welcome to Fort Ypso
Take an in-depth tour of the rough-and-tumble bar where strangers mix and gamblers risk all in the legendary card game, Sabaac.
Into the Maelstrom: The Kessel Run
Join Han and Chewie at the controls of the Millennium Falcon to see how this legendary moment in Star Wars history unfolds.
The Battle of Mimban: Extended
Han Versus Chewie: Extended
Ocean's 8
What a cast! What a premise! What...happened? Ocean's 8 should've been a slam-dunk. One of the best casts, ever, came together for a female-driven heist flick in the vein of Steven Soderbergh's Ocean's films. Sandra Bullock, Cate Blanchett, Anne Hathaway, Mindy Kaling, Sarah Paulson, Rihanna, Helena Bonham Carter, and Awkwafina are the ladies in question, joining forces to rob the Met Gala. This should work! And yet... Look, Ocean's 8 is fine. It's a light, fun movie. But it could've been better. Much, much better. For one thing, the film wastes this great cast. Mindy Kaling has almost nothing to do here, ditto Rihanna. Even Cate Blanchett, featured so prominently in all the marketing, gets the short end of the stick. On top of this, Gary Ross' direction is uninspired. The opening of the film, with Bullock's Debbie Ocean getting out of jail, actually has Ross mimicking Soderbergh's directorial style, and it's great! From here, however, he abandons that for a less-thrilling look. Ocean's 8 is also far too beholden to the previous films. This isn't just a reboot, it's a direct sequel, and that hurts the film. A last-minute twist heavily involves an Ocean's 11 character, and it just seems entirely unnecessary. Why couldn't this just be its own thing? Still, it's hard to dislike this film. It's so breezy and well-intentioned that it endears itself to you. Also helping matters is Anne Hathaway, who steals the entire film as a snobby actress. More Anne Hathaway in more movies, please.
Special Features to Note:
There are two deleted scenes here. One involves Sarah Paulson's character returning to the gang's hide-out to talk about how expensive and elite the Met Gala is. Paulson is funny here, but the scene is needless. The other deleted scene is likely from the end of the film (possibly a nixed post-credits scene?) The heist is done and everyone is gone, except Sandra Bullock and Sarah Paulson. Bullock's Debbie Ocean attempts to keep Paulson's character Tammy around by suggesting they pull off another robbery, but Tammy insists she has to get home. It's amusing and quick. 
Beyond the deleted scenes, we're treated to a handful of quick (each about 10-12 minutes) featurettes about the making of the film. One focuses on the lengths the production went to to recreate the Met Gala. At first, Gary Ross and company thought they might have to build a set, but after meeting with with Anna Wintour and Vogue, the production was able to lock down the actual Met to stage the scene.
Another featurette focuses on the concept of making an  Ocean's film with a female-centric cast. Writer Olivia Milch wanted to "have a dialogue" with the Soderbergh films, but to also have this movie be its own thing. "We're taking the outlaw trope and giving it to this group of amazing women," says Gary Ross here. Milch goes on to say she wanted the film to show the "fun" of pulling of a heist – and for all the film's flaws, I'd say they succeeded on this end. 
"Ocean's Team 3.0" is all about the ensemble – the assemblage of the cast, the chemistry they have with each other, and so on. Everyone talks about their characters and their traits – Sandra Bullock is "cool" and "sophisticated" and and also good at putting the plan together, costume designer worked to make her wardrobe look similar to George Clooney's Ocean's looks – i.e., turtlenecks. There's actually more focus on character here than in the actual movie, which says a lot. 
Special Features Include:
Gotti
"This life ends one of two ways: Dead, or in jail. I did both!" So says John Gotti, narrating the film Gotti from beyond the grave. That's how Gotti, starring John Travolta, kicks-off, and it doesn't get any better from there. By now, Gotti has achieved a certain notoriety. A delayed release gave way to downright savage reviews, and yet, audiences – using MoviePass – turned out for the film. Sort of. And now, it's on Blu-ray. So is Gotti as bad as some claimed? It's by no means a good movie, but it's also surprisingly short – which is a plus. The film almost breezes by, and when it's over, you feel no worse than when you started off. But let's be clear: this is a dumb movie. Director Kevin Connolly burns through the life of notorious mobster John Gotti, giving us a sort-of greatest hits about Gotti's life. All the while, John Travolta has the time of his life playing the Teflon Don. Travolta is fun to watch here – his performance is big and broad, but that's kind of what the character calls for. Everything else around him, though, is a disaster. And curiously enough, Gotti goes to great lengths to try to claim that even though he was a murderer, John Gotti was also a good family man who loved his son. There's even a montage at the end with people talking about what a great guy John Gotti was. It's mind-boggling. Gotti never enters "so bad it has to be seen to believed" territory, but you might get a certain thrill watching such an incompetent, ineffectual film unfold.
Special Features to Note:
Oh, fuggedaboutit! The Gotti Blu-ray has zero special features, paisan.
Special Features Include:
Madonne! What's the matter wit you? Didn't you see what I said above!? No special features here, capiche?
Universal Classic Monsters: Complete 30-Film Collection 
Long before Tom Cruise ruined The Mummy, Universal Monsters reigned supreme. These films might seem quaint and even antiquated now – horror as a genre has only grown more extreme. But the Universal Monsters films still hold plenty of magic. These are gothic, lonely films – melancholy is almost as prevalent as horror. Yes, these films focus on monsters – but I always found myself relating to the monsters here. Understanding their plight, and empathizing with their isolation. As Frankenstein's Monster journeyed through dark, twisted woods, a solitary figure cutting across the landscape, you can't help but sympathize. It's a trait modern horror has lost – filmmakers often fail to find the humanity lurking within their monsters. Which is why this new 30-film Universal Classic Monsters collection is so essential. All of the films are gathered here on Blu-ray for the first time ever. The gold standards are here: Frankenstein, Dracula, The Wolf Man. But then there are the curiosities – the cross-over films House of Frankenstein and House of Dracula; the captivating Dracula's Daughter, with its lesbian subtext; the hilarious Abbott and Costello Meet Frankenstein. It's a wonderful set, and a must-have for any horror fan.
The set includes:
Dracula(1931), Frankenstein (1931), The Mummy (1932), The Invisible Man (1933), The Bride of Frankenstein (1935), Werewolf of London (1935), Dracula's Daughter (1936), Son of Frankenstein (1939), The Invisible Man Returns (1940), The Invisible Woman(1940), The Mummy's Hand (1940), The Wolf Man (1941), The Ghost of Frankenstein (1942), The Mummy's Ghost (1942), The Mummy's Tomb (1942), Invisible Agent (1942), Phantom of the Opera (1943), Frankenstein Meets the Wolf Man (1943), Son of Dracula (1943), House of Frankenstein (1944), The Mummy's Curse (1944), The Invisible Man's Revenge (1944), House of Dracula (1945), She-Wolf of London (1946), Abbott and Costello Meet Frankenstein (1948), Abbott and Costello Meet the Invisible Man (1951), Creature from the Black Lagoon (1954, and includes a 3D version), Abbott and Costello Meet the Mummy (1955), Revenge of the Creature (1955 and includes a 3D version) and The Creature Walks Among Us (1956).
Special Features to Note:
The set comes loaded with features, all of which have appeared on previous Blu-ray releases. While there's technically nothing new here, the features present are all worthwhile. The making-of featurettes that accompany the Dracula and Frankenstein discs are essential – offering concise, fascinating background into the creation of the films, tracking their path from classic novels, to stage plays, to feature films. Dracula kicked things off in 1931, and Universal quickly learned that horror was big business. Film historians, relatives of actors Bela Lugosi and Boris Karloff, and more are all interviewed, giving their insight into the histories of these films. My favorite interview subject is soft-spoken make-up effects man Rick Baker, who pops-up to discuss the ground-breaking make-up from these films created by Jack Pierce.
Also included: the Spanish-language version of Dracula. Filmed at night on the same sets as the English-language Dracula, this film is actually better than the more familiar English version. Tod Browning, who directed the English version, brought a boring, point-and-shoot style to his film – the movie is shot like someone recording a stage play. In sharp contrast, George Melford, the filmmaker behind the Spanish-language version, displayed real artistry, borrowing from German expressionist films. None of this is to say the English-language Dracula is bad. For one thing, it has Bela Lugosi as the blood-sucking count. Lugosi is phenomenal, and Carlos Villarías, who plays Drac in the Spanish-language version, can't hold a candle to Lugosi's portrayal.
As great as this set is, it does have an issue. The transfer of Revenge of the Creature is extremely poor – it doesn't resemble the HD look of the other transfers included here. On top of that, the 3D version of the film isn't an actual 3D transfer, and doesn't work on some 3D players. Personally, none of these issues bother me – I don't care about 3D. But I'd be remiss to ignore these problems, as I'm sure they'll bother someone, somewhere. Universal will likely be putting out a new edition that fixes the issues, so if you're concerned about this, just wait a little longer.
Special Features Include:
Behind-the-Scenes Documentaries
3D Versions of Creature from the Black Lagoon and Revenge of the Creature
1931 Spanish Version of Dracula
Featurettes on Bela Lugosi, Boris Karloff, Lon Chaney Jr., and Jack Pierce
13 Expert Feature Commentaries