Nicolas Cage Wants To Do A Blumhouse Movie, And Jason Blum Already Has An Idea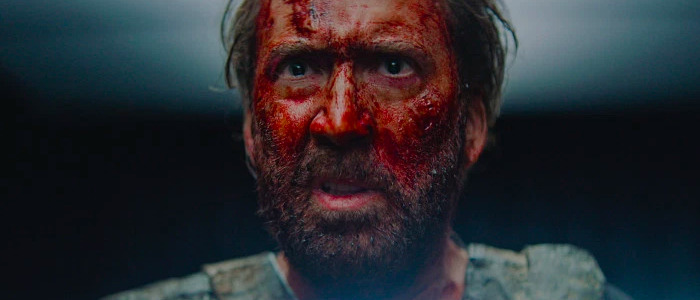 Some things were made for each other. Peanut butter and jelly. Fish and chips. And now, Nicolas Cage and Blumhouse. The constantly-working actor recently revealed he'd love to work with the horror-centric production company. And this doesn't just seem to be a case of wishful thinking – Blumhouse CEO Jason Blum says he already has a film idea for Cage.
Nicolas Cage is enjoying some of the best reviews of his career with Mandy, an acid-trip of a movie that finds the energetic actor facing off against a crazed cult. But don't call it a comeback – Cage has been working consistently for years, and is happy to appear in high art or cheesy trash if the part speaks to him. And time and time again, he always delivers 110% – you'll never see him phone-in a performance. While promoting Mandy, Cage has been speaking candidly about his career and his goals. During an interview with Forbes, the actor revealed he'd be more than happy to take on a role in a Blumhouse film:
"I work with anyone who is enthusiastic and has an understanding of what they'd like to do with whatever my instrument can offer them. I certainly would not hesitate. I think what he's doing is a great concept and the results back that up."
Over the last 18 years, Blumhouse has become a powerhouse, distributing hit horror movies (and a few non-horror titles as well). This year they have the highly-anticipated Halloween hitting theaters, and also played a part in Spike Lee's acclaimed BlacKkKlansman. The idea of Cage appearing in some sort of horror-centric Blumhouse movie is definitely appealing, and it might just happen.
In another Forbes interview, Blumhouse head honcho Jason Blum seemed overjoyed at the realization that Cage wanted to work with him. "I had no idea that Nicolas Cage wants to work with Blumhouse, I'm a huge fan of his, and I love that he's a huge fan of ours," Blum said. Blum immediately took things even further, coming up with a movie idea for Cage on the spot:
"Seriously, I'd love to have him in a Blumhouse movie; he'd be great. I see him as perhaps a very concerned father of a teenage boy who has had something terrible happen to them. It would be amazing. I'm going to have to figure that out."
Yes, please, sign me up immediately for Blumhouse's Concerned Father: The Movie. I know Cage has reached a point in his career where some consider him to be a walking, talking meme – but he still knows how to turn in great work. His acting in Mandy is fantastic, and despite what some people are saying, it's a (mostly) understated, internalized performance. So please make it happen, Blumhouse – give us more Cage.