Universal Studios Hollywood's Halloween Horror Nights 2018: The Good, The Bad, And What Could Be Improved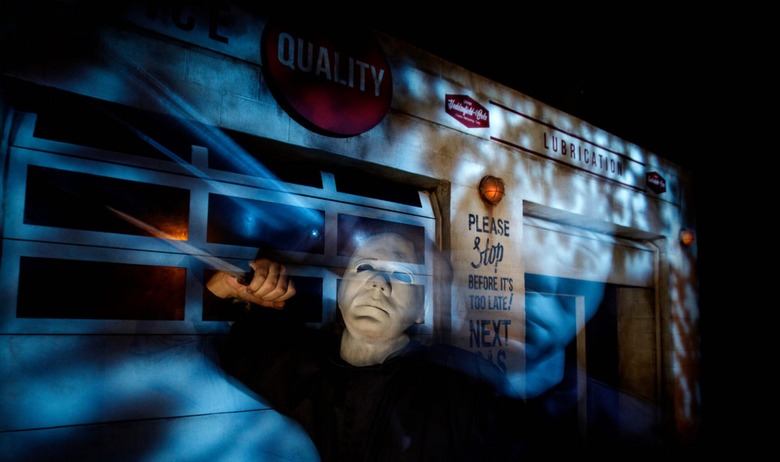 Halloween Horror Nights was the first haunted house event I ever attended and I've gone every year since I moved to Los Angeles. I'm admittedly not a hardcore horror film guy – I enjoy the occasional horror film or slasher movie, but I skip more of the big horror releases than I see. But I am a huge theme park guy who loves being immersed in the worlds and stories we watch on the big and small screens, and that is probably why I've fallen hard for these events.
My excitement for Universal Studios Hollywood's Halloween Horror Nights has waned a bit over the years as the novelty has worn off, the crowds have gotten much much larger, and the production value and originality has fallen into decline. So how does Universal Studios Hollywood's Halloween Horror Nights 2018 compare to previous years? Let's take an in-depth look.
(Note: our review of Universal Studios Florida's Halloween Horror Nights, which shares many similarities and many differences, can be found right here.)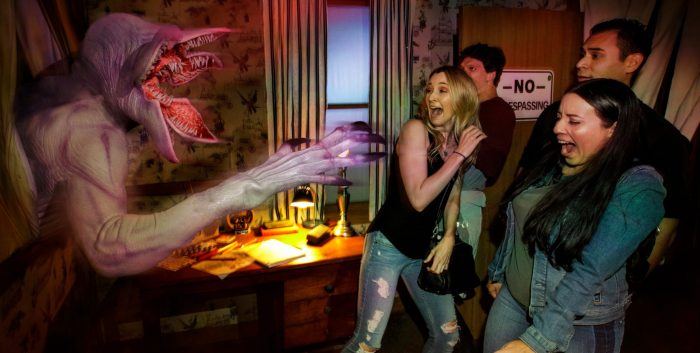 The Mazes
Let's talk briefly about the mazes they had at this year's Horror Nights, listed in order from my favorite to least favorite.
Stranger Things: It might not have been the scariest maze at this year's event, but it was my favorite. It was just so much fun walking through the great recreations from the Netflix series' first season. This house has great production design and has been constructed on a soundstage instead of the usual makeshift tent, which allows them to make things bigger and more epic. After watching videos of Universal Studios Florida's Stranger Things maze, I am disappointed that ours didn't feature as many character actors as theirs did, and their Upside Down had real ash falling from the sky where ours had merely projection mapping on the walls. In any case, this was a huge hit, and I'm sure they'll probably do a Stranger Things season 2 next year.
Poltergeist: This maze was a whole lot of fun. Some great scares and cool recreations of scenes from the film that makes me want to revisit it. My girlfriend has never seen Poltergeist, and this was her favorite house of the night, which is very telling.
Halloween 4: This is another franchise that has been a mainstay at these events. I understand Universal owns the rights to Halloween, but I'd love if they change it up more. The one cool thing is that they have a ton of fun Michael Myers scares, maybe because the costume is so cheap and they just have a lot of them from the many mazes over the years.
Terror Tram: One of my favorite things to do at Horror Nights every year is the Terror Tram, which is basically a bunch of scare zones constructed on the Universal Studios lot tour. I probably enjoy this more than I should because you get to walk through parts of the backlot tour that you would typically not be able to, like the airplane crash from Spielberg's War of the Worlds and the Bates Motel. This year, the theme was "Hollywood Harry's Deadtime Stories," the sole "original" concept of the event. Where Universal Studios Orlando does impressive things with their original mazes, the one in Hollywood just felt like a Frankenstein of mostly reused bits of props and costumes from previous years. Also, the Universal Creatives working on this event are obsessed with putting the letter Z at the end of names like it's still the 1990s. Holidayz, Scarecrowz... It just feels dated.
Trick R Treat: I am a huge fan of this movie, and was very excited to experience this maze, but found the whole thing to be underwhelming and short. While it was fun to walk through the short segments from the now-classic movie, this is one of those houses that I think suffered from not being able to stray far from the story to provide a great haunted house experience.
The First Purge: We've had Purge mazes and scare zones at this event for as long as that franchise has been going on, and frankly, I'm getting a little sick of it. Thankfully, The First Purge storyline feels a bit different than the past versions of The Purge experiences at the event, but I really hope I never see another Purge maze at Horror Nights. But we will. After all, Universal owns the rights to this series.
Universal Monsters: This was a house featuring the classic universal monsters, trying to show them off in a new modern way, featuring...music by Slash? Yeah, it didn't quite work for me. First of all, the Universal monsters characters aren't terrifying, and the music just didn't fit, but somehow the Universal creatives were able to create some fun jump scares.
The Horrors of Blumhouse: It makes brilliant sense strategically for Universal to have a maze based on the smaller Blumhouse movies, but it's just not a great experience. For example, walking through the bedrooms of the characters in Unfriended, a film that takes place entirely on a computer screen, was silly. Truth or Dare was even less appealing. This year, they even used the house to promote upcoming movies. Snore. I will say I am thankful they are doing this montage of a haunted house where each film gets two or three rooms rather than promoting these films with their own mazes.
Overall, the mazes were a lot of fun this year, but I'm seeing a lot of the same thing done over and over. The scares are virtually the same, and there doesn't seem to be much innovation in that respect. I like the expanded use of puppets and would love to see some of the multilevel stuff being done at Universal Orlando or more of the storytelling interactive ideas being explored at Knotts Scary Farm.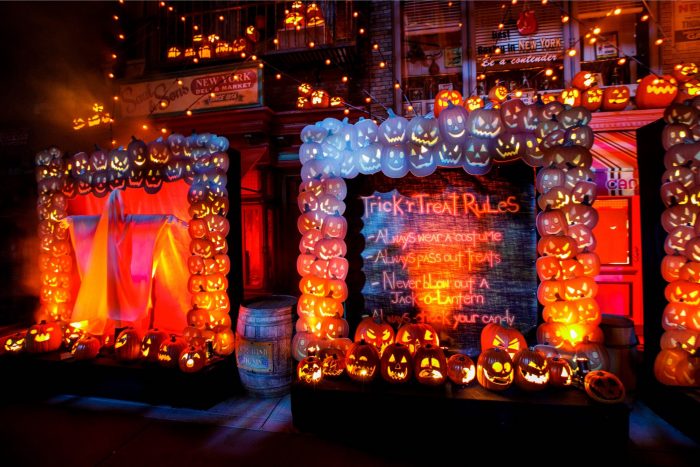 The Scare Zones
When I first attended Halloween Horror Nights, I found some of the scare zones to be as much fun as the haunted mazes. For those of you who have never been to an event like this, some of the areas between rides and houses are designated as "Scare Zones," dressed up, themed, and lit for the event and featuring scare actors jumping out and chasing park guests. When done right, the smoke, the lights, the props, displays and scare actors make it feel like you're walking through a colossal horror scene in a horror movie on the backlot.
I remember the first year at Horror Nights, walking down a street that was lined with smoke and lights with girls dancing on stages to Rob Zombie-sounding music. At the end of the strip were these large shipping containers and a ringleader at a podium yelling at the crowd from a microphone. Large explosions burst into the air in the background as maniacs with chainsaws ran after unsuspecting victims. It was awesome.
The quality of these scare zones has decreased at the Hollywood event. What used to be these big epic scenes have now become a bunch of small displays on wheels that are brought out for the event. The work on the displays is fine, but it feels piecemeal and it's not transformative.
The Trick r Treat scare zone has Sam and the kids on a school bus, a fun photo op for sure, but the rest of the production design was mostly made up of a bunch of signs. It was rather sad. I'm not sure if it's that the budget for these scare zones has decreased or if they have been scaled down to handle the more massive crowds, but they feel more like an afterthought than a fully fleshed out creation.
And quite honestly, if you look at any of the videos from the scare zones at Halloween Horror Nights at Universal Orlando, they blow ours away. I know part of that is that they have more room to play with, but even the set construction and atmosphere is better, the theatrical storytelling superior. This is shocking to me because Hollywood is the land where the movies are made – shouldn't the set, lighting, atmosphere, and entertainment be better than Orlando?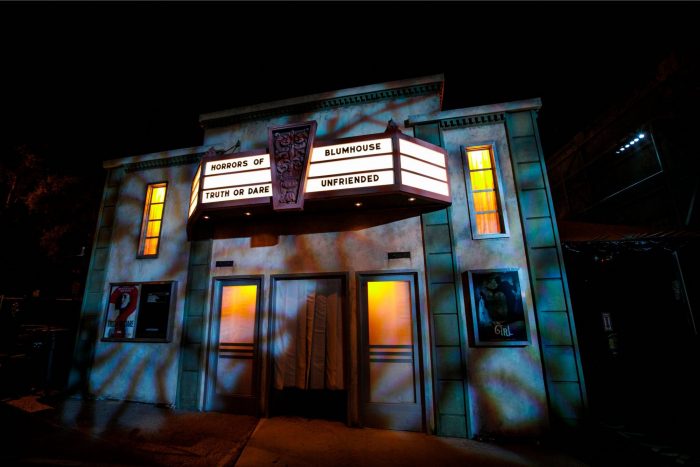 The Good and the Bad of an IP-based Horror Event
Unlike other haunted events in Southern California, the majority of the mazes at Halloween Horror Nights are comprised of adaptations of big horror franchise IP. This is good and bad. It allows you to get excited about familiar horror brand names, iconic villains you have watched on the big screen many times over the years, and walk through the stories and worlds of your favorite horror movies. Nothing beats walking through the Upside Down and venturing through a Hawkins classroom watching Eleven using her powers to destroy the Demogorgon.
The unfortunate aspect is that it allows for less creativity. When you're walking through the story of Trick r' Treat, you know which scene is going to come next, and not only that, the Universal Creatives have very little wiggle room in adding something to the scene that may make for a better-haunted maze experience. Universal Studios Orlando has a lot more land and usually offers a bunch of original haunted mazes that push the limited of what can be done creatively with the experience. To give you an example, Orlando's Halloween Horror Night had five (out of 10) original mazes this year while we had only one out of eight (or nine, if you count the year-round Walking Dead attraction).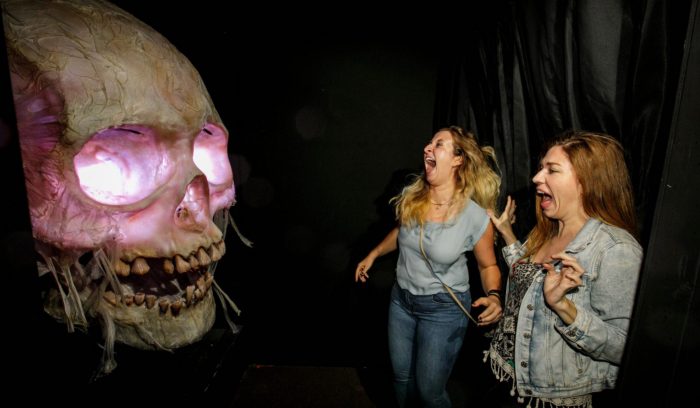 The Rides
As someone who has regularly been a Universal Studios Annual Passholder, I don't go to the Halloween Horror Night events to ride the regular attractions, but you can ride some of them during the event and often for a shorter wait than you'd experience during the daytime hours. This year, they only had three rides in operation: Transformers: The Ride 3D, The Simpsons Ride, and Revenge of the Mummy: The Ride.
In previous years, Universal has offered more rides and unique event-specific experiences. For instance, a mainstay of the event is Jurassic Park in the Dark, which took the classic water ride and added a fun Guns 'n' Roses soundtrack as well as a darker interior sequence. That ride is being retrofitted into a new Jurassic World attraction and thus wasn't open this year. Typically, that's the only attraction I ride during this event, and it's closure mean there was one less thing to do.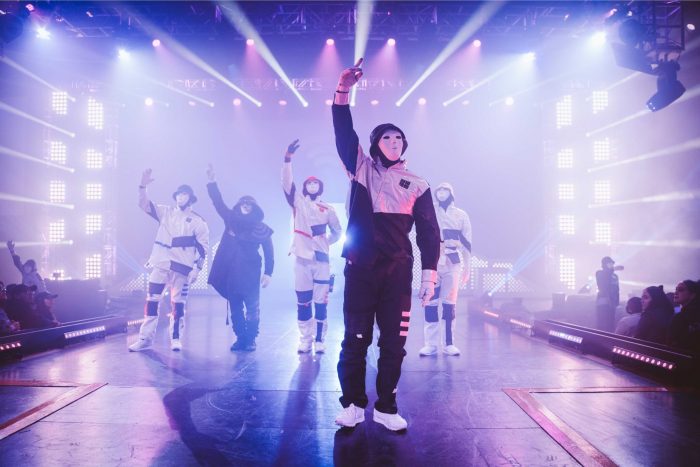 The Lack of Additional Entertainment
Halloween Horror Nights use to have a yearly show featuring a bunch of stupid but fun parodies, wrapped in a nonsensical time machine plot revolving around Bill & Ted. That show was replaced years ago in Hollywood with the Jabbawockeez, a hip-hop dance show featuring a troupe of people in masks. Nothing about this show is spectacular, nothing about the show feels in the Horror Nights Halloween spirit. It seems like a safe, uninteresting thing that might appeal to tourists, and it just doesn't make sense for the event.
Listen: I was never a huge fan of the Bill and Ted shows, but at least they were crowd-pleasing and fun. I really wish Universal Hollywood would find a replacement for the Jabbawockeez. Perhaps they could put together a yearly show involving the mash-up of all these different horror franchises that make up the event: Tte kids from Stranger Things encounter Michael Myers on the night of the yearly purge, etc. Maybe that would just be silly, but I'd love to see Sam from Trick 'r' Treat teaming up with the Demogorgon to kill the stupid kids from Unfriended.
This year, Universal Orlando has a scare zone called Vamp 85 where, every half hour, a 1985 New Years Eve celebration is invaded by vampires. From what I can tell, the experience is less about the usual scare zone scares and more of a bit of themed entertainment. I'd love to see something like that come to California's park.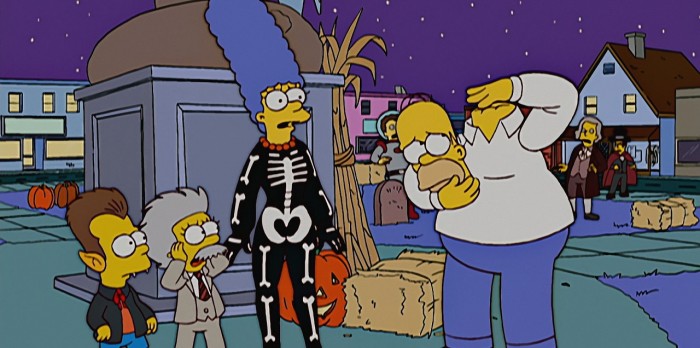 Missed Opportunities
Universal Studios Orlando is a theme park that rarely hosts movie and TV productions; Universal Studios Hollywood is a movie studio that also has a theme park. With this in mind, I don't understand why Universal Studios Hollywood doesn't take more advantage of one of their most significant assets: the backlot.
I'd love to have a scare zone or maze that takes place in the backlot streets. How cool would it be to walk through Back to the Future's clock tower square with downed helicopters, fires, and explosions, a big epic zombie movie on a scale never seen before at one of these haunted events? Instead, we get the same path through the same set of backlot sections every year. There is only so many ways you can redress the Bates motel or theme the War of the Worlds plane crash. And while we're at it, stop it with the f'n scare actors with chainsaws right as you get off the tram. If Hollywood's Horror Nights had a list of bad and overdone cliches, this would be up there.
Why isn't The Wizarding World of Harry Potter open during the event? At first, I thought this might be a J.K. Rowling-imposed restriction, but Diagon Alley in Orlando is open during their Horror Nights event. How cool would it be to roam through Hogsmeade in eerie lighting and dense fog, dark wizard actors roaming around? They did this kind of production when I attended the premiere of Diagon Alley in Orlando and it was a very cool experience. Think about how much money they are losing out in Butterbeer sales! Also, the ride is quite scary and fitting of the event.
While the Simpsons land and ride is open during the event (and one of the only places to get hard alcohol during HHN so it's packed with long lines), there is a giant missed opportunity here. There are nearly 30 seasons filled with fun iconic scenes to draw upon, yet all we get is the Treehouse of Horror theme music playing over the loudspeakers. Imagine if they did a Treehouse of Horror maze that put us into the most iconic episodes? They wouldn't even have to be scary – it could just be a fun walk through. And if that's not possible with the upcoming Fox merger, why not do what Disney does with Mickey's Not-So-Scary Halloween Party and have photo ops with the classic characters in Halloween costumes. I'd love a photo with Bart dressed as The Bartman! And while we're at it, I know The Simpsons Ride uses very old technology, but really how hard would it be to do a Treehouse of Horror re-theme of the ride film for the Halloween season? It seems to me that Universal is really missing out here, as Disney has had great success with the Nightmare Before Christmas re-theme of Haunted Mansion and the Monsters After Dark re-theme of Mission Breakout.
Maybe they don't want to involve The Simpsons or Harry Potter because they are concerned with the event attracting younger guests (although no one gave Universal Studios Japan that message). To that, I will note that this year, I saw a significantly younger audience. I saw a lot of teenagers, some younger kids, and some adults even had their toddlers (talk about bad parenting!). You could say this is the result of Halloween events just being on the rise, but I think it's probably due to the inclusion of Stranger Things, which has a huge younger fanbase.
Another big thing missing from Hollywood's Horror Nights as compared to Florida is the abundance of cool food and drinks. Sure, we both got the Stranger Things-inspired Waffle offerings, but it's just not fair that Orlando gets fun things like Pizza Fries and unique drinks when we are just subjected to the same huge Simpsons donut at every freaking food cart and that one set of food trucks on the lower lot. There is a whole subgroup of Disneyland fanatics who just go to explore the new seasonal food offerings and I think Universal is really missing out on additional revenue by not offering more Horror Nights-only unique food and drink offerings.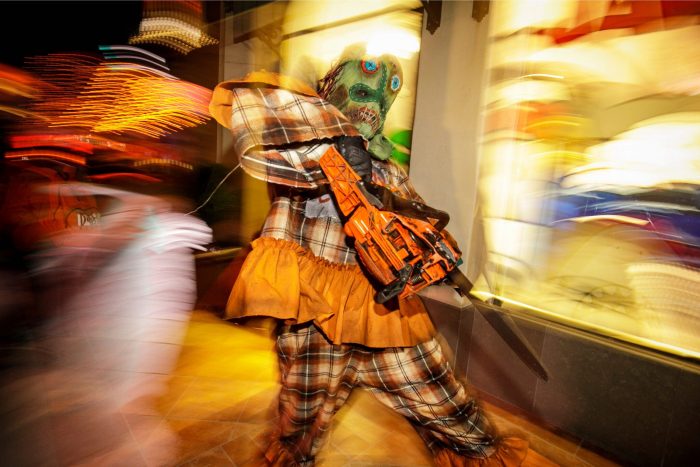 How to do Horror Nights
Halloween Horror Nights can be very overwhelming if it is your first time at the event, and because of that, it's helpful to be prepared. After all, it can be a frustrating experience: the lines are very long, especially on the weekend nights and especially closer to Halloween. The Stranger Things maze had almost a three-hour wait at one point on opening night.
While I think the best way to experience theme parks is to explore at your own pace and discover things yourself, Horror Nights is something that benefits from planning and having a gameplan. Try to get to the park early and run down to the lower lot to hit up those houses first. Many people go to the first mazes they see on the upper lot, and thus those lines are longest at first while the lines downstairs are more manageable.
Buy a pass that makes sense. I would never get to Horror Nights without buying the Express Pass, but that can be very expensive, anywhere from $159 to $229, depending on the date. With the express pass, you get a front of the line entry to each of the mazes and rides once that night. We got into the park at 7:00 P.M. and with Express passes didn't finish until nearly midnight. And that's without riding any of the rides. We spent five hours and got to see all of the mazes and eat food, and the event goes on for two additional hours, which is more than enough time to take in all the rides and entertainment.
If you don't get an Express pass, expect to wait an hour for most houses, and more for the popular IP houses. I don't think it's physically possible to do all the mazes in one night without Express, but maybe I'm wrong. Universal also offers something they call a Frequent Fear Pass, which ranges from $99-$350 and allows you to come back multiple nights. The regular Frequent Fear pass includes 23 nights for only $169, so if you're local, this might be a good option to have fun and tackle a few mazes each time you come back.
As the popularity of Horror Nights has increased, Universal has been criticized for letting Horror Nights get too crowded. Specifically, a lot of people have complained that the mazes themselves have become backlogged, causing a slow-moving line inside of the attractions where you're seeing all of the scares before you get to them.
But have to commend Universal because, at least judging from my experience on opening night, that they have heard that criticism and have executed a new plan staggering entry into the mazes a bit more. My experience was great and I never felt held up by a line in front of me. That said, if you ever do experience this problem, don't let yourself have a shitty experience for this cost. Walk slowly, build your own buffer between you and the group in front of you. When entering a house, maybe accidentally on purpose drop something on the floor and have to pick it up creating a gap between you and the group before you.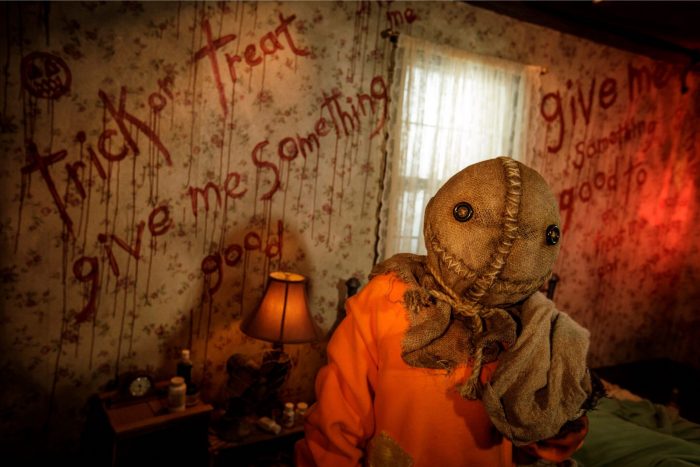 My Overall Thoughts On This Year's Horror Nights
Hollywood's Halloween Horror Nights has been on a quality decline the past couple years, but it seems that the park directors are beginning to hear some of the criticisms and address them. This year's event felt far less crowded than usual, the lines in the mazes were not as congested, and Stranger Things and Poltergeist were some of the best mazes I've experienced at the event. This was even the first time at Horror Nights that I considered buying some of the merchandise for sale!
There is a lot of room for improvement, though. This includes making the scare zones more themed immersive experiences, not relying on the same repetitive IP, and possibly use the freedom of an original concept maze to innovate on the experience. Outside of the mazes, Universal should consider replacing the Jabbawockeez with something better and more fitting of this horror event, and offer more unique options in terms of food and ride experiences. I don't think Hollywood's version of Horror Nights will ever measure up to Orlando's version, but that doesn't mean they can't try harder.
For anyone who has never been to Hollywood's Halloween Horror Nights, I recommend checking this year's event out. You'll have a lot of fun, and if you can reason the Express Ticket price for a fun night out, it's definitely worth it. Those of you who have been to the event in the past will experience a lot more of the same, but without the crowding problems of previous years.