'Synchronic', The New Sci-Fi Thriller From 'The Endless' Directors, Lands Anthony Mackie And Jamie Dornan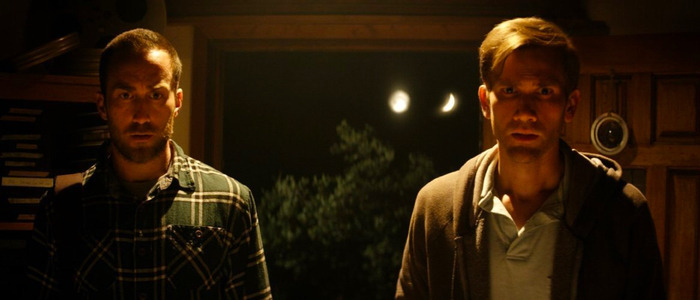 Justin Benson and Aaron Moorhead, the filmmakers behind Spring and The Endless, have just lined-up what sounds like their biggest project yet. The sci-fi thriller Synchronic will star Anthony Mackie and Jamie Dornan as paramedics encountering an otherworldly scenario.
If you have yet to see Benson and Moorhead's films Resolution, Spring and The Endless, stop what you're doing right now and go watch them immediately. I'll wait. Once you get back from that triple feature, you'll be chomping at the bit for more. And you're in luck – the duo have their next project lined-up already. Per Deadline, Benson and Moorhead will direct Synchronic, about "two New Orleans paramedics, whose lives are ripped apart after encountering a series of horrific deaths linked to a designer drug with bizarre, otherworldly effects."
Anthony Mackie and Jamie Dornan will play those paramedics, and their presence makes this one of Benson and Moorhead's biggest projects to date. Mackie and Dornan aren't exactly big blockbuster stars, but they're the two biggest names Benson and Moorhead have worked with, and if this is the start of the filmmakers moving up in the world, I'm all for it. The filmmaking duo issued the following statement about the Synchronic announcement:
"Being huge fans of the nuanced, brilliant work of Anthony and Jamie, this is a filmmaker's wildest dream come true. They each possess an extraordinary depth of personal experiences, humor, and pathos that brings a massive wellspring of humanity to the battle-scarred partnership being portrayed. We've found the perfect collaborators to tell a bold, frightening, heartstring-tugging story."
That sounds pretty great. Benson and Moorhead excel at bringing a unique humanity to their films, no matter how horrifying things get. Spring in particular is an incredible human love story...that just happens to involve a Lovecraftian monster. Benson will pen the Syncrhonic script, while the duo will produce the film together with  David Lawson Jr., who produced The Endless. XYZ Films will handle sales. Of the project, XYZ Films' Nate Bolotin said:
"This is the fourth collaboration between XYZ and these phenomenal filmmakers. Their body of work thus far speaks to their confidence to go against the norm and tell genuine stories that cross genre. We're honored to work with them again to bring Synchronic to audiences around the world."
In the meantime, if you still need to catch up on Benson and Moorhead's work, both Resolution and Spring are streaming on Shudder, while The Endless is available to rent on VOD.