AMC Stubs A-List Now Lets You Buy Tickets From Fandango And Atom Tickets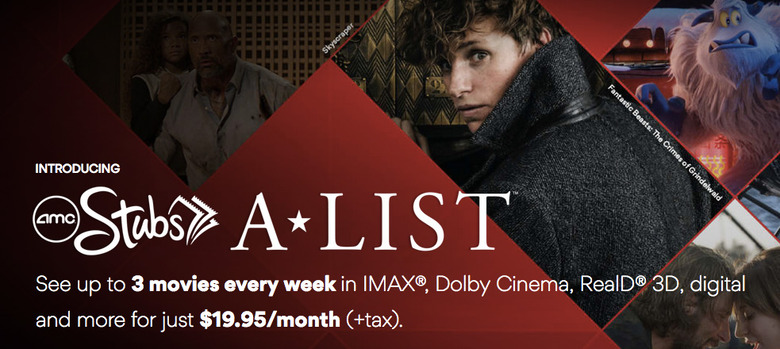 The AMC Stubs A-List movie ticket subscription service from AMC Theatres has done a fine job of picking up the crumbling consumers who fell away from the disastrous yet innovative MoviePass. For just $19.95, subscribers get three tickets every week to any movies they want to see at an AMC Theatres location, anywhere and anytime. And rather than starting to make the service worse like MoviePass did, AMC is only making it better.
Today, AMC Theatres announced that AMC Stubs A-List subscribers will now be able to buy tickets online through both Fandango and Atom Tickets by using their membership. Find out more below.
AMC Stubs A-List announced the new convenient way for members to buy tickets online as a way of making it easier for everyone to buy movie tickets online. Whenever an A-List members uses one of their weekly tickets through Fandango or Atom Tickets, their online ticketing fee is waived, and they'll even be able to purchase tickets for additional guests in the same transaction so friends and family can come along. That's definitely a helpful upgrade.
Stephen Colanero, Executive Vice President and Chief Marketing Officer at AMC Theatres says:
"The guest feedback and membership sign-up rate has far exceeded our expectations, but we're constantly looking for ways to provide more opportunities for guest value through A-List. Expanding the online ticketing availability of AMC Stubs A-List to include our great partners at Fandango and Atom Tickets is keeping with our mission of providing our loyal guests with as much convenience and flexibility as possible."
Also, for anyone who hasn't yet subscribed to the AMC Stubs A-List program, you might find it helpful to know something about the membership. Even though you only get three movie tickets each week, if you buy a ticket to a movie that's coming to theaters further down the road, that ticket doesn't count against the current week. So you can buy a ticket this week for Venom or Halloween, and those tickets will count as one of your three allotted tickets for the week that the movie is released.
Fandango loves the integration, "We're excited to give Fandango customers the opportunity to participate in AMC's popular A-List program and help drive more moviegoers into their theaters." And Atom Tickets adds, "Furthering our integration with AMC Stubs to recognize A-List membership is truly a win for all AMC Stubs members."
There's no better time to sign up for AMC Stubs A-List, especially with awards season just around the corner. Get more details and sign up for you subscription over here.