Here's Your First Look At Joaquin Phoenix As The Joker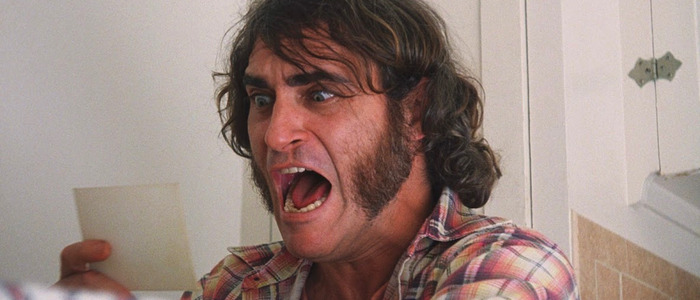 It's showtime, kids. Director Todd Phillips has released the first look at Joaquin Phoenix as the Joker in the upcoming Joker origin movie. But in our first official image from the Warner Bros. comic book movie, Phoenix doesn't look quite ready to dance with the devil in the pale moonlight as much as he looks ready to take a nap.
Just when you thought you had pushed the thought of a Joker movie directed by The Hangover's Todd Phillips and produced by Martin Scorsese out of your mind, a Joker first look image is posted by the director on his Instagram, showing Phoenix in all his costumed glory. Except without a costume. And without make-up, it appears.
Joker First Look
View this post on Instagram
The only thing that Phoenix's character seems to wear is a tired expression. In the as-yet untitled Joker movie, Phoenix is playing Batman's infamous nemesis before his transformation — hence the lack of the iconic Joker make-up here. "Arthur," the photo is captioned, suggesting that this is the Joker's name pre-transformation.
There's not much to say about this scruffy image, other than it seems to follow The Hollywood Reporter's descriptions of the film as a "gritty character study." The Joker origin movie is said to follow "Arthur's" arc from a struggling stand-up comedian to a notorious criminal of Gotham.
This first look image is posted on the heels of the first set video published by TMZ, which show a similarly bedraggled-looking Phoenix in ordinary '80s clothes confronting a man dressed as a clown. But Phoenix seems to lend the rough-looking character some of his trademark mania — giving a performance worthy of the Oscar-nominated actor in the very brief on-set video. But Phoenix's performance is the one aspect I'm least worried about — this "crime drama" take on a classic villain still perplexes me even as new set photos and first looks start rolling out. But I'm ready to be surprised.
Phillips' Joker movie is one of two standalone Joker films in development at Warner Bros. The other film is set to star Jared Leto, reprising his take on the character from Suicide Squad. As we previously reported, Warner Bros. and DC are developing a "new origins" banner that's separate from the current DCEU, and thus allow freedom for multiple versions of certain characters to run about.
Warner Bros. has scheduled the untitled Joker movie for release on October 4, 2019.