IMAX In "Active Discussions" With Netflix, Amazon, And Other Streaming Services To Show Their Movies In IMAX Theaters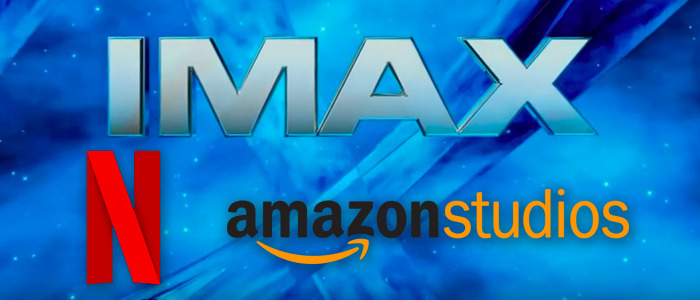 Do you want to see Netflix's Roma on the biggest theater screen possible? How about Amazon Studios' upcoming take on Suspiria? If IMAX CEO Richard Gelfond has his way, that option may soon be on the table. Gelfond says he's in "active discussions" with every streaming service out there about potential IMAX releases.
Is a Netflix IMAX Deal In The Works?
According to The Hollywood Reporter, Gelfond, who has led IMAX for the past decade, was a speaker at the Goldman Sachs Communacopia conference earlier this week – the same conference where the new owner of HBO called Netflix the Walmart of streaming services. Gelfond, however, had nothing bad to say about Netflix or any other company.
Instead, he said that his company is "in active discussions with all of the streaming [services] about an IMAX release", so we may be looking at more than just a Netflix IMAX partnership, but a team-up between the large-screen exhibitor and every streaming service out there – assuming these talks lead to deals. Gelfond called out the fact that many of the streaming services' original films are lacking an "opening day," and implied that IMAX was the best way to cut through the clutter of the entertainment marketplace, saying "the number one way to event-size the size [of a movie] is in IMAX."
"But over time, to me, it's inevitable that these big blockbusters that people are spending all this money on, are going to have a theatrical release and I think almost certainly an IMAX release."
Earlier this year, we've reported that both Netflix and Amazon are flirting with the idea of buying their own theaters as a way to cut out the middle man and distribute original films to audiences in a theatrical environment (in addition to the streaming platform). Gelfond thinks that with the increasing amounts of money being spent on streaming service blockbusters like Bright ($90 million) and Six Underground ($150 million), that they're going to give people the option to see those projects on the big screen. It makes sense, but it's still unclear exactly when a release like that may happen – Gelfond says he'll respect the traditional theatrical window, and the Crouching Tiger, Hidden Dragon sequel was boycotted by mainstream American theater chains a few years ago when it tried to have a day-and-date release on Netflix and in select IMAX theaters.
Does this mean something like Alfonso Cuaron's Roma could debut on Netflix's streaming platform and then come to theaters some time afterward? How many subscribers would pay to see a movie like that on a huge IMAX screen when they've already paid to see it at home? Maybe this deal would work in favor of the streaming services around Oscar season, when any of its potential nominees have already been available on streaming but could be given an IMAX run to boost interest and give people a chance to see them presented the best way possible. "As the world changes, we have a duty to experiment with different things," Gelford said in 2014. Looks like he's still in the mood to try new things, but we'll have to see if any of the streaming services are on the same page.