New 'Titans' Images Introduce Us To The Team And Jason Todd And It Doesn't Look Pretty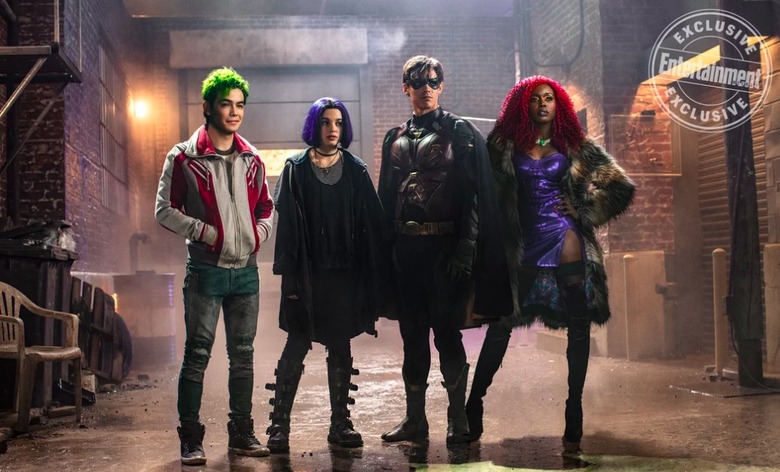 Three new images have debuted from Titans, the gritty reimagining of the classic DC Comics team. One is a cheesy official production photo and the other two are overly dim stills of Dick Grayson (Brenton Thwaites) meeting a familiar face. Either way, visually, this show looks a mess. But hopefully — maybe — the story's good?
Three brand new Titans images have debuted today, courtesy of Entertainment Weekly and IGN. The first image from EW shows the (no longer teen) team all together: Robin/Dick Grayson (Thwaites), Raven/Rachel Roth (Teagan Croft), Starfire/Koriand'r (Anna Diop), and Beast Boy/Gar Logan (Ryan Potter). The four of them pose in front of a garishly lit alleyway set that either looks like a discarded Rent set or an Escape Room.
The latter two images come from IGN, and introduce a surprising guest character: the new Robin, Jason Todd (Curran Walters). Here we see Dick Grayson meeting with his replacement in yet another alleyway that is somehow more terribly lit than the other one. Oh sure, it's moody and brooding but I can't see a damn thing. If it weren't for Thwaites and Walters' differences in height, I wouldn't be able to tell who's who. But judging by the hostile body language (because again, I can see nothing else), this first meeting between a former Robin and the current Robin isn't going well despite Jason Todd thinking "being Robin is the coolest thing that could ever happen to somebody," executive producer Geoff Johns told EW.
But the one interesting thing about Jason's presence is that it suggests that Titans could go to even darker places, as we've seen with Jason's doomed arc in the comics. Though his characterization in Titans is a little different than the problem kid we've seen before — Walters describes his Jason as "seemingly unaffected by darkness – he kind of embraces it or walks right through it. He's a breath of fresh air and that's what I love about him, he's got a punk rock, no-holds-barred attitude that's massively unburdened."
Titans will be the inaugural series for the DC Universe streaming service, following the Titans as they team up to fight an evil threatening to destroy Raven — and the rest of the world. Along the way, they'll run into some familiar faces from the comics, like Hawk (Alan Ritchson) and Dove (Minka Kelly); the outcast characters from the spin-off Doom Patrol; Wonder Girl Donna Troy (Conor Leslie); and of course, Jason Todd.Titans premieres on October 12, 2018 on DC Universe, with new episodes arriving every Friday.