Trailer Round-Up: 'Hunter Killer', 'Camping', 'The Oath', 'F*ck You All: The Uwe Boll Story', And Many More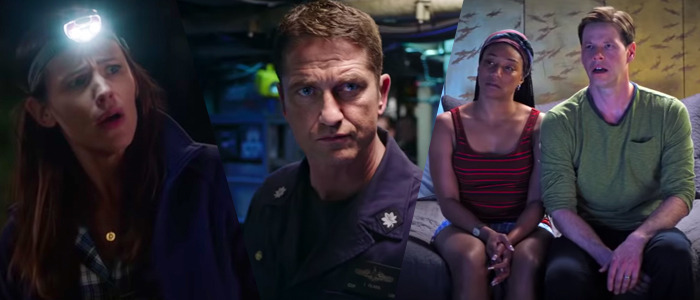 It's time to catch up with all of the trailers we've missed in the past few days, and boy, are there a lot of them this week. Strap in, because you're about to see a new look at a Gerard Butler thriller, an HBO comedy, a Vincent Van Gogh biopic, a mainstream holiday comedy, and a ton of new Netflix content, including a Quincy Jones documentary and an animated series from the team that brought you Avatar: The Last Airbender. And that's just the start.
Hunter Killer
Gerard Butler, Gary Oldman, Common, and Linda Cardellini star in this submarine thriller about American soldiers rescuing the Russian president. Great timing, guys!
Hunter Killer hits theaters on October 26, 2018.
Camping
Jennifer Garner, fresh off her turn in the low-budget action movie Peppermint, is making a return to television in HBO's new comedy Camping. I enjoyed watching Garner on Alias, but this show looks pretty rough. I can't imagine this becoming one of HBO's next big hits, but I guess we'll find out for sure when Camping debuts on October 14, 2018.
Elite
Netflix's Spanish-language thriller Elite looks like a cross between School Ties, Riverdale, and Big Little Lies. We'll have to see if Netflix's social media juggernaut can generate enough interest for this to become a crossover hit. It debuts on Netflix on October 5, 2018.
The Oath
Ike Barinholtz (The Mindy Project) writes and directs this Thanksgiving-set comedy that reflects what happens when we try to speak to family members about our current political nightmare. I'm not fully sold on the premise, but he's been solid in films like Neighbors and Tiffany Haddish is still riding a wave of good will from her work in Girls Trip, so this has a chance of turning out to be much funnier than it looks. The Oath arrives in theaters on October 12, 2018.
At Eternity's Gate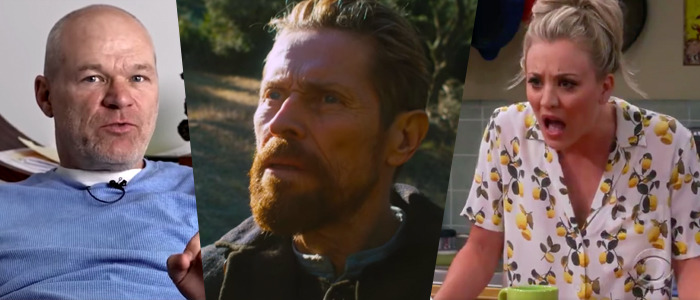 Willem Dafoe plays Vincent Van Gogh in At Eternity's Gate, the newest movie from the director of The Diving Bell and the Butterfly. This looks like it could be an immersive, effective biopic about one of the world's most famous painters, and the presence of Mads Mikkelsen is a nice added bonus.
At Eternity's Gate hits theaters on November 16, 2018.
The Dragon Prince
If you're looking to scratch that Avatar-style itch, perhaps Netflix's new series The Dragon Prince will do the trick. It certainly appears to lean into some classic fantasy tropes, but the political intrigue and cool visual style may be enough to elevate this beyond cliches.
The Dragon Prince hits Netflix on September 14, 2018.
Quincy
A breezy biopic about legendary musician Quincy Jones seems like great lazy weekend viewing. His daughter Rashida (Parks and Recreation, The Social Network) co-directs this look back at her father's life and legacy, going back to his childhood roots and tracing his path to superstardom. Quincy hits Netflix on September 21, 2018.
The Big Bang Theory Season 12
The beginning of the end! Monday, September 24, be there for the start of The #BigBangTheory's final season. https://t.co/YvcDCR7jTq

— The Big Bang Theory (@bigbangtheory) September 4, 2018
The Big Bang Theory has been going strong for over a decade at this point, so the start of its final season will either fill you with sadness, celebration, or apathy. I find myself in the latter camp, but this is apparently one of the highest-viewed programs on television, so statistically speaking, some of you are sure to care about it.
F*** You All: The Uwe Boll Story
And finally, if you've ever seen films like In the Name of the King, Postal, Bloodrayne, or Alone in the Dark and though, "Hey, I want to know more about this director!", then F*** You All: The Uwe Boll Story is here to answer your questions. It's a
at one of the worst directors alive, featuring plenty of interviews with Boll himself and cast members from a bunch of his films. There's no official release date set yet, but good luck making it all the way through this one.