'Homecoming' Trailer: Julia Roberts Stars In Amazon's New Psychological Thriller Series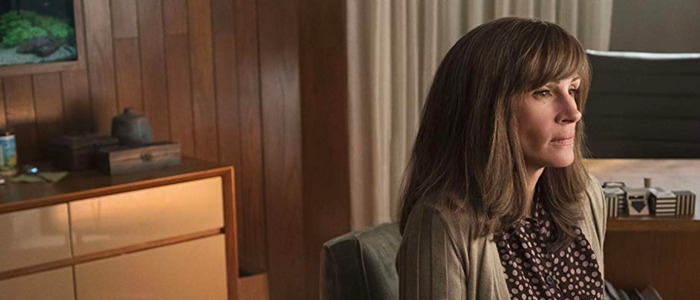 Homecoming started its life as a podcast, and now it's an Amazon original series helmed by Mr. Robot creator Sam Esmail, and starring Julia Roberts. Roberts plays a caseworker at a secret government facility dealing with some mysterious goings-on. The series also features Bobby Cannavale, Stephen James, Sissy Spacek, and Shea Whigham. Check out the first enigmatic Homecoming trailer below.
Homecoming Trailer 
This looks very promising. Stylish, creepy and just vague enough to have you wanting more, the Homecoming trailer offers our first glimpse of the new thriller series directed by Mr. Robot creator Sam Esmail. Homecoming originally started as a fictional podcast, which boasted a pretty damn impressive cast: Catherine Keener, Oscar Isaac, David Schwimmer, Amy Sedaris and David Cross. Now the podcast comes to further life via Amazon  Prime Video. Here's the synopsis:
HOMECOMING is a mind-bending psychological thriller starring Julia Roberts and directed by Sam Esmail (creator of MR. ROBOT). Heidi Bergman (Roberts) is a caseworker at the Homecoming Transitional Support Center, a Geist Group facility helping soldiers transition back to civilian life. Walter Cruz (Stephan James) is one of these soldiers, eager to begin the next phase of his life. Overseeing Heidi and the facility is Colin Belfast (Bobby Cannavale), an ambitious company man whose manic demands point to questionable motives.
Four years later, Heidi has started a new life, living with her mother (Sissy Spacek) and working as a small-town waitress, when a Department of Defense auditor (Shea Whigham) comes to her with questions about why she left the Homecoming facility. Heidi begins to realize that there's a whole other story behind the story she's been telling herself.
I'm intrigued. Roberts hasn't been as active lately as she was during the height of her career, and I'm interested to see her in this dark setting. Also: anything featuring character actor extraordinaire Shea Whigham has my attention. Adding Sissy Spacek to the mix doesn't hurt, either. Spacek just delivered a wonderful performance on Hulu's Castle Rock.  The cast also includes Jeremy Allen White, Alex Karpovsky, Hong Chau, Sydney Poitier, and Dermot Mulroney. The series hails from creators Eli Horowitz and Micah Bloomberg.
Each Homecoming episode will only be around a half-hour long, as opposed to the traditional hour-long format for drama shows. "These are cliffhangers," director Sam Esmail said, "and we felt that to really hook people and get them going and going and going, [it helps] to have that half hour and make people desperate."
Homecoming will debut exclusively on Amazon Prime Video November 2, 2018.