Kevin Smith Reveals His Secret Project Is A TV Series Not A Movie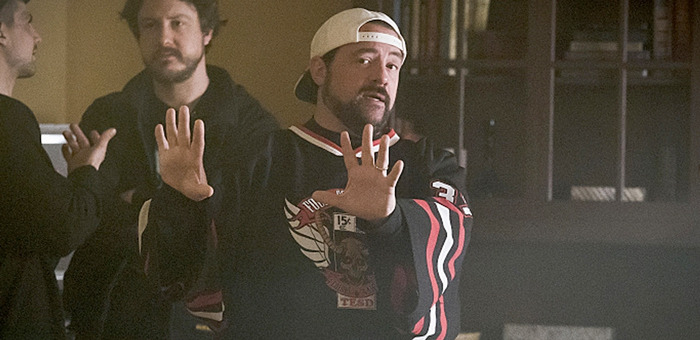 Kevin Smith has come a long way since his days as an indie auteur with his breakout hit Clerks. He's become a movies, television comics, books and podcast maven; he's created his own mini cinematic universe called The View Askewniverse; and he's become a prolific geek guru, penning comic books and directing episodes of The Flash and Supergirl.
But he recently set the geek community afire with speculation over his big new mystery project. We know very little about it, except that it's reportedly his biggest IP ever — leading to chatter that he could be directing a Marvel or Star Wars movie. But Smith recently revealed that it's not a movie at all — it's a TV show.
In the most recent episode of Smith's podcast Fatman on Batman — which will soon be undergoing a title rebrand — the director revealed that his big mystery project is a TV series (via ComicBook.com):
"I know I'm being vague, I wish I could f*cking tell you and the moment I can tell you, man, I'm going to be like 'blaaaaa!' and you're going to be like 'what the f*ck!' but it's not a movie. I've had a lot of people be like 'oh, it's a f*cking Marvel movie!' Nobody would give me a movie. Nobody would give me a movie whatsoever. I'm struggling to make Jay and Silent Bob Reboot. This is a series thing, but it's a f*cking dynamite series in a real weird, wonderful place. So, more as I know more."
Well, there goes the theories that the mystery project would be a Marvel or Star Wars movie. But still, this mystery TV series has got to be something huge for Smith to recently declare it the "most massive IP I've ever been allowed to play with" and "the biggest budgeted anything I've ever done." For Smith (who has worked with DC Comics properties like Daredevil, Green Arrow and Batman) to be daunted by such a huge IP, then it's definitely something to get excited about.
So in what capacity will Smith be working on this show? Directing a few episodes, executive producing? In a previous episode of Fatman on Batman, Smith mentioned that he would act as showrunner for another mystery TV series, according to ComicBook.com.
"I'm working on a different thing now that, I'm in a different end of the process, if everything works out well, then I would be a showrunner, which lends more toward what I'm used to doing in the day job as a movie maker and stuff," Smith said.
There's no guarantee that these two secret TV shows are one and the same, but they do help piece together the mystery that Smith continues to draw out. Stay tuned as we wait for more news on Smith's big mystery project.