Exclusive: 'Jurassic World: Fallen Kingdom' Blu-Ray Clip Shows How The VFX Team Built The Indoraptor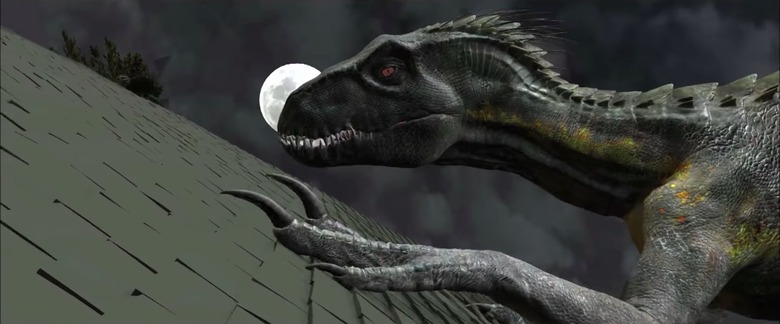 Jurassic World: Fallen Kingdom is already available digitally, but in anticipation of the Jurassic World sequel's Blu-ray release, we are debuting an exclusive clip highlighting the most dangerous dinosaur the franchise has ever introduced: the Indoraptor.
Find out how the VFX team built the Indoraptor in the Jurassic World: Fallen Kingdom Blu-ray clip below.
Jurassic World Fallen Kingdom Blu-ray Clip
Bigger doesn't always mean badder, as Owen Grady (Chris Pratt) and Claire Dearing (Bryce Dallas Howard) discover in Jurassic World: Fallen Kingdom. After taking on the massive genetically engineered dinosaur the Indominus Rex in Jurassic World, Owen and Claire do battle with the sleek and creepy Indoraptor. And yes, creepy is the right word because not only does the Indoraptor draw from the well-known velociraptor, it's based on one uniquely scary monster: the vampire. Specifically, Nosferatu.
"J.A. [Bayona] started to bring references from Nosferatu," VFX producer Dan Barrow says in the featurette highlighting the visual effects that went into creating dinosaurs. "Very specifically the front teeth and the long claws are definitely referencing the Nosferatu character." Barrow added:
"The Indoraptor obviously, [we're] taking elements from dinosaurs we know were real such as velociraptors and dinosaurs that were already genetic such as the Indominus Rex from the last film. And inventing a new dinosaur from scratch was incredibly exciting."
Whereas the Indominus Rex was essentially a bigger and sharper version of the franchise's well-worn Big Bad, the Tyrannosaurus Rex, director J.A. Bayona set out to make the Indoraptor "scary" first. Which makes sense considering we first meet the hybrid dinosaur through the eyes of a child.
The above clip is a snippet of a longer featurette available on the Blu-ray, which dives further into the VFX behind all the dinosaurs. The full list of special features is below.
The KINGDOM Evolves – Filmmakers discuss how the second chapter in the Jurassic World trilogy pushes the franchise in a new direction.
Return to Hawaii – Cast and crew discuss shooting the film in Hawaii.
Island Action – A behind-the-scenes look at the bunker scene and runaway gyrosphere sequence.
Aboard the Arcadia – Cast and crew discuss working with the animatronic dinosaurs.
Start the Bidding! – A behind-the-scenes look at the auction scene.
Jurassic World: Fallen Kingdom is now available on Digital and will be released on Blu-ray September 18, 2018.
Three years after the destruction of the Jurassic World theme park, Owen Grady and Claire Dearing return to the island of Isla Nublar to save the remaining dinosaurs from a volcano that's about to erupt. They soon encounter terrifying new breeds of gigantic dinosaurs, while uncovering a conspiracy t

hat threatens the entire planet.