The 2018 Summer Movie Wager Results And Podcast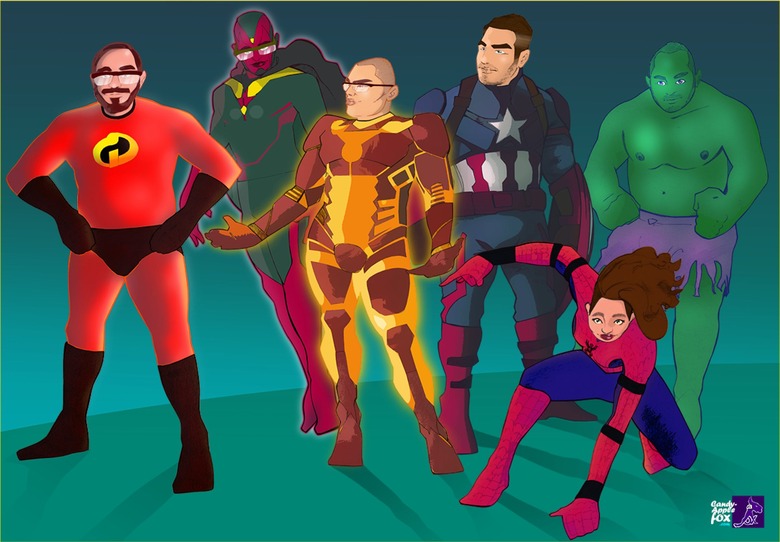 Devindra Hardawar, David Chen, Germain Lussier, Jeff Cannata, Peter Sciretta, and Kristy Puchko reconvene to discuss the results of their 2018 box office summer movie wager results. Did Jeff make a catastrophic mistake by including Christopher Robin or did the surprise slump of Solo: A Star Wars Story help someone eek out a victory? Below, you'll find the actual box office rankings for this summer, as well as Dave, Jeff, Peter, Germain and Kristy's original rankings. Hit the jump to download and listen to the podcast.
You can download the podcast or listen to it below:
The image above was created by Man from Tallahassee @CandyAppleFox.com
Actual Top 10 list for summer 2018:
1. Avengers: Infinity War $678,781,267
2. Incredibles 2 $602,579,381
3. Jurassic World 2 $415,210,470
4. Deadpool 2 $318,454,369
5. Ant-Man and the Wasp $213,977,857
6. Solo: A Star Wars Story $213,706,487
7. Mission: Impossible 6 $206,661,700
8. Hotel Transylvania 3 $162,844,423
9. Ocean's 8 $139,211,301
10. The Meg $123,802,883
2018 Summer Movie Wager Rules
The rules for the game come from TimeTravelReview's Summer Movie Pool, but have been modified for this year:
The object is to pick the films that you think will be the top-ten grossing films of the summer, in order of box-office performance. That means only films released from April 27th 2018 to the Labor Day weekend (including Monday), counting only the money those films make domestically (US and Canada) in that period (04/27/2018-09/03/2018). In other words films from March or April might still be making money after May 1st, but they don't count; films released from May on could start racking up foreign B.O., but that doesn't count; films released from May on could still be making money into late September, but that doesn't count either. So what you will be doing is figuring out what 10 films will make the most money, and putting them in order of what you think they will gross at the box office. BUT, in addition to your top 10, you get to pick 3 "Dark Horses"- films you think *might* make it, but that you are not confident enough about to put into the top 10 proper.
Yes, we pushed up the date of inclusion for this year's contest to April 27, 2018 to accommodate Disney deciding that Summer starts with Infinity War.
2018 Summer Movie Wager Scoring:
Getting number 1 or number 10 dead-on gets you 13 points (each).
The rest of the scoring goes like this:
10 points for numbers 2-9 dead-on
7 points if your pick was only one spot away from where it ended up
5 points if it was two spots away
3 points if your pick is anywhere in the Top 10
1 point for each dark horse that makes it into the Top 10
The scoring is tabulated so that you get the SINGLE HIGHEST point value for each pick- that is, if you get number ten right, you don't get 13+3, you only get 13. This year your can play along with us by submitting your list on thesummermoviewager.com. Anyone who submits their list by Wednesday, April 25 2018 will be counted in the updated scoreboard.
Peter Sciretta
Avengers: Infinity War
Jurassic World: Fallen Kingdom
Solo: A Star Wars Story
Deadpool 2
The Incredibles 2
Ant-Man and the Wasp
Hotel Transylvania 3: Summer Vacation
Ocean's 8
 Mamma Mia: Here We Go Again!
 Mission: Impossible – Fallout
Dark Horses (ordering doesn't matter)
Skyscraper
Action Point
The Equalizer 2
Germain Lussier
Avengers Infinity War
Jurassic World Fallen Kingdom
Incredibles 2
Solo: A Star Wars Story
Deadpool 2
Mission Impossible – Fallout
Ocean's 8
The Meg
Ant Man and the Wasp
Hotel Transylvania 3
Dark Horses (ordering doesn't matter)
Skyscraper
Mamma Mia: Here We Go Again
Tag
Jeff Cannata:
Avengers
Jurassic Park
Solo: A Star Wars Story
Incredibles 2
Deadpool 2
Ocean's 8
Ant Man and The Wasp
Mission Impossible: Fallout
Christopher Robin
Hotel Transylvania
Dark Horses (ordering doesn't matter)
Skyscraper
Equalizer 2
Tag
Devindra Hardawar:
Avengers Infinity War
Jurassic World: Fallen Kingdom
Solo
Incredibles 2
Deadpool 2
Mission Impossible Fallout
THE MEG
Oceans 8
Ant Man & the Wasp
Skyscraper
Dark Horses (ordering doesn't matter)
The First Purge
Sicario 2
Mamma Mia 2
Kristy Puchko:
Avengers: Infinity War
Jurassic World: Fallen Kingdom
Solo: A Star Wars Story
Deadpool 2
The Incredibles 2
Mission: Impossible – Fallout
Ant-Man and the Wasp
Teen Titans Go! To The Movies
Hotel Transylvania 3
Mamma Mia: Here We Go Again
Dark Horses (ordering doesn't matter)
Ocean's 8
 Skyscraper
The Equalizer 2
David Chen:
Avengers: Infinity War
Jurassic World 2
Deadpool 2
Incredibles 2
Solo
Mission Impossible: Fallout
Ant-Man and The Wasp
Skyscraper
Ocean's 8
Hotel Transylvania 3
Dark Horses (ordering doesn't matter)
Mamma Mia 2
The Meg
Christopher Robin