'Chilling Adventures Of Sabrina' Trailer: Something Wicked This Way Comes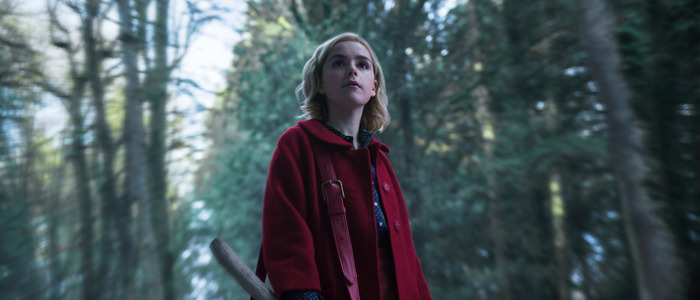 Sabrina the Teenage Witch gets a dark update in Netflix's Chilling Adventures of Sabrina. Kiernan Shipka stars as Sabrina Spellman, a half-human, half-witch who has to make a very important decision on her 16th birthday. The series was conjured up by Riverdale showrunner Roberto Aguirre-Sacasa, and was at one point considered to be a Riverdale spin-off for the CW. Watch the Chilling Adventures of Sabrina trailer below.
Chilling Adventures of Sabrina Trailer
One thing's for sure: Chilling Adventures of Sabrina is going to be far-removed from the Sabrina the Teenage Witch sitcom starring Melissa Joan Hart. Like Riverdale, this series is a dark twist on the Archie Comics character, with the tone of the show leaning towards horror. There are shades of classic horror like The Exorcist and Rosemary's Baby here, as well as recent films like The Witch. The series is arriving in October, too, which should make for some great Halloween binge-watching.
Chilling Adventures of Sabrina is an adaptation of the comics seires of the same name, from Aguiree-Sacasa and  Robert Hack. When the comic debuted, Aguirre-Sacasa named a long list of inspirations for this dark new take on Sabrina: 
"Stephen King, always. Ira Levin, always. Rosemary's Baby and The Exorcist. The Little Girl Who Lives Down the Lane and Omen. A camp classic, but I love it, The Bad Seed...there's a bit of Whatever Happened to Baby Jane... As far as literature, I think of Nathaniel Hawthorne's witchy short stories, as well as an incredible novel from the 1950's, The Conjure Wife by Fritz Leiber. And I'm re-reading Sandman and Alan Moore's run on Swamp Thing, not for direct inspiration, but for...aspiration."
All of that sounds pretty damn great, and if the Sabrina series can translate all of that to the screen, we're going to be in for something special. Man Men's Kiernan Shipka stars as Sabrina, with a cast that includes Jaz Sinclair, Michelle Gomez, Chance Perdomo, Lucy Davis, Miranda Otto, Richard Coyle, Ross Lynch, and Tati Gabrielle.
Chilling Adventures of Sabrina casts its spell on Netflix October 26, 2018. In addition to the trailer above, check out the incredible poster below.
Chilling Adventures of Sabrina imagines the origin and adventures of Sabrinathe Teenage Witch as a dark coming-of-age story that traffics in horror, the occult and, of course, witchcraft. Tonally in the vein of Rosemary's Babyand The Exorcist, this adaptation finds Sabrina wrestling to reconcile her dual nature — half-witch, half-mortal — while standing against the evil forces that threaten her, her family and the daylight world humans inhabit.