'The Good Place' Season 3 Clip: Watch The First Scene From The Season Premiere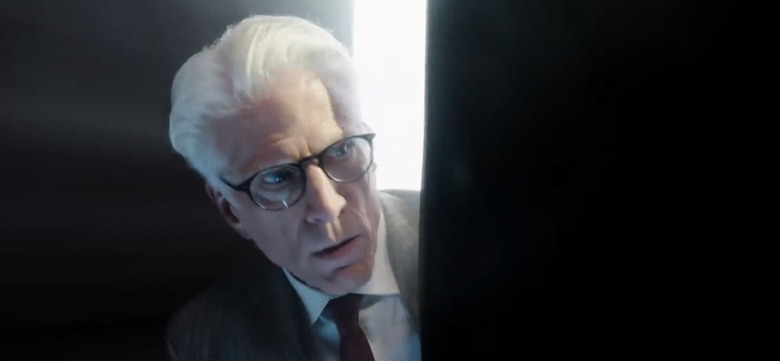 This post contains spoilers for The Good Place seasons 1 and 2.
The first season of The Good Place surprised us all with that twist ending revealing that Eleanor (Kristen Bell), Chidi (William Jackson Harper), Tahani (Jameela Jamil) and Jason (Manny Jacinto) were actually in The Bad Place as part of a new experimental form of torture by the demon Michael (Ted Danson). But the second season also delivered a surprising twist ending, and the first scene from the third season premiere shows us the logistics of how it's done.
Watch The Good Place Season 3 Clip
Much like how the first season ended with a twist, the second season ended all four of our afterlife friends being sent back to Earth for a second chance to prove they can be good people, all without any knowledge of the afterlife. Here we get to see Michael dealing with Mike O'Malley as the doorman to Earth, and he's not the most friendly person in the afterlife. Also, don't be fooled, because that green frog keychain "weirdly does become important at a certain moment," according to creator Michael Schur.
The above scene in question takes place one year before the end of season 2, right before we saw Eleanor sent back to Earth and had her life saved. But this time, we also get to see how Michael restarted the lives of Chidi, Tahani, and Jason, and he couldn't be more excited about how he has to get around Earth like a common human, and he's particularly enthralled by pigeons. It's this kind of stuff that makes Ted Danson an absolute treasure on this show, and that's why he deserves that Emmy nomination.
It'll be interesting to see how The Good Place season 3 eventually gets all these characters back together and presumably has them realizing that they've already died before. But that will undoubtedly create some unexpected consequences for Michael to deal with, and who knows what the rest of the season will bring. I wouldn't be surprised if that rule about Michael having to be by himself when he comes back from Earth ends up coming into play too.
You can find out more about The Good Place season 3 in a series of first look photos over at Entertainment Weekly. And if you can't wait for the show to return to NBC on September 27, you can change your Google Chrome browser into The Good Place with a handy little extension on your browser, complete with your own Janet. Otherwise, the first two seasons of The Good Place are on Netflix now, so if you're not caught up, now is the time!