Exclusive: Watch An 'Uncle Drew' Deleted Scene From The New Blu-Ray And DVD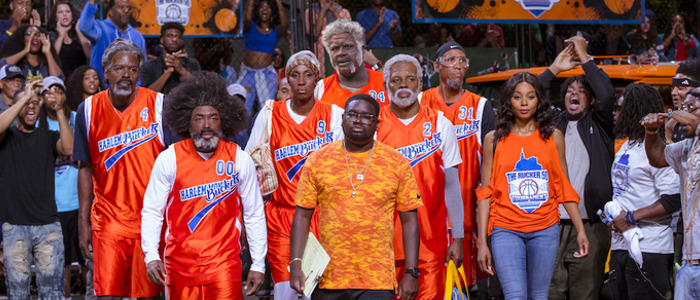 Uncle Drew, a movie inspired by a soda commercial, is dribbling its way onto Blu-ray and DVD soon, and is now on digital. In conjunction with the comedy's home video release, we're showcasing an exclusive Uncle Drew clip featuring a deleted scene from the flick. Check it out below!
Uncle Drew Clip
Uncle Drew features several famous basketball players in old-age makeup for your viewing pleasure! The film stars Kyrie Irving, Lil Rel Howery, Shaquille O'Neal, Chris Webber, Reggie Miller, Nate Robinson, Erica Ash, Lisa Leslie, Tiffany Haddish and Nick Kroll, and focuses on Dax (Lil Rel Howery), who "loses his street ball team to his archrival (Nick Kroll), he's desperate for a way to enter the upcoming tournament and win the cash prize. Dax stumbles upon the man, the myth, the legend Uncle Drew (NBA All-Star Kyrie Irving), and draws up a crazy game plan: convince Drew and his old squad (Shaquille O'Neal, Chris Webber, Reggie Miller, Nate Robinson, and Lisa Leslie) to hit the court one more time and prove that septuagenarians can still win the big one."
Uncle Drew began as a series of Pepsi commercials, and now it's a feature film. I'm pretty sure this is the first time a film has been made based on a Pepsi ad, but I could be wrong. In any case, we're showcasing a deleted scene from the comedy in honor of it's recent Blu-ray and DVD release. This is one of 7 deleted scenes featured on the disc. Here's the full list of features.
"Who is Uncle Drew? The Making of a Basketball Icon" Featurette
"Youngbloods of Comedy" Featurette
"Bucket Seats & Boom Boom Rooms: Uncle Drew's Van" Featurette
Enhanced Audio Commentary with Director Charles Stone III
Uncle Drew is now available digitally and comes to 4K Ultra HD Combo Pack, Blu-ray Combo Pack, and DVD on September 25, 2018.