Christopher Nolan And Paul Thomas Anderson Declare War On Motion Smoothing (And Other Crappy TV Settings) With New Director Survey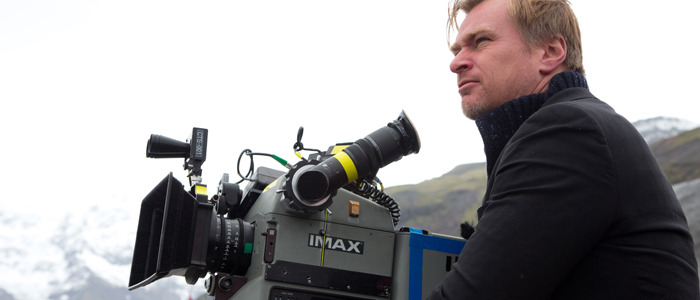 The War on Motion Smoothing has been raging for years, and while many Hollywood directors have spoken out against the consumer TV set before, the fight may finally be approaching its end.
High-profile directors Christopher Nolan and Paul Thomas Anderson have reached out to television manufacturers to ensure that audiences at home are able to see films presented as closely as possible to the director's original intention, and a new "reference mode" will implement the results of a new director's survey.
If you're reading this site, you probably know all about the horrors of motion smoothing or motion interpolation. But in case you're unaware, this paragraph from Gizmodo sums it up succinctly:
Motion smoothing is a feature on most modern TVs that intended to correct hi-def screens' tendency to make objects in motion appear to be blurry. In order to do this, the TV processes one frame, then the next, and makes a guess on what a new frame that goes between them should look like. This can be very helpful if you're watching a football game, for example, and you're attempting to keep track of the ball in a wide landscape shot. It gives everything a crisp edge.
While motion smoothing often looks good for sports, it gives everything else a "soap opera effect" that makes it look cheap and tacky. The problem is that TV manufacturers have made it the default setting for most televisions, likely so they can display sports footage on the show floor at stores like Best Buy and Target. The average consumer may buy a TV, take it home, think there may be something slightly off about the picture quality, and shrug their shoulders and go on with their lives, dooming themselves to countless hours of watching motion smoothed entertainment. Filmmakers have been complaining about this for years, with Rian Johnson being especially vocal about it on Twitter (changing the settings on nearly every TV he encountered to turn off the effect) and I Think We're Alone Now director Reed Morano even creating a petition four years ago to try to make some headway.
Last week, Directors Guild of America members received the following e-mail:
Dear Fellow Directors:
Many of you have seen your work appear on television screens looking different from the way you actually finished it. Modern televisions have extraordinary technical capabilities, and it is important that we harness these new technologies to ensure that the home viewer sees our work presented as closely as possible to our original creative intentions. To this end, Christopher Nolan and Paul Thomas Anderson reached out, via the studio UHD Alliance, to television manufacturers. By starting a dialogue with the manufacturers themselves we hope to try and give directors a voice in how the technical standards of our work can be maintained in the home. The short survey in this email is a first step towards both demonstrating to manufacturers just how much we care about the presentation of our work, and offering some indications of the most common causes for concern. Take the survey here: [Redacted]
Thanks for taking the time to complete it and return it to us, we feel there is a real possibility here to try and improve the situation.
The letter was signed by Nolan and Jonathan Mostow (Terminator 3: Rise of the Machines), who serve as Co-Chairs of the DGA's Creative Rights Committee. /Film obtained access to the survey, which begins with this note explaining the Committee's goal: to send the results of the study to manufacturers and implement a "reference mode" that more accurately reflects filmmakers' intentions for the presentation of their work on the small screen.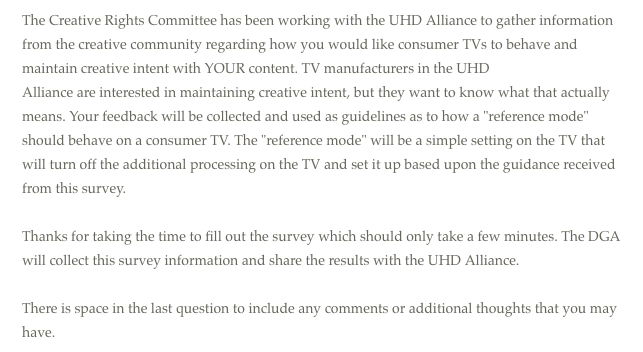 Here are some of the questions included in the survey:
How important is it to you to have a simple way to get consumers' home TV setup similar to monitors in the color-grading suites for viewing film and television content that YOU created?
For the following aspects of film and television playback, what elements of creative intent should be maintained in current home displays?
Motion/frame rate should match the original frame rate (no motion interpolation)
Home displays should maintain what was seen in the grading suite – in terms of color, brightness, black levels, white point, etc.
Dynamic range should be preserved – HDR should look like HDR, standard dynamic range should look like standard dynamic range, dynamic range should not be stretched.
Would you expect this "reference mode" to work for both SDR (standard dynamic range) and HDR (high dynamic range) content or just SDR or just HDR? Please choose one.
Would you expect this "reference mode" to be called the same thing on different manufacturers of TVs?
The survey also offers DGA members a few options for how consumers should ideally be able to access the new reference mode: automatic detection and conversion by the TV itself, a single button on the remote, or through TV menus – "but not buried too deeply in the menus."
Earlier this summer, we wrote about how Netflix teamed up with Sony to create a "Netflix calibrated mode" for its top-of-the-line TV models that would essentially serve the same function: giving consumers the choice to view things the way the filmmakers intended. Now a more coordinated effort is being made by some of Hollywood's biggest names. Hopefully, every member of the DGA fills out the survey, and the manufacturing industry finally begins to listen to the concerns of the creative forces who actually make the majority of the content that their customers watch.
There are still a few aspects to work out. How exactly would the automatic detection work? How far into the menus would the DGA consider too far? This single mode, if approved, likely wouldn't be appropriate for every movie or TV show across the board, so individual adjustments would probably still need to be made to ensure the best picture quality for a piece of content. But it's undeniably a step in the right direction, and it could prove to be the start of the final charge in a battle that's been raging for far too long.