'The Hate U Give' Release Date Moved Up, Watch A New Clip And Featurette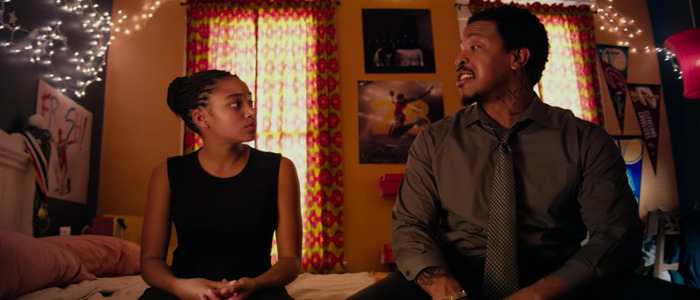 20th Century Fox has shifted the release date of its highly-anticipated film adaptation of the mega-popular young adult novel The Hate U Give, sliding it up two weeks to hit select theaters on October 5, 2018 before expanding the next week and then opening wide on October 19, 2018.
Fox has also released a new clip and a featurette from the film, which focuses on a young girl's journey to find her voice as she speaks up about witnessing a police officer shooting an unarmed black kid. Watch them both below.
The Hate U Give Featurette
After a casting controversy that saw the original male lead ousted from the film after videos of him using racial slurs surfaced online, this movie could use some good news – and that's exactly what this is. Shifting the release date up two weeks is a strong statement from Fox that they like the movie and think they have a hit on their hands, and everything we've seen so far points in that direction.
This looks like a powerful adaptation of author Angie Thomas's best-seller, and considering the book was such a powerhouse, it'll be interesting to see if A) the movie is any good, and B) if the book's success will translate into impressive box office numbers. Check out the latest trailer right here.
George Tillman Jr., the director of the Notorious B.I.G. biopic Notorious, the Dwayne Johnson action vehicle Faster, and an underseen 2013 indie called The Inevitable Defeat of Mister and Pete, is behind the camera of this adaptation. Stenberg stars opposite Regina Hall, Russell Hornsby, Issa Rae, KJ Apa, Algee Smith, Sabrina Carpenter, Common, and Anthony Mackie. Here's the official synopsis:
Starr Carter is constantly switching between two worlds: the poor, mostly black, neighborhood where she lives and the rich, mostly white, prep school she attends. The uneasy balance between these worlds is shattered when Starr witnesses the fatal shooting of her childhood best friend Khalil at the hands of a police officer. Now, facing pressures from all sides of the community, Starr must find her voice and stand up for what's right. THE HATE U GIVE is based on the critically acclaimed New York Times bestseller by Angie Thomas and stars Amandla Stenberg as Starr, with Regina Hall, Russell Hornsby, Issa Rae, KJ Apa, Algee Smith, Sabrina Carpenter, Common and Anthony Mackie.