Board The Catbus To See 'My Neighbor Totoro' Back In Theaters For Its 30th Anniversary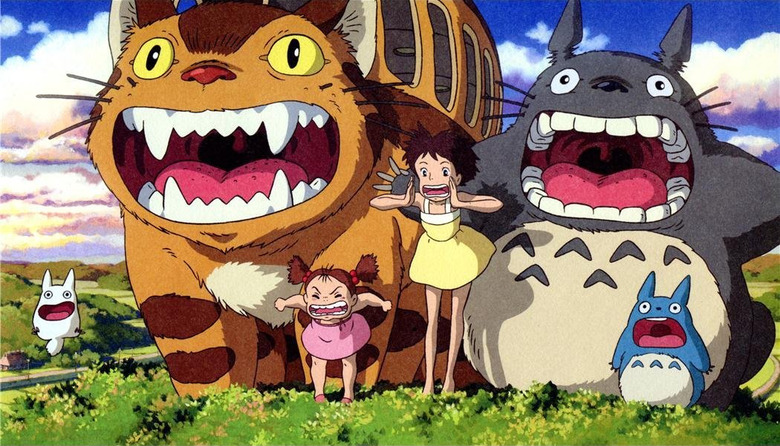 The Catbus is taking us on a jaunt back in time for My Neighbor Totoro's 30th anniversary. My Neighbor Totoro returns to theaters for three days only in celebration of the Studio Ghibli classic, which introduced many Western audiences to animation master Hayao Miyazaki.
Fathom Events is bringing My Neighbor Totoro back to theaters in honor of the whimsical fairy tale's 30th anniversary. On September 30, October 1, and October 3, you can see the lovely fable of two sisters who encounter a group of magical woodland creatures on the big screen.
More than 700 theaters are screening the film as part of Fathom Events and GKIDS' Studio Ghibli Fest 2018 celebration, which has been re-releasing nine of Studio Ghibli's most "revered animated classics" in both dubbed and subbed editions to theaters since March of this year. Miyazaki's magnum opus Spirited Away and his sorely underrated fantasy epic Castle in the Sky are next on the roster.
Unfortunately for purists, the My Neighbor Totoro theatrical re-release will be the Disney dubbed version featuring Dakota and Elle Fanning as sisters Satsuki and Mei, who stumble upon the fluffy woodland spirit Totoro, who takes them on a surreal adventure through the rolling landscapes of rural Japan. Tim Daly voices their father Tatsuo, who has moved his children out to the country as Japan recovers from the devastation of World War II.
My Neighbor Totoro may now be better known for being the face of Studio Ghibli and its adorable merchandise, but the 1988 film is actually a wistful, deeply moving story of a family on the mend. It's still very much a children's film, with all the awe and wonder of kids meeting cutsey woodland spirits, but the phantom of post-World War II Japan looms in the background — even during the fantastical sequences of a giant Catbus flying through the air. My Neighbor Totoro may have been overshadowed by the sweeping action of Princess Mononoke or the critical acclaim of Spirited Away, but it's a classic anime film that is Miyazaki at his finest.
Tickets and a complete list of participating theaters are available at the Fathom Events website. Hopefully it won't take riding a Catbus to get to one close to you.