Small-Screen Stream: The Fantastic Final Season Of 'The Americans,' Jim Halpert: Action Star, And More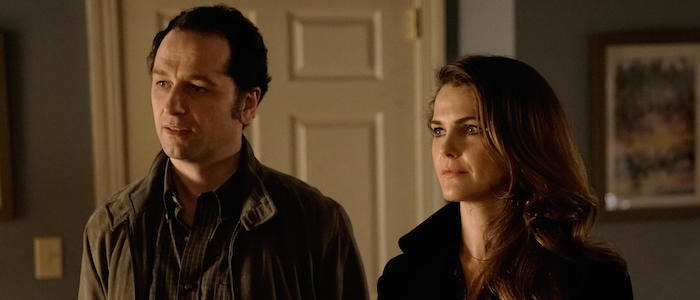 (Welcome to Small-Screen Stream, a feature where we share the best television shows streaming and where you can watch them.)
Anyone else feeling that late summer sadness? It's not yet Halloween season, but the kids are back in school, the weather is evening out, and we're about to lapse into the long slog of low temperatures and seasonal depression.
If that's a downer for you, worry not, because I'm here to offer a selection of streaming TV that will hopefully raise your spirits. I've gone through every major streaming service to deliver an offering of the best streaming TV has to offer this time of year. If you're unfamiliar with this column, it's comprised of old things, new things, and under-the-radar things. I hope I can give you something to look forward to as we swing gently into the last chunk of 2018.
The Americans, Seasons 1-6
Where To Watch: Amazon Prime
Created By: Joe Weisberg
Starring: Matthew Rhys, Keri Russell, Noah Emmerich, Holly Taylor
I will never stop looking for excuses to promote The Americans, one of my all-time favorite shows and one of the best things to grace TV screens in decades. I don't care if that's hyperbole; I think The Americans deserves it. The acting is ace, the pacing perfection, and the sleek, sexy story the exact sort of entertainment I'm always looking for. The final season – which is nominated for a ton of top-prize Emmys, and is genuinely perfect – just hit Amazon Prime, so you're out of excuses for not tuning into this Cold War spy drama, about two married KGB agents deeply undercover in 1980s Washington D.C. It's worth it for the incredible soundtrack alone, like in the above clip, when Keri Russell's Elizabeth Jennings zones out as Peter Gabriel's "We Do What We're Told (Milgram's 37)" electrifies in the background.
Tom Clancy's Jack Ryan, Season 1
Where To Watch: Amazon Prime
Created By: Carlton Cuse, Graham Roland
Starring: John Krasinski, Abbie Cornish, Wendell Pierce
If you're like me, you might have a hard time buying Jim Halpert as an action star. (I'm personally still recovering from Andy Dwyer the action star.) I didn't have much interest in checking out this series, since I know nothing about Tom Clancy or his famous character, and don't have much of a spine for action-bent political thrillers. But I was drawn to the name Carlton Cuse; he co-created the series and is responsible for two of my favorite shows: Lost and Bates Motel. I know he has the ability to take material that sounds off on paper really sing (although not always; there are a few misses in his filmography). I decided to check out the pilot episode and found myself immediately drawn in. The plot is sort of whatever – Krasinski's titular character gets yanked from his desk job and forced on the field to track an Islamic terrorist – but the pacing, the acting, and the elegant production really works. If you're like me and not immediately stoked on the idea, I recommend giving it a chance. I'm excited to see where this one goes.
The Innocents, Season 1
Where To Watch: Netflix
Created By: Simon Duric, Hania Elkington
Starring: Sorcha Groundsell, Percelle Ascott, Sam Hazeldine, Nadine Marshall
Netflix kept forcing this trailer on me until I finally gave in... and binged the entire show. I love European supernatural series more than most things, and this Norwegian/British show is no exception. The story follows 16-year-old June, who flees her home with her boyfriend Harry. As we discover, June has the ability to swap bodies with other people, but – being a teen and all – her powers are as unpredictable and hard-to-control as hormones. The show is dark in places, but lovely in others; it speaks to hope and youth and love in the face of bodily adversity. Guy Pearce makes for a great villain, too. It's only eight episodes, and makes for a great lazy weekend watch.
Letterkenny, Seasons 1-2
Where To Watch: Hulu
Created By: Jared Keeso
Starring: Jared Keeso, Nathan Dales, Dylan Playfair
I mentioned Schitt's Creek in the previous column, which is a great and very Canadian comedy that left me hungry for more. Letterkenny has been recommended by many friends, so I decided to finally check it out. Like Schitt's Creek, the show is about a small Canadian town and tells a very personal story by its creator, Jared Keeso. I grew up in a small Midwestern town not unlike the farming community of Letterkenny, so the humor is particularly relevant and hilarious to me. We don't often see such rural places like this in pop culture, or at least not ones so accurately captured. That specificity is a real boon to Letterkenny, which I just loved. 
Pride & Prejudice
Where To Watch: Amazon Prime
Created By: Jane Austen, Andrew Davies, Simon Langton
Starring: Jennifer Ehle, Colin Firth
I had no idea the BBC's iconic Jane Austen adaptation was available for streaming, so imagine my delight when I stumbled on it the other day. Colin Firth is still the ultimate Mr. Darcy and I love what Jennifer Ehle does with Elizabeth Bennett, the plucky young woman whose pride prevents her from accepting her feelings for Darcy. I'm one of those heathens who is more partial to Joe Wright's 2005 film adaptation (to the agony of my Austen-obsessed friends), but I still have a soft spot for this series, which is admittedly a much better adaptation of Austen's novel.
American Crime Story: The People Vs. OJ Simpson
Where To Watch: Netflix
Created By: Scott Alexander, Larry Karaszewski, Ryan Murphy, Brad Falchuk
Starring: Sarah Paulson, Sterling K. Brown, Cuba Gooding Jr., David Schwimmer
I'm sure everyone and their mother has seen Ryan Murphy's impressive, lauded O.J. show by now, but I'll confess: I actually never finished it, and so when it popped into my Netflix feed this week, I finally topped off the last few episodes. I wanted to use this space as a PSA for those like me, who didn't intentionally quit, but who fell behind on other shows and felt too embarrassed to admit they hadn't finished. There's not much I can say about the series that hasn't already been said: Sarah Paulson is a master of her art, Sterling K. Brown should be in everything, and I love the series' dedication to both the absurdity and the brutality of this specific time in American culture.
Young Hercules, Season 1
Where To Watch: Hulu
Created By: Robert Tapert
Starring: Ryan Gosling, Dean O'Gorman, Chris Conrad
We know Ryan Gosling as an Oscar-nominated heartthrob, but '90s kids will never forget his roots. We first saw him on The Mickey Mouse Club, followed him to the soapy Breaker High, and loved watching him pop up on Are You Afraid of the Dark? and Goosebumps. Some of us even remember his turn on Young Hercules, which, to my utter delight, is available to stream on Hulu. The show only ran for one season, but it's 50-episodes long. Fifty episodes of a teenage Gosling, with his DiCaprio-approved floppy blonde locks, fighting through low production values and Greek myth. It's a ridiculous series, in the vein of Xena, but the Gos is as charming as ever, and it's a real nostalgia bomb for those who watched it way back when.
Most Haunted, Season 1
Where To Watch: Netflix
Created By: Yvette Fielding, Karl Beattie
Hosted By: Yvette Fielding
I've professed my love for paranormal reality shows in this column before, so I'd like to take the time to promote a new fave to add to the pile: Most Haunted, which I discovered on Netflix and love love love. The British series has been on the air for a remarkable 21 seasons, though Netflix only carries season 15. Host Yvette Fielding takes us to haunted locations across the United Kingdom and Ireland, countries that carry an inherent spookiness by virtue of their topography; cloudy skies, rain, rolling hills – not to mention their archaeology, like old gothic buildings and ornate castles. Fielding is charming as hell, which is great for such a spooky series. You'll learn your European history and get scared at the same time.
Documentary Now, Seasons 1-2
Where To Watch: Netflix
Created By: Fred Armisen, Bill Hader, Seth Meyers, Rhys Thomas
Starring: Fred Armisen, Bill Hader
I've been re-watching Barry which sent me down a Bill Hader rabbit hole and found me finally catching up on Documentary Now season 2. This is show definitely isn't for everyone; it's tailor-made for the documentary obsessed. But it's absolutely brilliant if you fall under that designation. The second season parodies everything from The Kid Stays in the Picture to Jiro Dreams of Sushi, and is loaded with the sort of humor you'd come to expect from Hader, Fred Armisen, and John Mulaney: strange, acerbic, dry.
Tiny Toon Adventures, Seasons 1-3
Where To Watch: Hulu
Created By: Tom Ruegger
Starring: Charlie Adler, Tress MacNeille, Joe Alaskey
I rarely put cartoons on this streaming list because, to be quite honest, I don't really like cartoons. That's fully a "me problem" and not reflective of the quality of great animated works, of which there are many. Tiny Toon Adventures probably isn't considered "high art" by many people, but when it popped up in my Hulu recommendations the other day, I was pretty ecstatic to see it. This was one of my favorite shows as a kid, and theme song is as memorable to me as any of the greats. If you'd like a little nostalgia, Hulu has a strong selection of older Warner Bros. animation.
Big Mouth, Season 1
Where To Watch: Netflix
Created By: Nick Kroll, Andrew Goldberg, Mark Levin, Jennifer Flackett
Starring: Nick Kroll, John Mulaney, Jessi Klein, Jason Mantzoukas
Another animated series, because, like I said, sometimes things transcend my admittedly weird objection to cartoons. I really enjoy this Nick Kroll series, which is sort of like an animated version of Freaks and Geeks. The voice cast is also really astounding: Kroll is joined by John Mulaney, Jason Mantzoukas, Jenny Slate, Fred Armisen, Maya Rudolph, Jordan Peele, and a whole revolving door of comedic talent. The second season comes out in October, so now's the perfect time to catch up on the first.