'If Beale Street Could Talk' Review: Another Cinematic Wonder From Barry Jenkins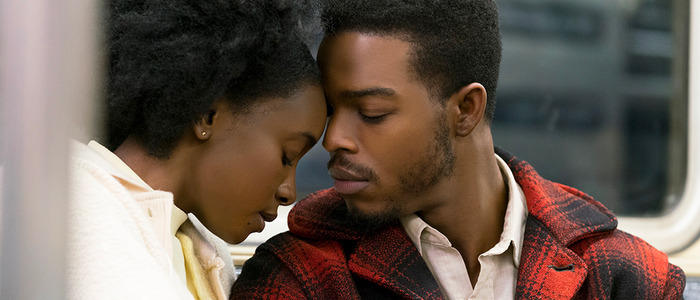 Moonlight director Barry Jenkins returns with If Beale Street Could Talk, an adaptation of the novel by James Baldwin. Romantic and tragic, Beale Street is gorgeous and emotionally stirring – the type of movie that only comes along every so often.
"Love brought you here. If you trusted love this far, don't panic now. Trust it all the way..." Those words come midway through If Beale Street Could Talk, the latest stunning work from Moonlight director Barry Jenkins. They're delivered by Sharon Rivers (Regina King), addressing her 19-year-old daughter Tish (Kiki Layne) just when things seem at their most hopeless. The words are like a mantra for Beale Street, a film brimming with love while tinged with tragedy. Adapting James Baldwin's novel of the same name, Jenkins has crafted a swooning love story that will both warm and break your heart. It's one of the best movies you'll see this year.
Tish has just learned she's pregnant, and the news isn't entirely joyous. Because the father of the child, and the man whom Tish loves, Fonny (Stephan James), is currently behind bars after falsely being accused of rape. Fonny's trial looms, but an indifferent justice system keeps pushing the date, and it looks more and more likely that Fonny will remain in jail long after his child is born. All the while, Tish and her family work tirelessly to try to clear his name.
This set-up sounds like a race-against-the clock story, but that's not at all what Beale Street is. Once again eschewing a traditional narrative, Jenkins jumps around in time. The aftermath of Fonny's arrest is juxtaposed with happier times, when Tish and Fonny are just beginning their romance. Lifelong childhood friends, they're comfortable around each other, and their love blooms sweetly and emotionally – it's impossible not to get wrapped-up in their love story. Which makes the segments after Fonny's arrest all the more heart-wrenching. Jenkins goes to great lengths to show how right these two are for each other, and how warm Fonny is as an individual – a flashback sequence in which he and Tish go house-hunting at a somewhat squalid loft is charming thanks to the playful way Fonny sells Tish on the space.
Through it all, Jenkins weaves a narrative about injustice. As a black man in America, Fonny's chances of being treated fairly by the justice system – particularly in the 1970s setting of the film – are precariously slim. Jenkins' script, using much of Baldwin's text, draws comparisons between Fonny and countless other black men railroaded by systematic racism.
Newcomer Layne is wonderful as Tish, bringing a sweetness slowly turning sour to the part, narrating the film using much of Baldwin's own words from the book. At times the narration doesn't quite work with the film as a whole, yet Layne's delivery sells it. James, as Fonny, is equally good – in flashbacks we see him cool, cultured and collected, juxtaposed with his increasing desperation while incarcerated. The two actors have a palpable chemistry with one another – their romance seems genuine; we fully understand why these two young people fall so madly in love with each other.
The couple at the center are backed-up by a remarkable cast. Regina King in particular makes a huge impression as Tish's loving mother. Two of the film's most memorable moments focus around King's Sharon. The first is an extended sequence where Tish tells her family about her pregnancy, and Sharon is instantly supportive and understanding, rallying the rest of her family to do the same; the warmth and strength exuded from King radiates off the screen at these moments. The second involves a series of scenes late in the film to try to track down the woman who accused Fonny of rape. She's fled to Puerto Rico, and Sharon travels there hoping to convince the woman to reconsider her false accusation. Here, that strength is on display again, but it's slowly crumbling as Sharon realizes how hopeless things might be.
Colman Domingo is also strong as Tish's father. His part is smaller, but he makes the most of it, and then some, often adding levity and pragmatism to the proceedings. An extended cameo from Brian Tyree Henry is also a highlight. Henry plays one of Fonny's friends, recently released from prison. When he first arrives in the film, he's jovial and comical, but when the subject of his incarceration comes up, he turns deadly serious – with Jenkins going in close on the actor's pained face.
All of this – the wonderful performances, the captivating story, Jenkins' powerful direction – is aided by James Laxton's utterly beautiful cinematography. Using greens, blues, golds and more, Laxton paints the film with light and shadow – rainy streets with streetlights burning; sunny rooftops where the light is so bright it could blind you; darkened art studios where cigarette smoke swirls in slow motion, drifting across the air like a specter.
The real star of the film, however, is Nicholas Britell's tremendous, impassioned score. Britell manages to find exactly the right notes to wrench tears from your eyes, and never in an overly manipulative way. The music is just so incredibly lovely – swelling and building to the point where it feels like it might just burst. Overflowing with raw, electric power. The orchestral score is practically a character itself, so ever-present and commanding.
There are no easy answers in If Beale Street Could Talk, just simple, and often maddening, realities. At times, the hopelessness threatens to take hold of the film. But the love prevails. The tender romance between Tish and Fonny is a beacon; a lighthouse to gravitate towards across turbulent seas. Love brought them here. Now they have to trust it all the way.
/Film rating: 9 out of 10