'Memory: The Origins Of Alien' Documentary Explains How Ridley Scott's Sci-Fi Classic Came Together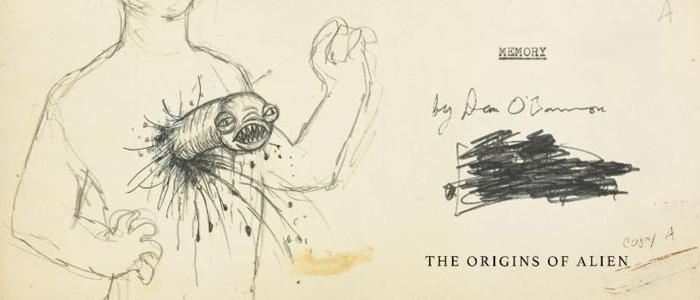 There have been plenty of great feature-length documentaries about filmmaking: American Movie, Lost in La Mancha, Hearts of Darkness, Best Worst Movie, Jodorowsky's Dune, and Burden of Dreams immediately spring to mind. Now a new documentary aims to join those hallowed ranks.
It's called Memory: The Origins of Alien, and it's an exploration of Ridley Scott's seminal 1979 sci-fi horror classic that features never-before-seen materials from the archives of writer Dan O'Bannon and designer H.R. Giger. Read more about the newly-announced Alien documentary below.
A Paris-based distribution company called Indie Sales has acquired Memory: The Origins of Alien, and they'll release it sometime next year to coincide with the 40th anniversary of Scott's film. Here's how the press release describes the new doc:
Shot in 4k resolution in Los Angeles, Switzerland, Greece, Italy, London, and Toronto, and driven by interviews of the film's cast and crew, as well as relatives of creators Dan O'Bannon (writer) and H.R. Giger (designer), MEMORY will exclusively reveal never-before-seen materials from the O'Bannon and Giger archives, including a treasure trove of original story notes, drawings, designs, behind-the-scenes footage... and the Holy Grail for ALIEN fans... O'Bannon's original 29 page script from 1971, itself titled MEMORY.
Filmmaker Alexandre O. Philippe has plenty of experience making movies about other movies, since he's the director of films like 2010's The People vs. George Lucas and last year's 78/52: Hitchcock's Shower Scene. He sounds psyched about bringing this story to life:
"MEMORY is, full-on, a mythological deep dive into one of the films that influenced me to become a filmmaker, and a long-overdue tribute to its creator and writer Dan O'Bannon. After the success of 78/52, we have pushed the envelope structurally, sonically, and visually, to deliver our most daring and original film-on-film to date; and I am thrilled to partner with Indie Sales to let it burst out onto the screen in 2019."
I'm curious to see if there are any major revelations that emerge from this doc, or if it'll be a greatest hits of behind the scenes stories sprinkled with a new pages of notes and drawings. Alien is obviously a hugely popular touchstone that's been around for almost four decades, and it seems like the kind of film that wouldn't have more secrets up its sleeve. Then again, a documentary called Dangerous Days: Making Blade Runner came out in 2007, thirty-five years after Blade Runner was released, and that has a reputation as being the definitive documentary about the making of another of Scott's sci-fi classics. Maybe Philippe has uncovered a few surprises Alien fans won't be expecting.
Memory: The Origins of Alien is set to hit theaters sometime in early 2019.