First 'Hobbs And Shaw' Photo Proves This Spin-Off Will Also Be Fast And Furious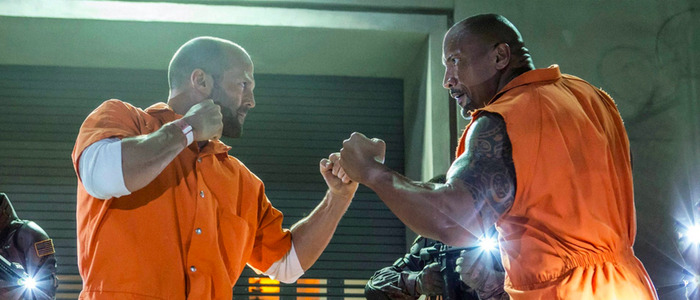 17 years after The Fast and The Furious raced into theaters, production has officially begun on the franchise's first spin-off movie.
Dwayne "The Rock" Johnson has shared a new Hobbs and Shaw photo from the upcoming Fast & Furious spin-off that stars Johnson and Jason Statham, and as you may have guessed, the photo contains elements which lead us to believe that this story will also be both fast and furious. Take a look below.
Hobbs and Shaw Photo
View this post on Instagram
DAY 1 and the evolution has officially begun. Long awaited Fast & Furious spin-off movie, #HobbsAndShaw is electric. My partner in heavy crime & fun @jasonstatham is lookin' like $1million bucks and holdin' it all down. Our visionary & bad ass director @davidmleitch (just directed Deadpool2) at the helm and ready to evolve the franchise in exciting and fresh new ways. And as always, our @sevenbucksprod president @hhgarcia41 capturing the dopest images thru his ? lens. Keep crushing on that set boys... the man known as "HOBBS" will touch down in London in two weeks. Pancakes, tequila and ass kickin's ?? on me. #Day1 #TheEvolution #HobbsAndShaw
Johnson, who's been busy shooting Disney's Jungle Cruise, took to Instagram to share this photo of Statham chatting with director David Leitch. Statham's very presence means that there will be at least one furious thing in this movie – it seems like his natural expression is a hard frown. And that Ferrari in the background is certainly speedy enough to check the "fast" box.
Statham's Deckard Shaw first appeared in the post-credits scene of Fast & Furious 6, which took place concurrently with the third movie, The Fast and the Furious: Tokyo Drift, and revealed that Shaw was responsible for the death of Han. (In case you hadn't noticed, this franchise's timeline is bonkers.) Shaw has squared off with Johnson's government agent Luke Hobbs multiple times, but in this spin-off, they'll be teaming up to face a common enemy – a villain being played by Idris Elba (Molly's Game, Pacific Rim).
The Crown and Mission: Impossible – Fallout actress Vanessa Kirby has also come on board as Shaw's sister. With any luck, we'll also get to see more of Helen Mirren playing the Shaw family matriarch – she had a small role in The Fate of the Furious, but there's plenty of story left to mine there. Chris Morgan, who has written every Fast & Furious movie since 2006's Tokyo Drift, wrote the screenplay, and Hobbs and Shaw will now cruise into theaters on August 2, 2019.