'Smokey And The Bandit' Races Back Into Theaters This Week To Honor Burt Reynolds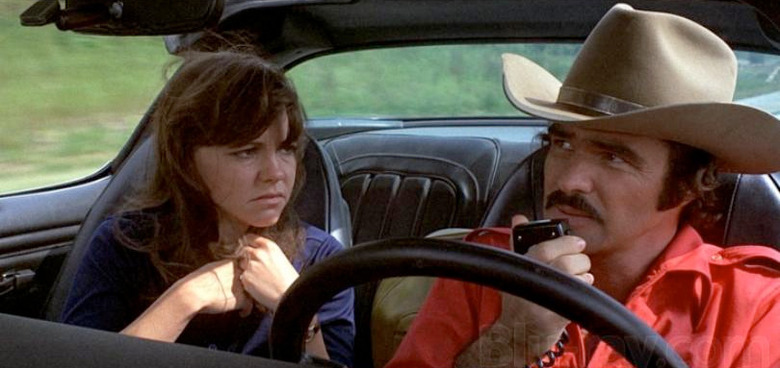 Last week we were sad to learn about the passing of screen icon Burt Reynolds. Unfortunately, the actor died before he was able to shoot his role in Quentin Tarantino's upcoming film Once Upon a Time in Hollywood. However, fans of the actor will still have a chance to catch Burt Reynolds on the big screen one more time.
AMC Theatres is bringing the high-speed bootlegging action comedy Smokey and the Bandit, which features one of the most iconic performances of Burt Reynolds' career, back to theaters for a little over a week. Find out when and where you can see Smokey and the Bandit in theaters below.
Deadline has word on the return of Smokey and the Bandit in theaters to honor the late Burt Reynolds. And if you want to partake in the celebration of the actor's life, you can see Smokey and the Bandit in theaters starting on September 12 and lasting through September 20. If you've never seen Smokey and the Bandit, here's the trailer:
Here's the official synopsis of the movie directed by stuntman Hal Needham:
Big Enos (Pat McCormick) wants to drink Coors at a truck show, but in 1977 it was illegal to sell Coors east of the Mississippi River without a permit. Truck driver Bo "Bandit" Darville (Burt Reynolds) agrees to pick up the beer in Texas and drive it to Georgia within 28 hours. When Bo picks up hitc

hhiker Carrie (Sally Field), he attracts the attention of Sheriff Buford T. Justice (Jackie Gleason). Angry that Carrie will not marry his son, Justice embarks on a high-speed chase after Bandit.
The movie was made for $4 million, but it ended up making $126 million for Universal Pictures and spawned a couple of sequels. The original was just in theaters again last year for the film's 40th anniversary.
Showtimes for seeing Smokey and the Bandit in theaters aren't available just yet, so stay tuned to your local AMC Theatres to see if it's playing near you. Tickets will be $5 or less depending on your location, so go have some fun and remember the late Burt Reynolds.