'Ben Is Back' Haunts As It Shows The Ripple Effect Of Addiction [TIFF]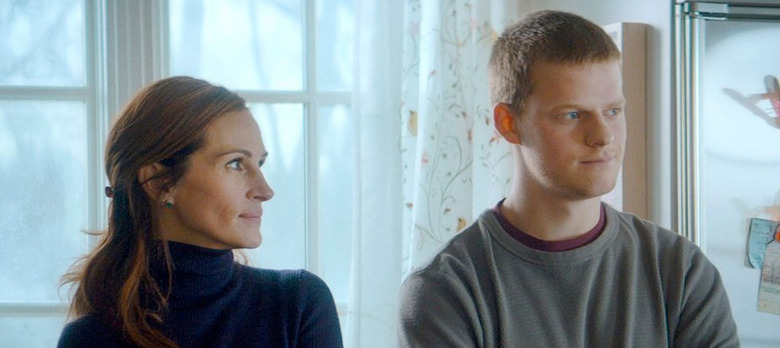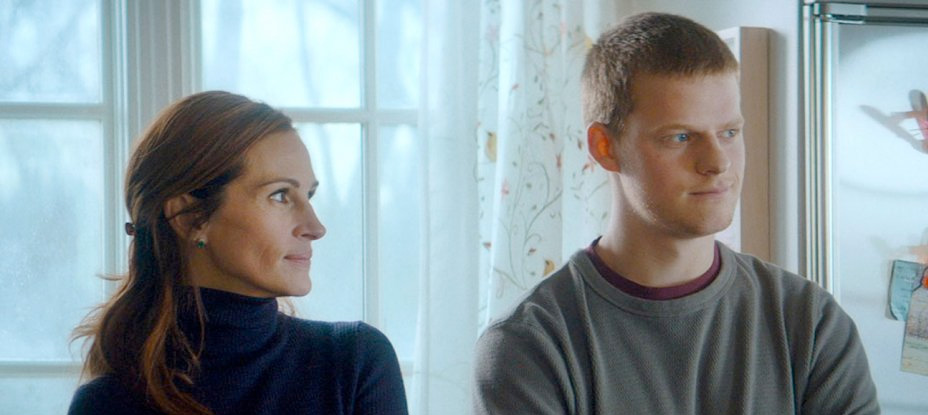 Let's just get this out of the way right off the bat since comparisons are inevitable, both at the Toronto International Film Festival and upon general release: Ben Is Back and Beautiful Boy (read our review here) are different films with different approaches to the topic of addiction. While both follow a young addict as he struggles to stay clean, Peter Hedges' Ben Is Back opens his film outwards to reflect on the topic in a larger conversation. He acknowledges that while the film is about one substance abuser and one family, their story does not exist inside a vacuum.
Find out more in our full Ben Is Back review below.
That narrative is a relatively compact one, unfurling over just one highly eventful day when Ben (Lucas Hedges) makes an unexpected return home for the holidays. His unannounced return sets off a flurry of frenzied responses, from the hopefulness of his mother Holly (Julia Roberts) to the trepidation of his sister Ivy (Kathryn Newton) and the righteous concern of the family's new patriarch Neal (Courtney B. Vance). After Ben's previous exploits, which gradually come into focus as plot developments organically reveal them, coming back is not as simple as it seems. His presence both triggers past trauma and threatens to create new wounds if Holly cannot closely monitor his erratic behavior.
And if his presence at home proves troubling, his reemergence in the community at large is downright worrisome. Without blood ties to bind them together, Ben finds himself at the receiving end of hostility and even outright emotional manipulation by people from his checkered history – none of whom care much about his fragile state of sobriety. And this Christmas Eve, the past comes to collect. After a break-in and kidnapping of the family dog, Ben – with his exasperated yet loyal mother by his side – must go back through his web of connections who might still hold a grudge.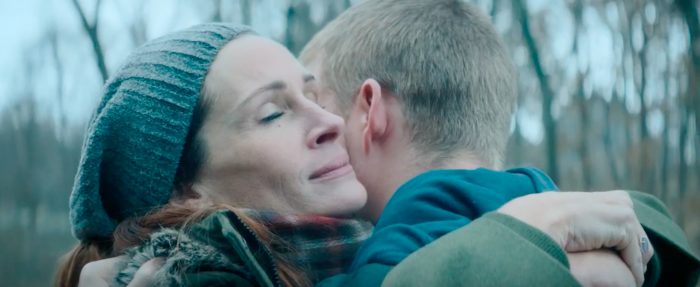 If the rescue thriller element makes for a bit of a strange back-half for Ben Is Back, Peter Hedges quickly allays any concerns by making good use of the expanded perspective. The journey through town exposes just how many lives are touched by the scourge of the opioid crisis, from dealers to junkies to childless parents. The film is not afraid to go grand within its limited scope. While that might result in a Julia Roberts chew-out that's a little over the top or a plot point that's slightly outrageous, Peter Hedges pinpoints a big problem and crafts a big, little movie to grapple with it. Ben Is Back, while spanning just a day, contains a moving family drama, a portrait of an ailing addict and a landscape of an underbelly that enables and perpetuates drug abuse.
Ben Is Back makes repeated references to the root of the opioid crisis, not afraid to name names and call out the privilege of its own narrative. "If he was black, he'd be in jail," exclaims Neal when Ben first arrives. And he's right – there are many versions of this story about people with far fewer opportunities to climb out of their hole. Ben is lucky to have a family that loves him can afford to support him through his difficult times. As Holly reminds him during a heated exchange, his illness receives little sympathy from the government or from insurers. And with pharmacists and doctors all too happy to provide the pills that fuel his addiction, their patience represents the only thing that separates him from life on the streets – or death.
Of course, Ben Is Back would be little more than a clinical, finger-wagging map of addiction's wreckage without deep emotional stakes. Lucas Hedges provides a beating, aching heart at the center of Ben Is Back with his soulful performance, another reminder of why he is one of the most exciting young performers working today. His vulnerability is striking, even when the events of the film later reveal that he weaponizes it against his family. Even if recovery feels out of sight, Lucas Hedges' raw yearning at least makes us root for his character's redemption.
/Film rating: 8.5 out of 10