'Beautiful Boy' Provides A Moving Showcase For Timothée Chalamet And Steve Carell [TIFF]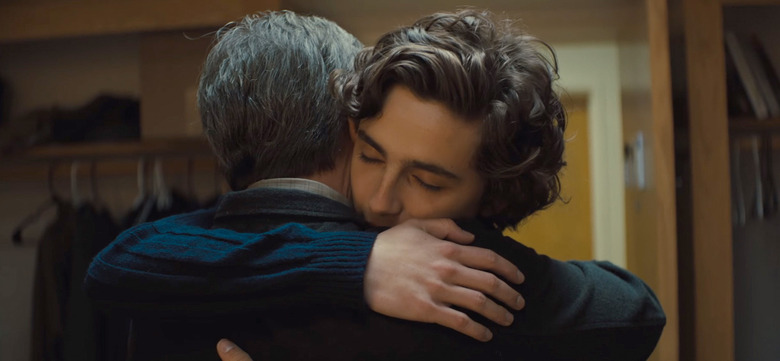 "I don't look at Nic the way I look at the other addicts in the room," wrote David Sheff about his son Nic in his memoir Beautiful Boy. "Nic is a smart kid who has gone way out of control."
The disease of addiction is rife with contradiction such as these. It can leave a person's outside entirely in tact while eating them from the outside in. The very things that make someone charming and winning might become the very cudgels they wield in order to squeeze their loved ones for support. The addict, unlike a cancer patient, holds all the power to stop the pain inflicted to their body, yet the condition saps their agency to do what they know is necessary. And then, of course, there's the famously paradoxical maxim: relapse is a part of recovery.
Beautiful Boy's director and co-screenwriter Felix van Groeningen digs in and embraces the frustration these opposing truths cause in the minds of all those affected by addiction. He's an inspired choice to bring David and Nic Sheff's story to life given that his international breakout feature, 2013's The Broken Circle Breakdown, depicts a similarly tragic journey as the illness of a child slowly gnaws away at the sanity of an entire family. Van Groeningen, who collaborated with Luke Davies on the adaptation, even utilizes a similar narrative technique to tell the story. Rather than charting the progress of the disease chronologically, he cuts between the happy times and the tragic ones. The adjacency of these two timelines makes their divergence all the more harrowing. Health and happiness are both so near and so unattainable in Beautiful Boy.
Steve Carell and Timothée Chalamet, playing father David and son Nic, make this pining palpable. They get plenty of help from cinematographer Ruben Impens, who shrinks them consistently inside the shot. The framing emphasizes their isolation and loneliness, with plenty of negative space to visualize their emotional emptiness. Both leading men give their all to this portrayal of addiction's wide-ranging reverberations, though each does so in different ways.
David Sheff practically wrote his book in interrogatives. He restlessly asked questions that had no easy answer as his son plunged deeper and deeper into the thralls of addiction. As a journalist, his default mindset of skepticism and research-gathering proved useful tools. But the longer Nic's battle rages, the more David comes to realize that this is not a problem he can solve or fix. That helplessness, combined with the parental nightmare of being ineffective in a child's hour of need, wrecks him. Beautiful Boy's script gives him some expository sense to problem-solve out loud, but van Groeningen and Davies mostly leave Carell to ask these questions internally. Though he maintains a façade nearly as still as his haunting mug in Foxcatcher, the tempest rages potently inside Carell's mind.
Chalamet's Nic, on the other hand, must externalize Nic's struggle to wrest himself from the control of meth. His performance steers refreshingly clear of the flashy tics that many actors use to embellish their work. Chalamet possesses an uncanny knowledge of how to use his body as an instrument, and Beautiful Boy makes for an interesting contrast with his star-making turn in last year's Call Me by Your Name. As Elio, Chalamet let his character grow into his own skin as he began to listen to the sexual impulses pulsing through him. But as Nic, Chalamet expresses the horror of an addict who no longer feels comfortable in his own body. This is both literal, as meth causes intense pain when the high wears off, and figurative, as he becomes unable to trust his neural instincts to guide him toward destruction.
The interplay between father and son makes up most of van Groeningen's concern in Beautiful Boy. It's a valid angle, to be clear, and really zeroing in on a single dynamic helps to make the behemoth of addiction a little more intelligible in under two hours. Yet this dogged focus on the ups and downs of David and Nic's relationship siphons off attention from all the other people affected by the condition. In particular, Beautiful Boy shortchanges the women in the narrative. David's wife Karen, Nic's stepmother, rarely receives any acknowledgement for the unique burden she carries as emotional support for David and guardian of her own two children from dangerous exposure to their half-brother. Amy Ryan's Vicki, Nic's biological mother, gets it even worse – she exists almost entirely as the "woman crying on the phone" caricature mocked by Amy Schumer.
This narrowed perspective might have worked were Beautiful Boy fully committed to sticking to just David and Nic's story as a self-contained narrative. But the film's closing moments hint that ongoing ravages of Nic's addiction are part of a larger conversation about the issue, only to be followed by a series of title cards that drop statistics and somber observations about the state of the afflicted. Instances such as these, which reach outside the key relationship of the film, dull the devastating blows dealt by Carell and Chalamet as they make their characters' agony achingly real.
/Film rating: 7.5 out of 10