Theme Park Bits: R.I.P. 'Jurassic Park:' The Ride And A Bug's Land, Halloween Is Here At Disneyland Resort
In this edition of Theme Park Bits:
Florida is gearing up for Halloween Horror Nights with some last-minute haunted house previews.
Jurassic Park: The Ride and A Bug's Land have both permanently closed in California.
Feast your eyes on this year's Haunted Mansion Holiday gingerbread house at Disneyland.
Better start brushing up on Star Wars trivia if you want to work at Star Wars: Galaxy's Edge.
Starbucks has its fingers in a lot of pies and now those pies include Hong Kong Disneyland.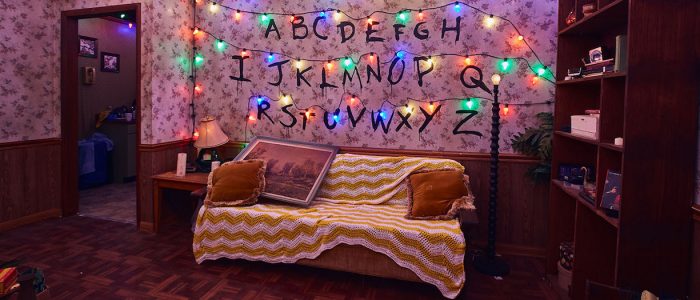 Halloween Horror Nights 2018 is almost upon us and while you wait for the fun to begin at Universal Orlando, you can check out previews of the new Stranger Things and Slaughter Sinema haunted houses, where the Demogorgon, biker werewolves, and other terrifying monsters will be on the prowl.
Jurassic Park: The Ride is now extinct at Universal Studios Hollywood. The 22-year-old ride closed on Monday, September 3, 2018, to make way for a new Jurassic World attraction in 2019.
Stark Industries logo up on the Bug's Land construction wall #DCA #Disneyland pic.twitter.com/D8YIeRxvhc

— TouringPlans (@TouringPlans) September 6, 2018
A Bug's Land is also no more. Themed to the Pixar film A Bug's Life, the area closed on Wednesday, September 5, 2018, after a 16-year run at Disney California Adventure. In its place will come a new Marvel-themed land, which is scheduled to open in 2020. As you can see in the tweet above, the Stark Industries logo has already gone up over a construction wall in front of the former A Bug's Land entrance.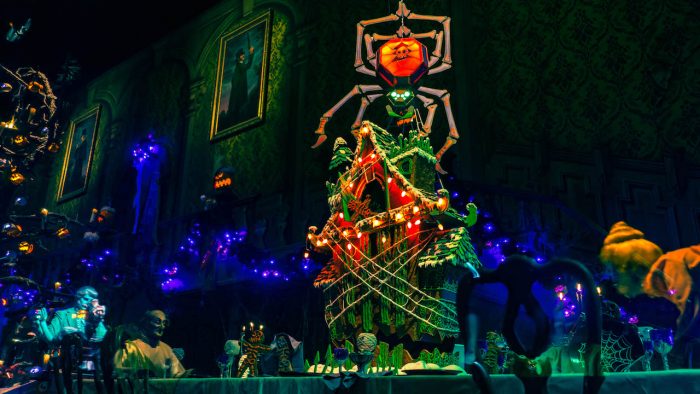 Halloween festivities are getting underway this weekend at Disneyland Resort and to get you in the spirit, Disney Parks Blog has an inside look at the making of this year's Haunted Mansion Holiday gingerbread house. 90 pounds of gingerbread went into this thing and it's topped off by a 5-foot spider with moving mandibles and legs. Which is scarier in the Haunted Mansion: the ghosts or the eating challenge?
They removed the planter and brick seating in front of Haunted Mansion. There's a bunch of benches now. #disneyland pic.twitter.com/9muyzYi43h

— Guy Selga (@guyselga) September 7, 2018
Even scarier, maybe, for some people is the prospect of navigating the crowds at Disneyland during Halloween Time. This year, the park seems to be taking some measures to improve the flow of pedestrian traffic by removing seats and planters and widening up the walking spaces throughout the park.
Another seating thing removed in Tomorrowland. Should help with traffic. #disneyland pic.twitter.com/gptLgssGJd

— Guy Selga (@guyselga) September 7, 2018
Halloween Time at California Adventure means the return of Guardians of the Galaxy: Monsters After Dark. There's a new T-shirt to go along with the seasonal version of the ride this year, but don't expect to see actor Dave Bautista in the building scoping out Vyloos like he was back in January. If Guardians of the Galaxy Vol. 3 happens, Bautista may not even return as Drax.
There's a new Guardians of the Galaxy: Monsters After Dark shirt coming out #HalloweenTime pic.twitter.com/JvFJXmHmYx

— WDW News Today (@WDWNT) September 6, 2018
Elsewhere at Disneyland Resort, two hotel eateries, White Water Snacks and Tangaroa Terrace, will soon close and undergo a period of refurbishment before reopening with new enhancements later this year and early next year, respectively. Disney's Grand Californian Hotel & Spa also has a new pool bar coming to it in spring 2019. Check out the concept art for it below.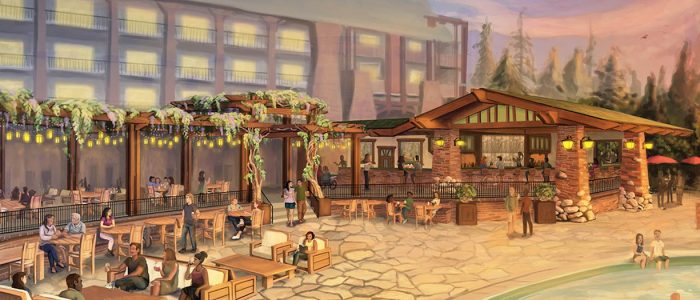 The cantina at Star Wars: Galaxy's Edge might not have the aquarium that early concept art showed, but at least its Cast Members will be knowledgeable. Making Star Wars reports that working in Galaxy's Edge will be contingent upon passing a Star Wars test.
The first Starbucks store in Hong Kong Disneyland has officially opened! https://t.co/powkycNua2 pic.twitter.com/0wtHelherl

— Disney Parks (@DisneyParks) September 5, 2018
This week marked the completion of Starbucks plan for world domination as the ubiquitous coffee chain opened its first store in Hong Kong Disneyland.
The Magic Kingdom has some new Disney After Hours dates coming to it.
Very sad to report the passing of WDI architectural designer Glenn Durflinger, left, who gave final form to the original Space Mountains. Glenn cut his teeth on projects like New Orleans Sq & Cinderella Castle. He was quiet, smart & unassuming...much more talented than he let on! pic.twitter.com/Fju4epHJLT

— Tom K Morris (@TomKMorris) September 3, 2018
Glenn Durflinger, the Disney Imagineer who served as Project Designer for the original Space Mountain, has passed away at the age of 79.
Last week, we closed out with the news that Walt Disney World had agreed to raise the entry-level service wage for union workers to $15 an hour by 2021. This week, Cast Members have officially approved a new five-year contract accepting that offer.