NOICE! 'Brooklyn Nine-Nine' Now Has An Order For 18 Episodes At NBC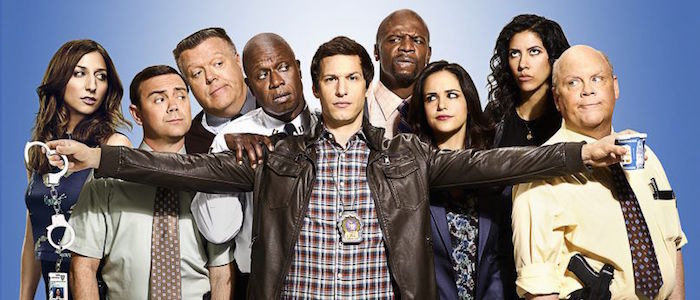 Back in May, FOX made the poor decision to cancel their cop comedy series Brooklyn Nine-Nine instead of renewing it for a sixth season. Thankfully, less than 24 hours after cancellation, NBC swept in to save the series, and it's returning. Now the sixth season order has just gotten a little sweeter.
Originally, when NBC picked up Brooklyn Nine-Nine for a sixth season, the order was only for 13 episodes. But the executives at The Peacock must like what they're seeing so far from the new season, because they've just ordered another five episodes for the upcoming sixth season.
Deadline has word on the addition episodes ordered for Brooklyn Nine-Nine season 6. The only downside is that the series won't be debuting until the midseason at the beginning of 2019, so fans will be waiting awhile before they get a glimpse at the show's revival.
This kind of commitment after renewing Brooklyn Nine-Nine for a sixth season shows that NBC is dedicated to giving fans the season they deserve for being so loyal to the series. Hopefully, viewers will turn up in droves, so the show can stick around for even more seasons as long as creators Dan Goor and Michael Schur are willing to keep the show alive.
As for what we can expect from the new season of Brooklyn Nine-Nine, there's a cliffhanger that still has to be resolved. Most of the main characters on the show and the audience don't know whether Captain Raymond Holt landed the highly coveted police commissioner position. Hopefully, we'll get our answer when the show returns next year.
The new season will also still have a signature Halloween episode. The holiday has become a staple for great episodes each season, and just because the show is debuting long after Halloween has passed doesn't mean the show will avoid celebrating in their customary fashion. On top of that, Gina Rodriguez will hopefully be back to continue the romantic storyline that sparked with Rosa (Stephanie Beatriz) last season, and there will be a #MeToo episode as well. Find out more from our TCA panel coverage over here.
Beyond that, the good news is that co-creator and showrunner Dan Goor says the show will very much be the same when it debuts on NBC:
"Yes, the mandate from NBC all along is we know this show, we love this show, that's why we picked up this show, please keep making the same show. In a lot of ways, I think it is the same type of show. I don't want to say it's the same show. I think it's going to be even better this year. Definitely put that in. I'm doing The Secret. There are no substantive changes in terms of our approach to the show or anything else."
Brooklyn Nine-Nine will be back early in 2019.