'Her Smell' Teaser: Elisabeth Moss Is A Punk Rocker Who Hits Bottom In Alex Ross Perry's Latest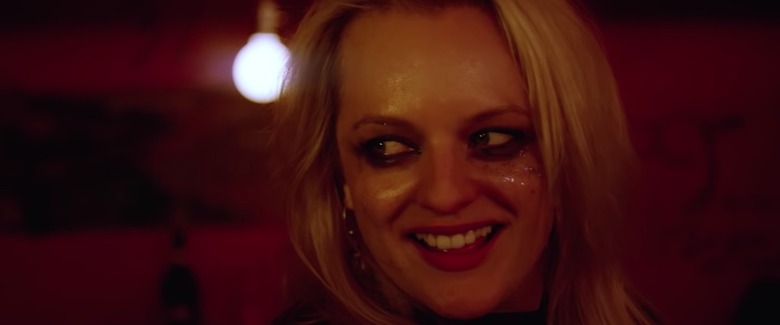 When Elisabeth Moss and Alex Ross Perry team up together, you know you're in for a hell of a performance from Moss. The pair first collaborated on 2015's psychological thriller Queen of Earth, and now they're reuniting for the maniacal rocker drama Her Smell.
Now, ahead of the film's premiere at the Toronto International Film Festival this weekend, you can get a glimpse at Moss' no-holds-barred performance as a punk rocker hitting rock bottom in theHer Smell teaser clip.
Her Smell Teaser
With glitter smeared on her cheeks and smudged kohl lining her eyes, Elisabeth Moss looks like a punk rock diva from hell, as she rants and raves to a captive audience backstage after a show. The brief scene follows Becky mid-breakdown backstage, filmed in extreme close-ups that serve to unsettle and unbalance you — a staple of Ross Perry's style.
Moss stars in Her Smell as Becky Something, a self-destructive rock star whose relationships with her bandmates, family, and fans suffer during her years-long war against alcoholism. She finds inspiration again when she becomes the mentor to a rising all-female band The Akergirls, but begins to crack under the pressure to succeed when her former bandmate begins to rise to stardom and she begins to fade into obscurity.
Moss gave a revelatory performance in her last collaboration with Ross Perry, but judging by what we've seen of Her Smell,  this latest film could easily top that. "[T]his was the hardest thing I've ever done," Moss said in an interview ahead of the film's TIFF premiere. "It was not fun a lot of the time. It was hard to be in that head space, and hard to be in that person, with all that chaos and craziness. Some things are more fun to play than others. And this was difficult. At the end, I was incredibly fulfilled and happy that I'd done the role. But when we were shooting it, it was not easy."
Her Smell also stars Cara Delevingne and Amber Heard.
Here is the official synopsis for Her Smell:
The latest from Alex Ross Perry traces the psychology of an unforgettable woman under the influence. Becky Something (Elisabeth Moss, in a powerhouse performance), the influential lead singer of a popular '90s alt-rock outfit, struggles with her demons as friends, family, and bandmates alike behold her unraveling through a prism of horror, empathy, and resentment. Perry tracks Becky's self-destruction—and potential creative redemption—through snaking long takes (arguably some of DP Sean Price Williams's finest work) in claustrophobic backstage hallways, garishly lit dressing rooms, and recording studios, and the film's ensemble cast (including Cara Delevingne, Ashley Benson, Amber Heard, Virginia Madsen, Dan Stevens and Eric Stoltz) is impeccable in support of Moss's rattling trip to the brink.