'Marvel's Spider-Man' Launch Trailer: Spidey Swings Into Action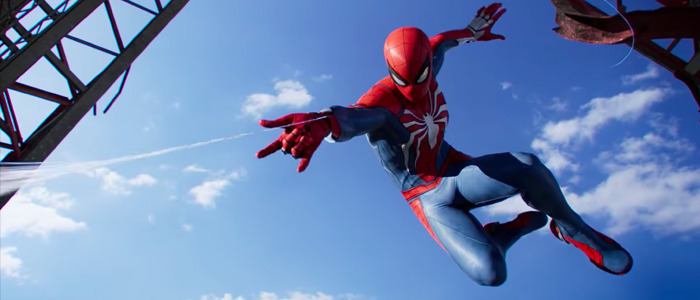 If you've ever wanted to swing through the skies like Spider-Man, well, this guy's Kickstarter project may be the closest you actually get. But for the next best thing, PlayStation 4 users can play Marvel's Spider-Man, Sony Interactive and Insomniac Games' spectacular new video game featuring your friendly neighborhood webslinger as its protagonist. The game is available right now, and Sony has debuted a cool new launch trailer that showcases many of the story's villains. Check it out below.
Marvel's Spider-Man Launch Trailer
This trailer is fascinating for three reasons. First, it's super cinematic and even though this footage was created specifically for this trailer, it still gives you a good representation of the level of quality cutscenes you'll encounter throughout the game. Second, seeing Spidey fall into darkness while people call him a loser weirdly doubles as a metaphor for depression. (How many video game launch trailers does that apply to?) And finally, I had no idea Sony had its own Most Interesting Man in the World associated with its video games. How else do you explain that random live-action guy (actor Francis Magee) showing up at the end?
If you remember the joys of playing the open world Spider-Man 2 video game from 2004, this new game is similar...but better in every conceivable way. It's essentially a Spider-Man-centric version of the Batman Arkham games, but with the added thrill of more maneuverability through the gorgeously-rendered recreation of Marvel Comics' New York City. (Yes, you can even scale Avengers Tower.)
Watch our video review below, and click here to read a more in-depth breakdown of what you can expect from the game:
Here's some info about the game pulled from its official website:
Sony Interactive Entertainment, Insomniac Games, and Marvel have teamed up to create a brand-new and authentic Spider-Man adventure. This isn't the Spider-Man you've met or ever seen before. This is an experienced Peter Parker who's more masterful at fighting big crime in New York City. At the same time, he's struggling to balance his chaotic personal life and career while the fate of millions of New Yorkers rest upon his shoulders.
The worlds of Peter Parker and Spider-Man collide in an original action-packed story. In this new Spider-Man universe, iconic characters from Peter and Spider-Man's lives have been reimagined, placing familiar characters in unique roles.
Marvel's Spider-Man is available for purchase right now, exclusively for PlayStation 4.