'Avengers 4' Is Still A Work In Progress As It Heads Into Reshoots, Mark Ruffalo Says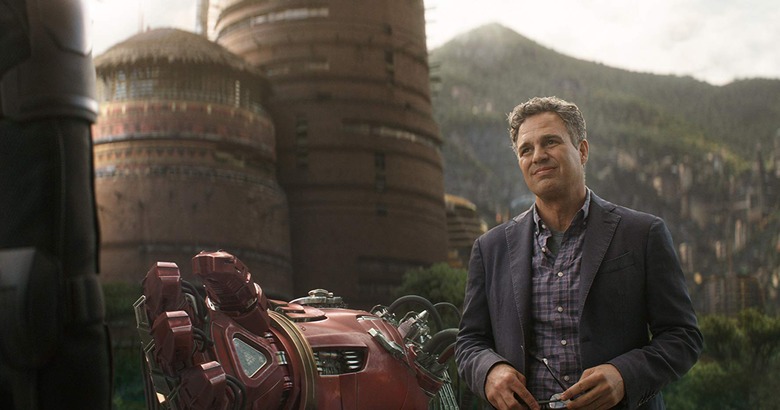 Reshoots are par for the course for any tentpole movie, and Avengers 4 is no exception. But as the Marvel film commences reshoots this fall, Avengers 4 star Mark Ruffalo revealed a surprising new approach for this comic book sequel.
Usually by the time reshoots roll around, the film is mostly complete. It's a rough sketch of a movie, and the additional photography done during reshoots are necessary to smooth it out or fill in the gaps, but you've got a beginning, middle, and end. Any other alternative would spell trouble for the production, but that's not the case here. It's because Avengers 4 is a "living organism" that will keep getting tweaked and changed throughout reshoots, Ruffalo said.
In an appearance on The Marvelist podcast, Ruffalo revealed the reason that fans don't really know the plot of Avengers 4 — because the cast and crew don't either. Ruffalo explained that Avengers 4 is still a work in progress, with the reshoots planned to finish the entire movie rather than just working on individual scenes. Ruffalo said, according to Comicbook.com:
"We're doing reshoots starting in September, and then we'll go back into the international tour, we'll go on tour. Then you guys will get the second installment. Which we don't even know what it's gonna be yet. We're not just doing reshoots; we're going to finish the movie, which we really didn't get to finish totally when we left it last year."
The initial production for Avengers 4 ran from August 2017 to January 2018 in Georgia. But soon after production wrapped, reports started surfacing that, following the immense popularity of Black Panther, we would see more of Wakanda. And it seems that this dynamic way of filming a movie is taking the popularity of characters like T'Challa, Shuri, Okoye, M'Baku, and Nakia into account. It's certainly a fan-friendly way of filming that allows filmmakers to change a movie in response to studio feedback and fan expectation.
Ruffalo said of directors Anthony and Joe Russo's approach to the film:
"I don't even know that they really know exactly. Some of it is happening while we're there. It's pretty amazing. And we'll shoot some stuff and a few days later come back and reshoot it cause we wanna take it in another direction. It's a very living organism, even as we approach it being a locked picture, we're still working on it."
But it's possible that due to the secretive nature of the film, Ruffalo and the cast members simply don't know what's happening because they haven't received all of the script pages. Marvel has kept a notoriously tight lid on plot details, with the Russo brothers sometimes resorting to writing fake endings to throw off spoiler-prone actors like Ruffalo or Tom Holland. And with set photos already leaking from the reshoots in Atlanta, this is a very real possibility.
However, the idea of Avengers 4 as a "living organism" is an interesting concept that could harken a new way of filming these big-budget superhero films. Whether it's good or not, I can't say, though it is a fascinating response to the ever-evolving digital landscape where a beloved fan theory can get so out of hand that it rallies an entire fandom against a movie.
Avengers 4 is set to open in theaters on May 3, 2019.