'Swamp Thing' Casts Crystal Reed As Abby Arcane, Maria Sten As Liz Tremayne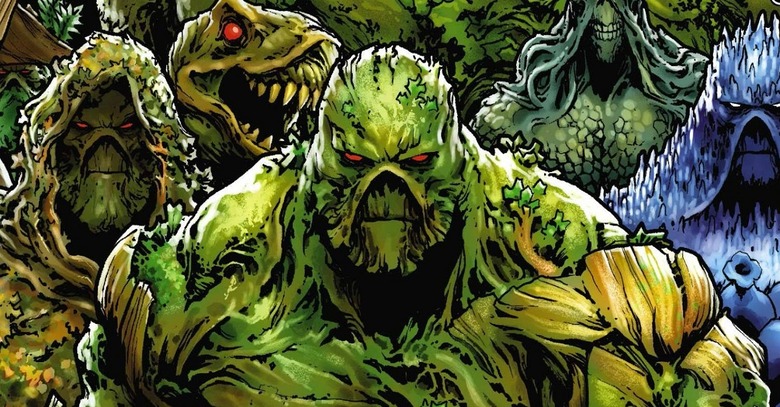 Crystal Reed just can't stop falling in love with supernatural beasts. The former Teen Wolf star is moving on to another supernatural property with the DC Universe's Swamp Thing TV series produced by James Wan's Atomic Monster.
The Swamp Thing cast has tapped Reed as the female lead and the titular creature's frequent love interest, Abby Arcane. She'll be joined by Maria Sten, who has been cast opposite Reed as Abby's childhood friend Liz Tremayne.
Deadline reports that Crystal Reed and Maria Sten are joining the Swamp Things cast as Abby Arcane and Liz Tremayne, respectively.
Reed plays the female lead in the DC Universe streaming series, which brings the characters created by Len Wein and Bernie Wrightson to life. Described as "smart and caring," Abigail "Abby" Arcane is a CDC doctor with "a strong sense of empathy puts her at the center of a horrific life-threatening epidemic in her hometown, where she faces emotional demons from her past." Abby Arcane will be the show's pseudo-protagonist, following her character as she investigates a seemingly deadly swamp-born virus in a small Louisana town, "but soon discovers that the swamp holds mystical and terrifying secrets. When unexplainable and chilling horrors emerge from the murky marsh, no one is safe," Deadline writes.
Love is calling Abby Arcane to the swamp. Welcome @CrystalmReed to the #DCUniverse. #DCUSwampThing https://t.co/cTpj7hxXqV pic.twitter.com/ldfXBiV000

— DC Universe (@TheDCUniverse) September 6, 2018
The longtime love interest of the Earth Elemental creature in the DC Comics, Abby Arcane is frequently portrayed as a woman with natural white hair, with the psychic powers of empathy, telepathy and telekinesis. However, it seems like the DC Universe will be going for a more grounded and gritty approach, reimagining Abby as a plucky CDC doctor. It's a role that Reed will probably take to swimmingly, having starred in Teen Wolf for three seasons as the fiercely independent love interest of a teen werewolf — who happens to be a werewolf hunter. Her impressive performance as Allison Argent proved that she deserved to carry a series of her own, and Swamp Thing seems like it will finally give her that. And Reed is no stranger to the DC Universe, having recently come off a season-long run on Fox's Gotham as Sofia Falcone.
Meanwhile, Sten (Channel Zero) is set to play Liz Tremayne, a close childhood friend of Abby's and a reporter for the local paper who moonlights as a bartender for her father's roadhouse bar. She's described as having a "no-nonsense attitude" that "belies a deep compassion for her friends and family as she sets out in her uncompromising quest to expose the secrets that threaten her beloved hometown."
Swamp Thing is set to premiere in 2019 on the DC Universe digital subscription service.