'Norm Macdonald Has A Show' Trailer: The 'SNL' Star Heads To Netflix With A Candid Talk Show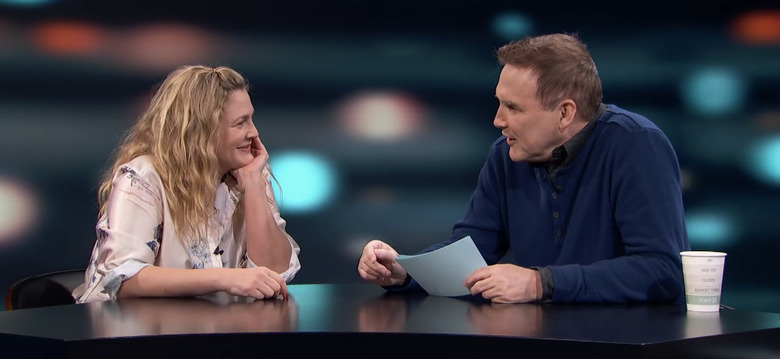 Norm Macdonald has had a long, troubled history on television. From his days spent on Saturday Night Live as the brilliant but frequently misunderstood Weekend Update anchor in the 1990s to his consistently canceled shows like Norm, A Minute with Stan Hooper and Sports Show with Norm Macdonald, the comedian can't seem to catch a break. But maybe that will change with Netflix.
The aptly titled Norm Macdonald Has a Show (E-I-E-I-O) finds the comedian and his sidekick Adam Eget having candid conversations with celebrity guests like David Spade, Judge Judy, David Letterman, Drew Barrymore, Lorne Michaels, M. Night Shyamalan and more. But this doesn't look like your usual, polished, fluffy anecdote talk show from late night television. Watch the Norm Macdonald Has a Show trailer below to see what we're dealing with.
Norm Macdonald Has a Show Trailer
This looks like Norm Macdonald bringing the format and fun of his fantastic video podcast show Norm Macdonald Live to Netflix. That might explain why it's been so difficult to find the old episodes of that outstanding show online. That's a real shame since the series was host to some truly hilarious and eye-opening conversations about show business, the craft of comedy and much more.
Anyway, Norm Macdonald Has a Show looks to capture the spirit of the series, and most importantly, it lets Norm Macdonald just be himself. There are a lot of candid moments and funny tangents here thanks to the brilliant, dry, comedic mind of Norm Macdonald, and we're glad Netflix is giving him a chance to make the kind of show he wants without making him be something he's not. That's what every other network failed to recognize and do whenever they gave him a new show.
The roster of guests for Norm Macdonald Has a Show is nothing to scoff at either with his first round of interviews featuring Drew Barrymore, David Spade, Judge Judy, David Letterman, Jane Fonda, Chevy Chase, M. Night Shyamalan, Michael Keaton, Billy Joe Shaver and Lorne Michaels. That latter one should be fantastic, even though there aren't any clips from it included in the above trailer. Plus, every episode is 60 minutes long, which is much more time than we usually get to spend with guests on a talk show like this.
However, just because Netflix is letting Norm Macdonald have freedom to do what he wants with his show doesn't mean it'll last. After all, Netflix recently canceled The Joel McHale Show with Joel McHale and The Break with Michelle Wolf. Even so, we're hoping this show won't be added to Norm Macdonald's long list of canceled programs. But even if it is, we know he'll come back with something else eventually.
Norm Macdonald Has a Show debuts on Netflix on September 14, 2018.