Scrapped 'The Last Starfighter' Sequel Script Would Have Brought Back Original Cast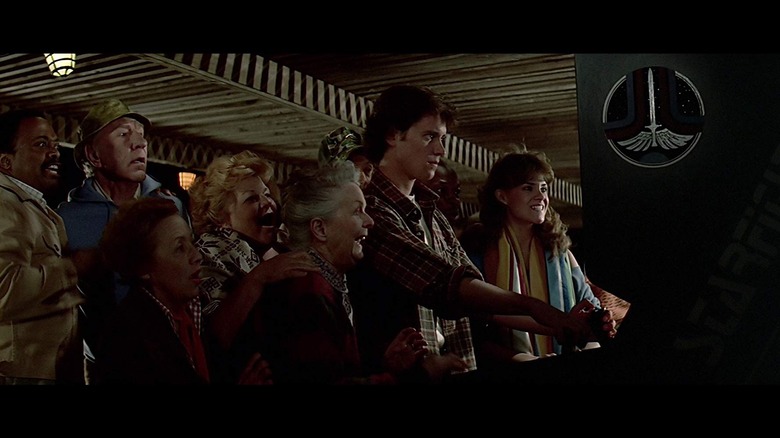 The 1984 sci-fi classic The Last Starfighter wasn't meant to be the last in its franchise. Nor will it be — a new remake is reportedly on the way from Gary Whitta, the screenwriter of Rogue One: A Star Wars Story. But this remake/sequel won't be the first attempt to revive The Last Starfighter. Original director Nick Castle revealed that in 2005, his team was developing The Last Starfighter sequel that would have brought back the all of the original cast.
In an interview with Bloody Disgusting, Castle revealed details of the scrapped sequel that could have been. Back in 2005, Castle's team was developing a sequel to the 1984 film, which would have put 34 years between the first film and its sequel. But all those years of development hell couldn't stop Castle from dreaming of bringing back original cast members Lance Guest and Catherine Marie Stewart.
"This was 10 years ago or more, maybe 12 years ago. I think it was 2005 and it was going to be at that point a 30 year, 35 year sequel. It was literally a sequel where Lance [Guest] and Catherine Marie [Stewart], the leads were going to come back as parents. We had a fun script so I'm not sure right now where Jonathan [Betuel] is going to take it. He has a partner named Gary Whitta who wrote Rogue One so he's in good company there. Hopefully, they'll mount something fun and we'll see our characters again."
In the original film, Guest played Alex Rogan, a video game champion who was recruited to fly a real-life starship to fight in an alien battle. Stewart played Alex Rogan's love interest, who is dragged into the ensuing battle.
Original screenwriter Jonathan R. Betuel had penned this 2005 script, and Castle revealed that he is working with Whitta on the new remake. However, Castle won't be as involved with this version, he said.
"Now just this last year, the writer has retained the rights legally now. So he's going to go out a second time around and get this thing done. I won't be a part of it as a director. Hopefully, I'll help out in the background but we'd love to do that. It's so ready. The '80s, of course, are being mined by everything. It's like the last thing that has not gotten remade or had a sequel. I'd love to see that continue on."
It's a fun early concept that Betuel could bring back for the upcoming remake/sequel. That's of course, if Guest and Stewart are eager to come back on board. But one thing's for certain: this isn't the last we'll hear of The Last Starfighter.