'The Front Runner' Will Be The First Movie To Open On Election Day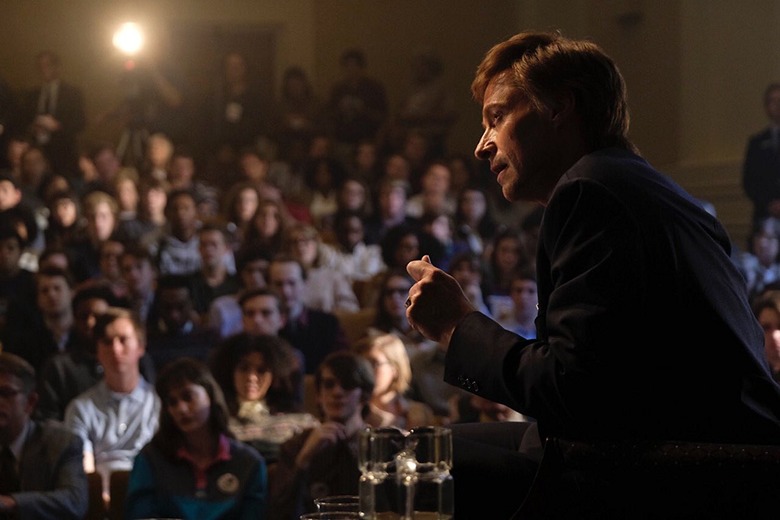 The Front Runner is taking its name to heart. The Jason Reitman biopic starring Hugh Jackman as Democratic presidential candidate Gary Hart will open in theaters this November 6, making The Front Runner the first film to open on a U.S. Election Day.
Originally slated to hit theaters on Wednesday, November 7, Columbia Pictures moved up The Front Runner release date to November 6, 2018 to capitalize on the political fervor around an actual election day. It's fitting considering the film follows the disastrous 1988 presidential campaign of U.S. Senator Gary Hart, whose bright career was derailed by a scandalous love affair.
Based on Matt Bai's 2014 book All the Truth Is Out: The Week Politics Went Tabloid, The Front Runner follows Colorado Senator Gary Hart as he embarks on his second bid for presidency in 1988. A bright and promising senator, Hart was considered the frontrunner for the primary, ahead of eventual candidate Mike Dukakis. But scandal struck his campaign when the media began reporting on an extramarital affair — a twist made all the more deliciously ironic when Hart famously challenged the media to, "Follow me around. I don't care. I'm serious. If anybody wants to put a tail on me, go ahead. They'll be very bored." The tabloids accepted the challenge, and soon, photos of Hart with a woman named Donna Rice aboard a yacht brought an end to his candidacy.
It's the kind of political scandal that still remains juicy today — just look at the success of the stranger-than-fiction 2016 documentary Weiner, which chronicled in real-time Anthony Weiner's sex scandal that killed his 2013 attempt at a political comeback. You'd think we'd have enough of sex scandals around the White House in real life, but the fictionalized one has proven too good to pass at the film festival circuit as well: following its Telluride debut, The Front Runner has pushed Hugh Jackman to the front of the Oscar race.
Directed by Jason Reitman with a script by Reitman, Matt Bai, and Jay Carson, The Front Runner also stars Vera Farmiga, J. K. Simmons, and Alfred Molina.
The Front Runner opens in theaters on November 6, 2018.