Glen Powell Is Writing A "Dark And Irreverent" 'Captain Planet' Movie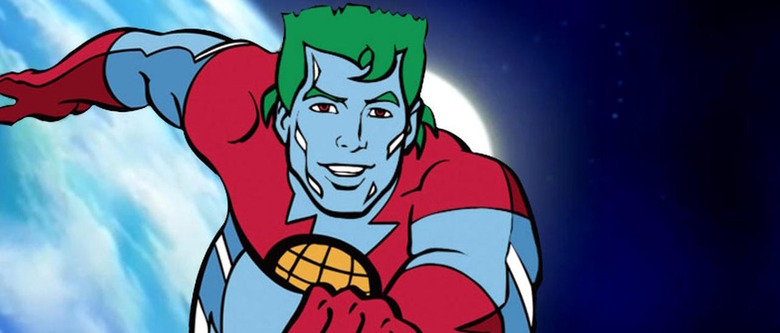 I had completely forgotten that Glen Powell was writing a Captain Planet movie. We first wrote about that news about two years ago, after Powell's breakout role in Richard Linklater's college baseball comedy Everybody Wants Some!! but long before he earned Internet's Boyfriend status with his role in Netflix's romantic comedy Set It Up and snagged a role alongside Tom Cruise in Top Gun: Maverick.
But in a new interview, Powell has given some insight into his take on a film adaptation of the 1990s eco-friendly cartoon, and he calls his script "subversive" and "irreverent". Keep reading for more of his comments about his Captain Planet movie.
Powell is co-writing the screenplay for Captain Planet with Jono Matt (Above the Line), and in an interview with The Hollywood Reporter, the actor/writer spilled some details about their approach to the movie:
"They've tried to make it into a superhero movie before, but they kind of did like an earnest take, and ours is way more subversive and fun and dark and like, irreverent...
Sometimes you just have to think through these things logically. Like, if you have a blue superhero with a green mullet, you can't do an earnest take on that. You have to go at it from a fun take, just the way Deadpool has circumnavigated the superhero thing...it has been an interesting process and it's taken a long time, but now we're getting that up and going and we're really stoked about it."
Powell also confirms that "we're doing that with Leo [DiCaprio]" because "he is real life Captain Planet." It's unclear whether DiCaprio is going to play the lead role, but we know he's producing through his Appian Way production company. At this point, I think I'd rather see Powell himself step into the lead role – he'd definitely bring the right level of humor and self-awareness to the part.
For those who didn't grow up watching cartoons in the 1990s, Captain Planet followed five "Planeteers", each with a magic ring that allows them to manipulate Earth, Fire, Wind, Water, and Heart, respectively. When their powers combined, they formed Captain Planet, an environmentally-conscious superhero who helped them fight against eco-villains. The show featured an incredible voice cast of actors like Jeff Goldblum, LeVar Burton, Ed Asner, Meg Ryan, Martin Sheen, Margot Kidder, Whoopi Goldberg, James Coburn, and Sting.
Last we heard, Paramount was negotiating for the rights to the film after Sony failed to get a version into production a few years ago. I'm not quite sure how this version of Captain Planet can get more irreverent than Funny Or Die's 2011 sketch about the character, but we'll see if Powell and Matt are up to the challenge.