'Designated Survivor' Saved By Netflix, Which Should Make Your Parents Happy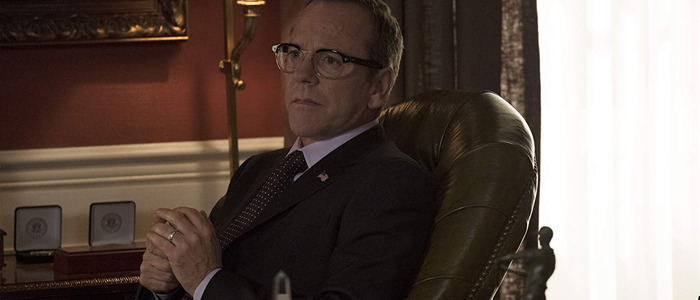 Here's a good reason to call your parents: Netflix has officially snatched Kiefer Sutherland's political drama Designated Survivor from the jaws of cancellation. ABC, the show's original network home, gave the show the axe this summer due to rising budget concerns and a drop in ratings, but Netflix spends money with the best of 'em and doesn't make any of its viewership numbers public, so they don't have to worry about either of those issues. Sounds like a win-win for everyone.
Read more about Designated Survivor season 3 below.
The idea of Netflix swooping in to save Designated Survivor began to take shape almost immediately after it was cancelled by ABC. We wrote about the possibility back in May, and now Variety reports that it's a done deal: season 3 will consist of 10 episodes, and they'll be available to stream on Netflix sometime in 2019.
The show stars Kiefer Sutherland as Tom Kirkman, the Secretary of Housing and Urban Development who is suddenly appointed President of the United States after a deadly attack on the US Capitol kills the sitting President and everyone ahead of Kirkman in the line of succession. In the new season, "President Kirkman will face a political reality: campaigning. What does it take to make a leader? What price will he be willing to pay? This season will explore today's world of campaigning, smear tactics, debates, campaign finance and 'fake news.'"
Neal Baer (ER) has been hired to serve as the series' showrunner, and he'll be the fifth person to hold that position so far. That's an incredibly high turnover rate for such an important position, and Sutherland has reportedly become frustrated with the revolving door of showrunners who each have slightly different ideas of what the show should be. But it seems as if Sutherland and Baer are on the same page, because Sutherland released a statement that at least makes it sound like they're happy to be working together:
"I am thrilled to have the opportunity to play President Kirkman for season 3 of 'Designated Survivor' with Netflix, eOne and Neal Baer. I believe this format will allow us to continue to delve deeply into storylines and issues concerning the American electorate that were not previously possible."
It sounds like the show's new Netflix home is going to open it up to some new storytelling freedom that it didn't have during its run at ABC. Production is scheduled to begin later this year, so don't forget to tell your parents that it'll be a while before they'll be able to see the new episodes.