'Narcos: Mexico' Trailer: Michael Pena And Diego Luna Go Head-To-Head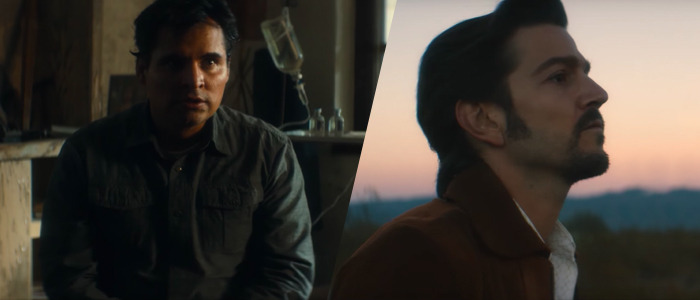 After three years telling stories of the battle between cartels and the DEA in Colombia, the Netflix original series Narcos is switching things up for its fourth season. Season 4 has been rebranded Narcos: Mexico, and along with the new location featured in its title, it also has two high-profile stars attached in lead roles: Diego Luna (Rogue One: A Star Wars Story) and Michael Pena (Ant-Man and the Wasp).
Check out the first Narcos: Mexico trailer below, which includes the show's upcoming release date.
Narcos Mexico Trailer
Luna plays Félix Gallardo, the leader of the Guadalajara Cartel in the 1980s. In Game of Thrones, the character Mance Rayder united hordes of conflicting clans beyond the Wall to follow him, but the real-life Gallardo accomplished the same thing, bringing disparate traffickers together to create an empire that left an impact that's still being felt today.
Pena plays Kiki Camerena, a family man and undercover DEA agent who starts making some progress against the cartel but quickly realizes that he has underestimated the sophistication of Gallardo's organization.
I knew the first few seasons of Narcos told true stories of actual people, so I looked up one of these new characters to make sure he was also real and accidentally spoiled what happened in real life. Word to the wise: don't do that if you're intrigued by this trailer and don't know how this particular story plays out.
Here's the official description of Narcos: Mexico:
Shifting away from Colombia, where Narcos spent three seasons, Narcos: Mexico will explore the origins of the modern drug war by going back to its roots, beginning at a time when the Mexican trafficking world was a loose and disorganized confederation of independent growers and dealers. Witness the rise of the Guadalajara Cartel in the 1980s as Félix Gallardo (Diego Luna) takes the helm, unifying traffickers in order to build an empire. When DEA agent Kiki Camarena (Michael Peña) moves his wife and young son from California to Guadalajara to take on a new post, he quickly learns that his assignment will be more challenging than he ever could have imagined. As Kiki garners intelligence on Félix and becomes more entangled in his mission, a tragic chain of events unfold, affecting the drug trade and the war against it for years to come.
Narcos: Mexico arrives on Netflix on November 16, 2018.