'Widows' Clip: Viola Davis Rallies The Team To "Pull This Off"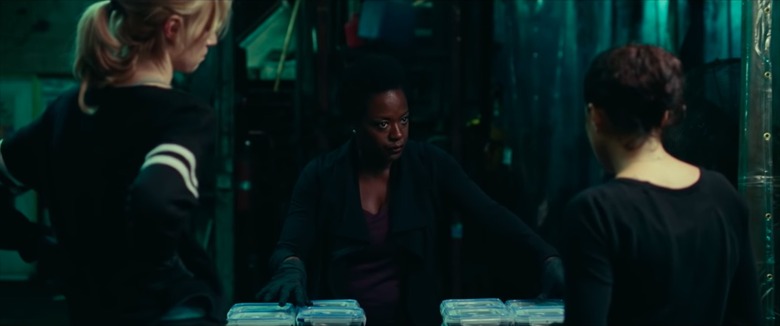 With the all-star cast of Viola Davis, Michelle Rodriguez, Elizabeth Debicki and Cynthia Erivo, and the dream team of director Steve McQueen and writer Gillian Flynn delivering behind-the-camera, we were already sold on Widows. But 20th Century Fox has dropped another clip on us, featuring the four central women plotting the heist that will get them out of the debt handed to them by their dead husbands. Check out the new Widows clip below.
Widows Clip
"I feel like I'm back in school," Michelle Rodriguez's Linda bemoans as Viola Davis' Veronica rattles off their complicated plan to settle their husbands' debt. But Veronica quickly puts her and the two other women in their place, impressing on her fellow widows how important it is that they pull off this heist. The tense clip is a scene we've seen in part before, in previous trailers and marketing, but I'd pay to watch Viola Davis snarl "No one thinks we have the balls to pull this off!" over and over again.
Widows follows our four titular widows, played by Davis, Rodriguez, Debicki and Ervo, who are united in grief over their dead criminal husbands and also in the pressing need to pay off their husbands' debts. Backed into a corner, the women have no choice but to take up a life of crime themselves with one big heist. It's a tantalizing premise based off a six-part British television show, which 12 Years a Slave director Steve McQueen and Gone Girl and Sharp Objects writer Gillian Flynn have teamed up to adapt into a modern-day thriller.
As if the film couldn't get star-studded enough, Widows also stars Colin Farrell, Brian Tyree Henry, Daniel Kaluuya, Garret Dillahunt, Carrie Coon, Jacki Weaver, Jon Bernthal, Manuel Garcia-Rulfo with Robert Duvall and Liam Neeson.
Here is the official synopsis for Widows:
From Academy Award®-winning director Steve McQueen ("12 Years a Slave") and co-writer and bestselling author Gillian Flynn ("Gone Girl") comes a blistering, modern-day thriller set against the backdrop of crime, passion and corruption. "Widows" is the story of four women with nothing in common except a debt left behind by their dead husbands' criminal activities. Set in contemporary Chicago, amid a time of turmoil, tensions build when Veronica (Oscar® winner Viola Davis), Linda (Michelle Rodriguez), Alice (Elizabeth Debicki) and Belle (Cynthia Erivo) take their fate into their own hands and conspire to forge a future on their own terms.
Widows opens in theaters on November 16, 2018.