'Captain Marvel' Photos Reveal The Skrulls, Ronan The Accuser, And Young Nick Fury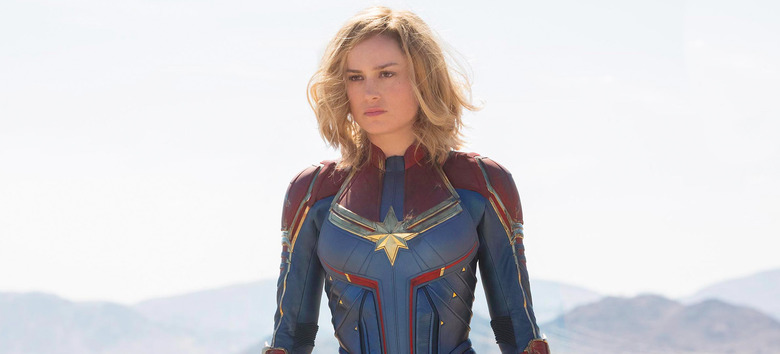 Hot on the heels of the first look at Brie Larson suited up as Captain Marvel, the most powerful superhero in the Marvel Cinematic Universe, we have a whole batch of new photos from the Marvel Studios production.
Captain Marvel follows an Air Force pilot named Carol Danvers who has turned space cop in an elite unit called Starforce on the Kree planet of Hala. They're described as the SEAL Team Six of space, which would explain why we see them confronting Kree radical Ronan the Accuser in a new image. However, you Guardians of the Galaxy fans out there might raise your eyebrow at one of the team members on Starforce. Check out all the new Captain Marvel photos below.
New Captain Marvel Photos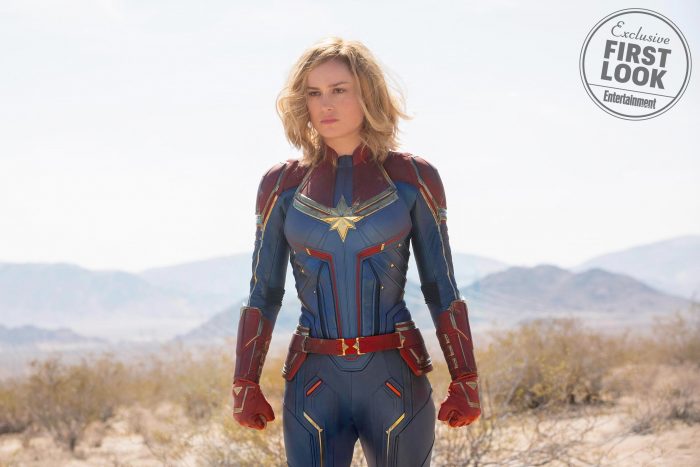 First up, we can't help but swoon over this hero shot of Brie Larson in full Captain Marvel mode (via Entertainment Weekly). As we recently learned, the movie will forgo the traditional superhero origin story and begin with Carol Danvers already having her super powers, having left behind Earth for a career in Starforce.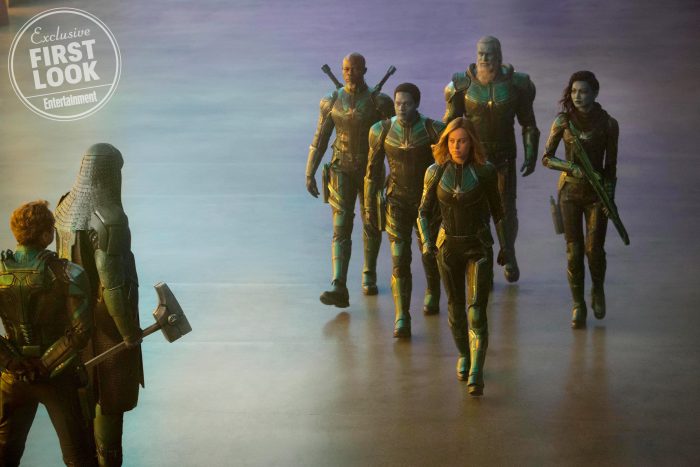 Here we see Carol alongside her fellow Starforce soldiers, including Minn-Erva (Gemma Chan of Crazy Rich Asians) and, yes, Korath the Pursuer, the villain played by Djimon Hounsou in Guardians of the Galaxy. What is it that makes him go rogue and break away from Starforce? Maybe it has something to do with the fact that they're confronting future Kree radical Ronan the Accuser (Lee Pace) in this photo. When we met him in Guardians of the Galaxy, he's a high-ranking member of Kree society, but surely his extremist views will eventually see him cast out before the end of Captain Marvel.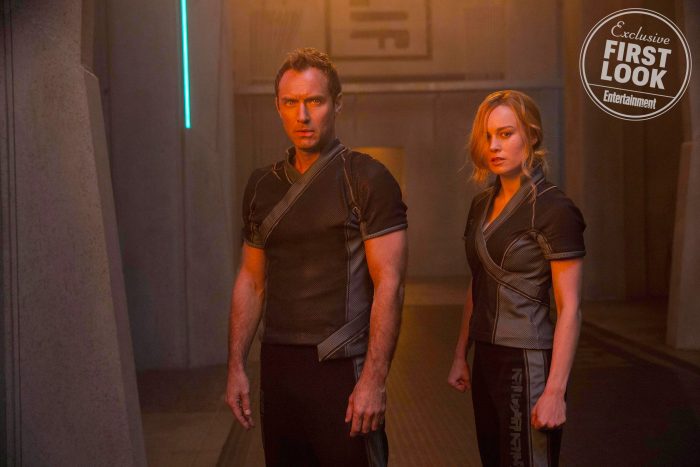 Another photo shows off Jude Law as the commander of Starforce, who acts as a mentor to Carol Danvers. She has a little problem with aggression and following orders, like so many cocky Air Force pilots we've seen on the big screen. That kind of attitude can be dangerous when the person in question has such strong superpowers. Law says, "These extraordinary powers she has, he sees them as something of a blessing and something that she has to learn how to control."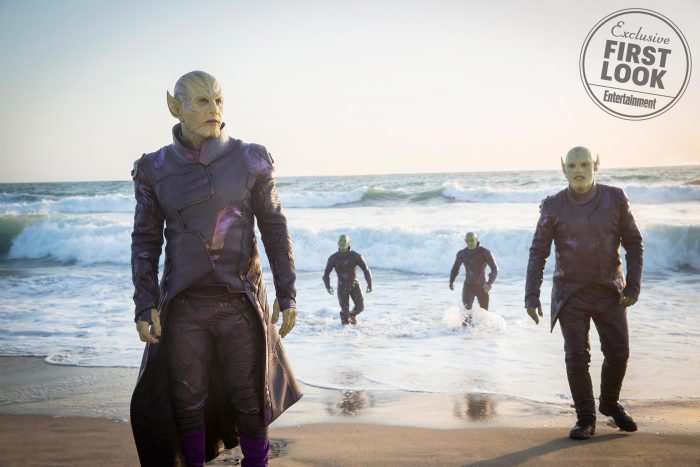 Here's the Marvel Comics aliens Skrulls in all their prosthetic make-up. It doesn't look like that make-up allows for a very expressive face, but their design is pretty loyal to the comics. It's hard to tell, but the Skrull on the left is Ben Mendelsohn, who plays the alien leader Talos. However, Mendelsohn won't be hidden under alien make-up the entire time, because his shape-shifting character will be infiltrating SHIELD under the guise of a human.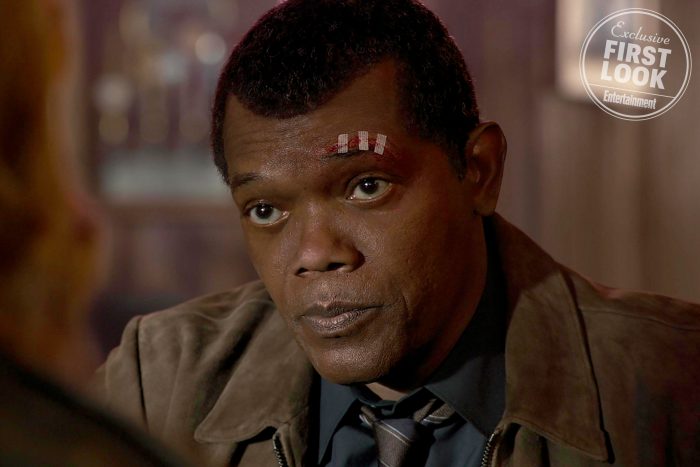 Speaking of SHIELD, say hello to a young Nick Fury, digitally de-aged with visual effects and looking like the Samuel L. Jackson we know from The Negotiator. Since the movie takes place in the 1990s, we're meeting a very different version of the character we've come accustomed to seeing pop up in the Marvel Cinematic Universe. However, this Nick Fury hasn't been through the wringer yet, as we see that both of his eyes are still in place (though he does have an injury over the eye he'll eventually lose). Plus, he's still just a "lowly S.H.I.E.L.D. desk jockey" in the '90s.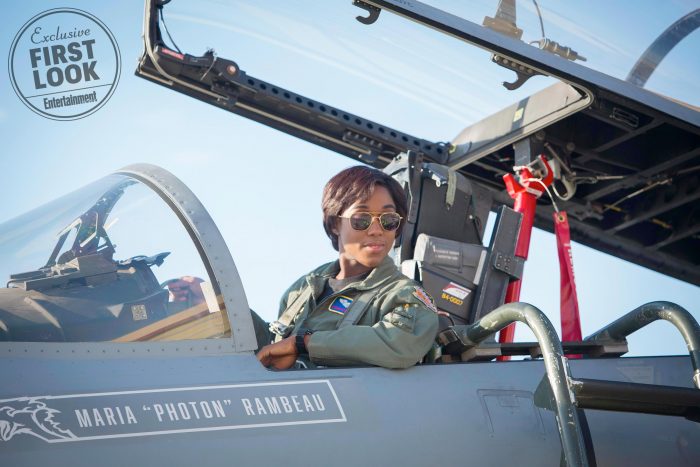 Finally, here's our introduction to Lashana Lynch as Maria Rambeau. She is one of Carol's oldest friends from the Air Force and a single mother to a young daughter. Interestingly enough, Marvel Comics has a character named Monica Rambeau, who is one of several iterations of Captain Marvel. This version eventually goes on to call herself Photon, which just so happens to be the call sign of Maria Rambeau in the movie. Could this be a hint that Maria might get superpowers of her own, or is this just a little Easter egg for hardcore Marvel fans to pick up on?
***
Judging from these first look photos alone, I'd say the odds are high that Captain Marvel is going to soar. We could be looking at a movie along the lines of Guardians of the Galaxy that blows us all away when it hits theaters. Don't expect the same style though, since this feels much more like a hybrid sci-fi and cop action adventure. With Kevin Feige saying the film takes cues from '90s action movies like Terminator 2: Judgment Day, that sounds right to us. Hopefully, a trailer will arrive soon to show us more.
Captain Marvel is directed by Anna Boden & Ryan Fleck (Half-Nelson, Mississippi Grind) with a script they worked on with Meg LeFauve (Inside Out), Nicole Perlman (Guardians of the Galaxy), Geneva Robertson-Dworet (Tomb Raider), and Liz Flahive & Carly Mensch (GLOW). Captain Marvel will also be scored by Pinar Toprak (Krypton), marking the first time a major comic book movie has been scored by a woman.Captain Marvel hits theaters on March 9, 2018.