Halloween Horror Nights 'Stranger Things' Maze Photos Take You To The Upside Down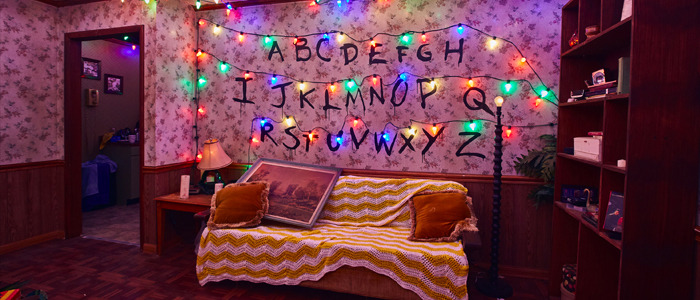 It'll be a while before we head back to the small town of Hawkins, Indiana for Stranger Things 3, but guests at Universal's Halloween Horror Nights will be able to step into a recreation of the Upside Down in just a couple of weeks in the theme park's brand new Stranger Things mazes.
Universal has unveiled some first look photos of the richly detailed mazes and a video that takes us back to the search for Will Byers in season 1 of the acclaimed Netflix series. Check them out below.
Stranger Things Maze Photos
Those photos are terrific. If I wasn't going to be out of town for a majority of Halloween Horror Nights, I'd definitely make a point to visit the Hollywood park and explore some of these up close. Also, I want to give a major shout-out to the people who installed the lighting in these sets. Lighting is arguably the most important aspect of creating atmosphere, and it's very easy to make a few incorrect choices that instantly render the entire scene as silly. But the mixture of warm yellows, cool blues, dangerous reds, and harsh whites is gorgeous and heightens the reality of each of the locations.
Here's the official description from the press release:
For the first time ever, Universal Studios Hollywood, Universal Orlando Resort and Universal Studios Singapore are partnering with Netflix to bring "Stranger Things" to life at their "Halloween Horror Nights" events. Each park will feature its very own maze that will give guests the chance to brave the Upside Down and encounter iconic scenes, characters and environments from season one of the critically-acclaimed series.  
The images showcase some of the eerily-authentic environments guests will encounter at "Halloween Horror Nights" 2018 – including the Byers' living room adorned with an erratic display of flashing Christmas lights, Hawkins National Laboratory in the Upside Down, Will's makeshift fort called Castle Byers and more.
Stranger Things Maze Video
This moody teaser recalls the brilliance of the first season of the show, which is one of my favorite seasons of television, period. Season 2 suffered a big drop off in quality for me, and you can listen to us hash it all out in this episode of the /Film Daily podcast. But rest assured that the Halloween Horror Nights recreations will be up to snuff, because Stranger Things creators Matt and Ross Duffer are collaborating with Netflix and Universal to make them as accurate as possible.
Halloween Horror Nights begins on September 14, 2018 in Hollywood and Orlando and on September 27, 2018 in Singapore.