Richard Donner's 'Superman' Flies Back To Theaters For Its 40th Anniversary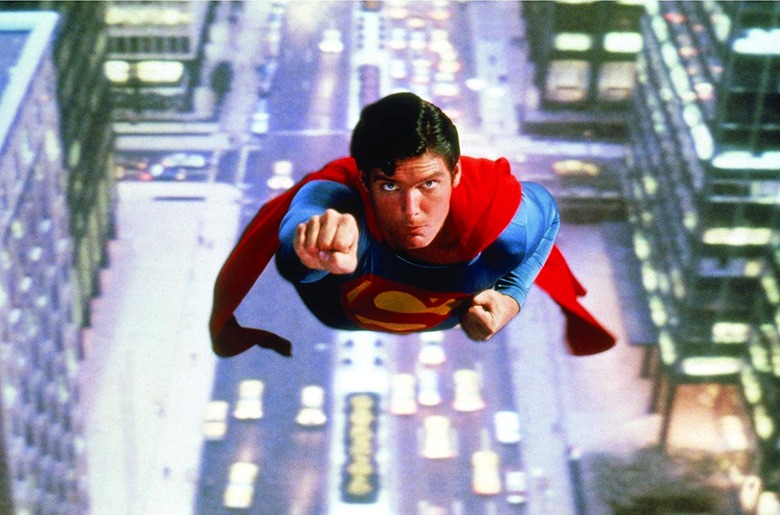 It's a bird! It's a plane! It's Richard Donner's Superman flying back to theaters in honor of its 40th anniversary! The superhero movie that started it all, Superman celebrates 40 years since it first hit theaters in 1978 with a theatrical re-release this November.
No hero has stood the test of time like Christopher Reeve's Superman, the earnest hero at the heart of Donner's 1978 classic. Try as they might, his silver screen successors Brandon Routh and Henry Cavill pale in comparison to Reeve's iconic turn as the noble Superman and his mild-mannered counterpart, Clark Kent. And now, you get the chance to see Reeve — and his equally formidable screen partner, Margot Kidder as Lois Lane — on the big screen once again.
Fandango has added an event listing for a Superman 40th anniversary theatrical re-release, beginning on November 25, 2018. No other information has been announced for the special event, nor how long the even is expected to run for. In fact, the listing seems to have appeared on the Fandango site a tad early, as the Superman anniversary screenings aren't yet reflected on Fathom Events' official website.
But the late November date would provide the perfect timing for the event, taking place just weeks before the film's original release date. It's possible that the event will run until the anniversary of Superman's original theatrical release on December 15, 1978.
Superhero movies were still a gamble when Superman arrived in theaters 40 years ago, but the Richard Donner-directed film proved to be a turning point for comic book movies. Superman made $300 million at the worldwide box office and spawned three sequels. The superhero era wouldn't quite arrive in full until the late '90s and early 2000s, but Superman is still upheld as the seminal classic by which all superhero films will be compared. Well, all the Superman films at least, which still struggle to break out from under the shadow of Reeve.
It would be amazing to see Superman on the big screen for the first time, especially in the wake of Margot Kidder's passing earlier this year. With both of its stars now passed, it will be a bittersweet experience to be sure. But hopefully, as this is a Superman film, it will be more sweet than anything.